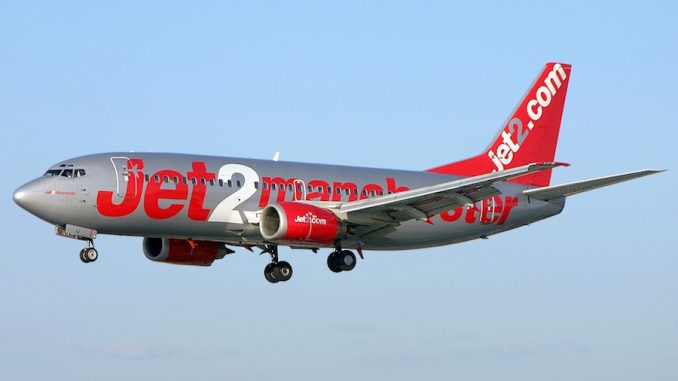 UK carrier Jet2 has announced that it will begin operations from London Stansted in March 2017. The Leeds-based airline is growing its market in Southern England after operating out of most of the Northern hubs across the UK, Northern Ireland, and Scotland.
The move is significant for Jet2 and London Stansted Airport, as the opening of this base and 83 weekly flights puts Jet2 into direct competition with Ryanair. Jet2 is already going ahead with increased competition as the airline is selling 50,000 seats for around £30 per person, showing an immediate price war with the Irish low-cost carrier. Furthermore, Jet2 is said to be offering 800,000 seats per year from Spring 2017, furthering its supply of seats coming from London Stansted.
From Stansted, the airline will operate to the following destinations:
Lanzarote
Malaga
Alicante
Dubrovnik
Faro
Madeira
Fuerteventura
Girona
Crete
Ibiza
Kos
Larnaca
Gran Canaria
Menorca
Paphos
Majorca
Pula
Reus
Rhodes
Tenerife
The base opening also represents a significant investment for the surrounding communities as it is set to create 250 new jobs which will include cabin crew, engineers, and ground operations staff.
Commenting on the development in Stansted, Jet2.com and Jet2Holidays CEO Steve Heapy said, "Because of our family friendly ethos, Jet2.com and Jet2holidays have enjoyed years of success and growth in northern England, Scotland and Northern Ireland. Today is an incredibly exciting chapter in our history as it marks the day we bring our family friendly formula to the south of England and become a truly national brand. Jet2.com and Jet2holidays offer something for everyone, with flexible stays and 3,750 hotels providing everything from great value holidays through to city breaks and the best luxury hotels. We are looking forward to bringing our friendly low fares and great value package holidays to London Stansted Airport and we are confident our proposition will make us a resounding success."
The CEO of London Stansted Airport, Andrew Cowan, also commented on the announcement: "We're delighted that Jet2.com and Jet2holidays has chosen Stansted as its ninth UK base and the first in the South of England. Jet2's arrival at Stansted from next spring will create 250 new jobs at the airport, and support more jobs across our region, as well as offering passengers in London and the East of England a fantastic choice of flights and package holidays to 21 of Europe's most popular and exciting destinations. The announcement is a real vote of confidence in Stansted and we look forward to building a strong working relationship with Jet2 to ensure this exciting new partnership is an overwhelming success."
According to sources, Jet2 will benefit in the competitive battle against Ryanair through the use of their package holiday offering, whereas Ryanair only offers flights. Leadership at the airline hopes that half of its 800,000 seats will be holiday package customers, leading to further revenue growth from its various partnerships.
James is a passionate AvGeek who has been actively spotting for years. James has been an Aviation Enthusiast for 7 years and has a fond likening to Concorde! James hopes to grow in the aviation industry with journalism being his primary focus.
Latest posts by James Field (see all)