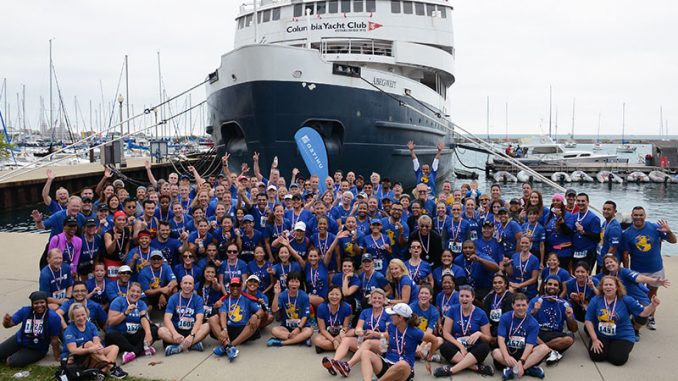 Employees from 70 airlines around the world came together in Chicago for the 35th annual World Airline Road Race (WARR) on September 24. This year, the race was hosted by United Airlines, who had the largest team with over 200 employees.
WARR began 35 years ago when the Qantas Running Club visited San Francisco upon invitation from Delta Air Lines and began as a way to help connect airline professionals from around the world. Over 300 runners from 30 airlines ran through Golden Gate Park and as the years progressed, the race became more competitive with prizes and awards.
The race is held in a different city each year and is usually hosted by an airline based in the host city. The 2017 WARR will be hosted by Singapore Airlines in Singapore from October 5-8. WARR has taken place in 15 countries across five continents: Africa, Asia, Australia, Europe and North America.
In 2009, Ron Maxwell, an aircraft router at United took on the role as chairman of WARR and since then has been travelling the world and meeting fellow airline employees at the race each year. We sat down with Ron to learn more about WARR, his role, and what the race strives for. "I love to run; I love to travel. I'm just doing two things I love," Ron said.
Each year, WARR selects a particular charity based in the host city and sets a goal of raising at least $10,000 for the charity. "It feels good to give back to the city and others in need," Ron said. In 2011, the race was held in Grapevine, Texas where the charity selected helped build the 9/11 memorial, which Ron said is one of the charities that meant the most to him over the years. This year, the race raised funds for Back On My Feet, an organization that combats homelessness by using the power of running, creating community support and providing aid to those in need.
"I think the thing I love most about WARR is uniting people from around the world. This is sometimes their only opportunity to see some of the cities where the race is held," Ron said. "Without these connections and this club, some of the people would never see the places they have. That means the world to me."
United, the host of the 2016 WARR, had a large number of volunteers from the United Running Club and employees. Over the past five years, the club has gotten progressively younger. Ron said this is mainly due to a grassroots effort and the power of social media, which help to attract and recruit both young and talented people.
Over 400 United employees joined 4600 participants at the annual O'Hare 5K on the Runway event, held on September 25. The event raised over $60,000 for Cal's Angels, a non-profit pediatric cancer foundation which grants wishes for kids fighting cancer. The foundation is also United's Fantasy Flight partner at Chicago O'Hare.
Tyler has been an aviation enthusiast for as long as he can remember and is currently pursuing a Bachelor's degree in Aviation Administration with a minor in Social Media Marketing from Lewis University in Romeoville, IL. His preferred airline is United and his favorite aircraft is the Boeing 777 and 757. Tyler has his fourth-degree black belt in Taekwondo and is unlikely to be seen without Starbucks in his hand. He is also an avid plane spotter. Tyler always has a smile on his face and his eyes pointed skyward.
Latest posts by Tyler Tashji (see all)