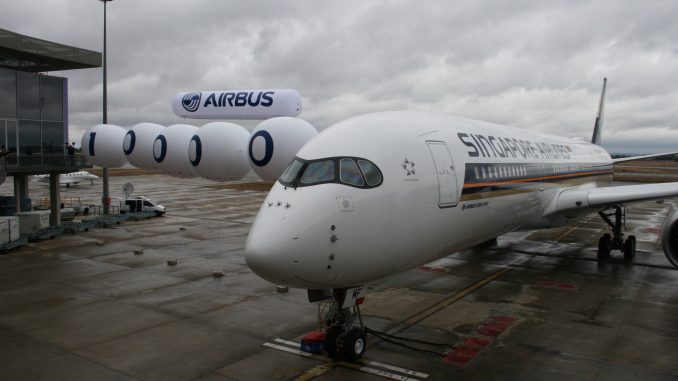 On Friday, Airbus delivered its 10,000 aircraft  The airplane, 9V-SMF (MSN54), was an Airbus A350-941 with a special sticker to commemorate the occasion. The delivery also has significance in terms of the relationships that the two companies have with each other. Singapore Airlines has been receiving aircraft for 37 years ranging from the first Airbus A300B delivered to the airline in 1979, to the current day Airbus A380s and Airbus A350XWB aircraft being delivered today. This A350 will boast advanced aerodynamics as well as offering 25% less fuel burn than previous generation large twin aircraft.
9V-SMF will be used to operate Singapore's new nonstop route between Singapore and San Francisco later this month, offering a direct service to the U.S. for passengers in business class. In 2018, the Singapore – New York route will be returning using the seven A350-900ULR (Ultra Long Range) aircraft in which Singapore is due to receive. The A350-900ULR offers extra range that can be used for long-haul flights varying between 16-18 hours. Singapore has said that the 7 they are due to receive will be used on the extra long-haul services as they aim to expand more into the U.S. on top of San Francisco and New York over the next few years.
Airbus Group CEO Tom Enders said, "[we are] proud to celebrate this milestone with Singapore Airlines – one of our longest standing customers and a true partner. Today, the SIA Group operates aircraft across from our complete product line and with the highest levels of technical excellence. There is no better endorsement for our products and we thank the entire SIA Group for its ongoing confidence, partnership and support".
Enders also humoured at the event how Chief Executive Officer of Customers at Airbus, John Leahy has been at Airbus for a long time, adding that he was responsible for over 8,800 out of the 10,000 total deliveries made within the aircraft manufacturer. Another fact is that Bob Lange, Head of Market & Product Strategy at Airbus, who was also present at the event, was responsible for 9,630 out of the 10,000 aircraft delivered by Airbus.
Goh Choon Phong, Singapore Airlines CEO, added, "Singapore Airlines is honoured to be receiving the 10,000th aircraft that Airbus has delivered. Airbus aircraft have contributed greatly to Singapore Airlines' successes over the decades, and we are proud to be sharing this important milestone with our longstanding and trusted partner. Today's delivery shows how far Airbus has come over the decades. On behalf of the staff and management of Singapore Airlines, I would like to congratulate Airbus for reaching this incredible milestone. Our relationship with Airbus is built on trust and it has gone from strength to strength. In 2007 we took delivery of the world's 1st A380 & we remain committed to the ultra-large aircraft type".
After the aircraft was revealed to the press, we were given the opportunity to go onboard the aircraft and have a look at the class configurations and other modern aspects of the AS50XWB. There are three configurations onboard this aircraft; business class, which offers a 1-2-1 configuration at the front of the aircraft followed by premium economy  which offered a 2-3-2 configuration which is then followed by economy in a 3-3-3 configuration.
Pictures of 9V-SMF – The 10,000th Airbus Aircraft
After we got to look around the aircraft, we were invited to a Q&A with Enders, Leahy, and Phong and they were asked questions about a wide variety of questions. They mentioned that in terms of growth for United Kingdom post-BREXIT, there will be no threat to development and growth and that they would not pull out of the UK if BREXIT was to happen. Phong was questioned about whether he was going to be renewing the lease on the first A380s to which he said that it will not happen and that they will be replaced with the 5 new Airbus A380 aircraft the airline is due to receive. The focus that Phong stressed was on the A350XWB family as they are due to be receiving more of those particular aircraft types than the A380.
This delivery for Singapore and Airbus symbolises the growth in the Asia market. Singapore Airlines are to receive another 61 A350XWBs as well as another five Airbus A380s over the next few years. Airbus predicts that over the next 20 years, there will be demand for 13,460 new aircraft that will account for 40% of the global demand for the aircraft manufacturer. It is predicted that by 2035, Asia-Pacific carriers will be leading the world traffic with 4.5% annual traffic growth over 20 years. Within Asia alone, 267 firm orders from 13 different airlines have been made, accounting for over a quarter of orders for the aircraft. Airbus has received 810 orders for the A350XWB family from 43 different customers and have delivered 42 of them. Airbus is confident that the high level of orders for the A350XWB is due to the aircraft being designed more for long-haul travel compared to their competitors. They also believe that they provide an efficient, sustainable, comfortable, and connected service with the A350XWB.
The aircraft manufacturer has ambitious plans to deliver another 10,000 aircraft within the next decade. They said that this target will be feasible through the ramped up production of the A350, A320, and A330 family whereas A380 production will be downscaled to half by 2018. This will enable Airbus to focus more on the majority of their €952bn order book and begin deliveries of the A321neo, A350-1000 aircraft as well as the current A350-900, A350-900ULR variants and their A320neos.
James is a passionate AvGeek who has been actively spotting for years. James has been an Aviation Enthusiast for 7 years and has a fond likening to Concorde! James hopes to grow in the aviation industry with journalism being his primary focus.
Latest posts by James Field (see all)