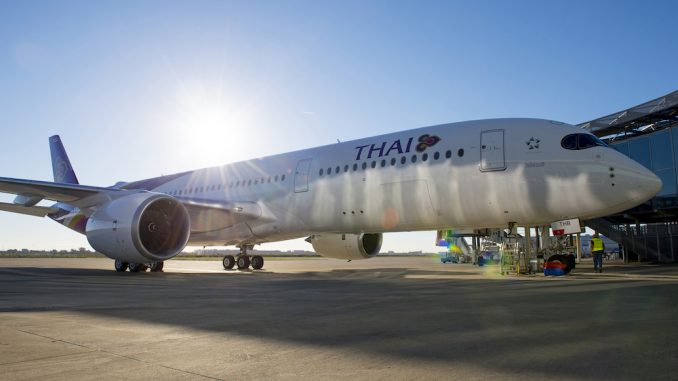 This is part six of "The Name Game" series. For earlier parts, check out Part One,  Part Two, Part Three, Part Four and Part Five covering other major regions around the world.  No two aircraft are alike, and while every carrier can showcase this fact by slapping a registration number on the aircraft and recording the airplane's manufacturing number, some take it a tad bit further. In this series, we will look into the airlines that take individualizing each airplane to the next level. Individual aircraft and special liveries like Cathay Pacific's "The Spirit of Hong Kong" jet will not be counted since they are one-off aircraft. From animals to World Heritage Sites, this is how aircraft earn their names.
Regions That Matter – Thai Airways International
Being the flag carrier for Thailand, Thai Airways International has realized that they "carry the country," and as a response, their fleet literally "carries the country". The fleet of Airbus and Boeing aircraft carry the provinces and districts that make up the fast-growing Asian country. Province names are more commonly seen on the Airbus A330s, while the districts that make up these provinces are on the Airbus A350s, Airbus A380s, Boeing 747s and Boeing 787 Dreamliners. The Boeing 777 is broken up into both provinces and districts across the fleet.
Thai has made it a tradition of naming the aircraft after the provinces and districts with previously used aircraft as well, like the Airbus A300s, Douglas DC-8s, and Airbus A340s. Although most of the aircraft have been named, a majority of the previous aircraft in the fleet of BAe 146 and a few leased McDonnell-Douglas aircraft were never named for Thai. Furthermore, the Douglas DC-8F and Boeing 777Fs (leased from Southern Air) were never named, but the Thai Air Cargo Boeing 747-400Fs were named. Thai's low-cost arm, Thai Smile, also names their aircraft after the provinces and districts, with all twenty Airbus A320s following the themes of the parent company. Thai aircraft names appear between the cockpit window and forward boarding door under the Star Alliance logo, and are in English on the port side and Thai on the starboard side.
Royalty and Regions – Royal Jordanian Airlines
Royal Jordanian Airlines names their aircraft after people and places much like many others. The airline's short and medium-haul fleet of aircraft consists of Airbus A319s, A320s, A321s and Embraer ERJ-175s and ERJ-190s. They are named after different locations in Jordan, ranging from cities to mountains, as well as regions. The aircraft names include Azraq, Umm Qais, and Mount Nebo. While the smaller aircraft are named after locations, larger aircraft are named after royal family figures, with the Airbus A330s, and Boeing 787-8 Dreamliners contain names like Prince Hussein bin Abdullah, Prince Ali Ibn Al Hussein, and Princess Iman Bint Abdullah. Only one long-haul aircraft breaks the royal family's rule as a Boeing 787-8 Dreamliner (JY-BAF) is named after the city of Amman (which also appears on the Airbus A320 JY-AYR).
Royal Jordanian aircraft have a tradition of naming aircraft. Previous long-haul aircraft to wear the royal family include Airbus A310s, Airbus A340s, Lockheed L-1011 Tristars and Boeing 747-200s. Short haul fleet of older Airbus A320 family aircraft have also been given location names in the past, and retired as newer aircraft were added to the fleet. Royal Jordanian has retained two Airbus A310s for cargo purposes which have retained their original names, bearing the names of Prince Hamzah bin Al-Hussein and Prince Hashem bin Al-Hussein. Royal Jordanian's aircraft names can be found on the white underside of the aircraft written in between the cockpit windows and forward door. Royal Jordanian names are written in English on the port side and in Arabic on the starboard side. 
A Fleet of Emotions – Sriwijaya Air
While many people might not know about this Indonesian carrier, Sriwijaya Air with its all Boeing 737 fleet does name all of its aircraft. The airline names their aircraft after various human traits and emotions. Aircraft names range from Citra (imagery), Berarti (mean), Bermanfaat (helpful), and Keberkahan (blessing). All 38 of the Boeing 737-300s, 737-500s, 737-800s, and 737-900s bear their own name, with none repeating across the thirteen-year-old airline.
Although Sriwijaya Air's current set of names are creative, they did not always name them the way they currently do. Previous Sriwijaya Air names on retired Boeing 737-200s included Tjilik Riwut who was a former government official, names like Brenda and Emilio, and the region of Membalong. Despite these names, the theme of naming emotions and traits had also been present with aircraft like Ketaatan (obedience), Berbagi (share), and Kedahsyatan (fury). Sriwijaya Air is currently running two liveries right now, with both having the names in similar locations. The names appear under the pitot tubes under the cockpit windows on the new liveries and under the old livery's red and blue line and again under the pitot tubes.
Remembering the Most Famous – MIAT Mongolian Airlines
The flag carrier of Mongolia doesn't operate the largest fleet in Africa, however, the small fleet of five aircraft are named after the famous Mongolian emperors, the Khans. Of the five aircraft, four aircraft bear names including Ogedei Khaan (Ögedei Khan), Khubelai Khaan (Kublai Khan), Guyug Khaan (Güyük Khan), and Chinggis Khaan (Genghis Khan). The first three (Ogedei, Khubelai, and Guyug) appear on the narrowbody fleet of Boeing 737-800s, while Chinggis is on one of the two Boeing 767-300ERs. Prior to the current fleet, MIAT used to lease aircraft, which left most airframes nameless. The only aircraft that used to bear a name was an Airbus A310 which was the original Chinggis Khaan. MIAT names are located between the cockpit and forward boarding door underneath the Mongolian flag. Names appear on both sides of the aircraft. 
Other Notables
Despite being in a small country, El Al Israeli Airlines names their fleet after the cities of Israel, with at least one of each of the types of aircraft wearing a town name. Some aircraft, specifically the Boeing 737s, lack names, but those that do have their names are written in both English and Hebrew. Biman Bangladesh Airlines has a larger range of themes with aircraft names ranging from cities like City of Chittagong to poems like Meghdoot and Mayurpankhi.
Although Ian McMurtry was never originally an avgeek, he did enjoy watching US Airways aircraft across western Pennsylvania in the early 2000s. He lived along the Pennsylvania Railroad and took a liking to trains but a change of scenery in the mid-2000s saw him shift more of an interest into aviation. He would eventually express this passion by taking flying lessons in mid-Missouri and joining AirlineGeeks in 2013. Now living in Wichita, Kansas, Ian is in college majoring in aerospace engineering and minoring in business administration at Wichita State University.
Latest posts by Ian McMurtry (see all)