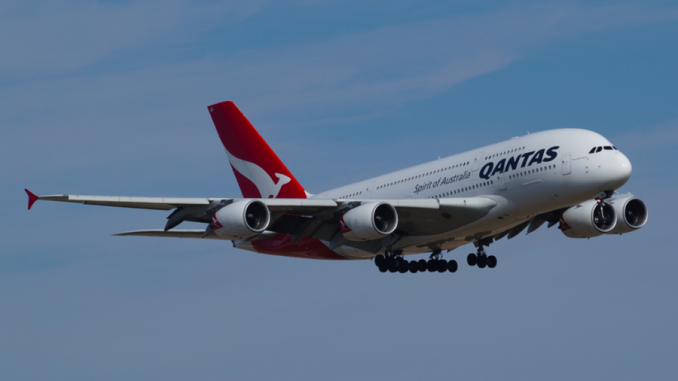 This is part six of "The Name Game" series. For earlier parts, check out Part One,  Part Two, Part Three, Part Four, Part Five, and Part Six covering other major regions around the world.  No two aircraft are alike, and while every carrier can showcase this fact by slapping a registration number on the aircraft and recording the airplane's manufacturing number, some take it a tad bit further. In this series, we will look into the airlines that take individualizing each airplane to the next level. Individual aircraft and special liveries like Air New Zealand's "All Blacks NZ Rugby Union" jets will not be counted since they are not a fleet-wide naming of aircraft. From animals to World Heritage Sites, this is how aircraft earn their names.
The Names from Down Under – Qantas
While most airlines covered have had a fleet-wide naming, Qantas follows the tracks of KLM, choosing instead to have multiple themes. The Australian-based carrier names their fleet of Airbus A330s after landmarks, with Kangaroo Island, Ningaloo Reef, and Port Lincoln as three of the 28 aircraft types that Qantas operates.
The Airbus A380s, which are some of the newest aircraft that Qantas owns, are named after famous Australian aviation figures, with people ranging from Phyllis Arnott, the first woman to obtain a commercial pilot's license, to Charles Kingford Smith, the first to trans-Pacifically between Australia and the USA. Other examples include businessmen like Fergus McMaster, the founder of Qantas, and Reginald Ansett, founder of now-defunct Ansett Australia. The Boeing aircraft operated by Qantas, 737-800 and 747-400, are named after Australian cities, with names like Bathurst Island, Syndey, and Wagga Wagga appearing on the side of the aircraft.
Qantas 747s receive another name of "Longreach" with their city name. Longreach was the founding point for Queensland and Northern Territories Aerial Services (QANTAS) in 1921. Four aircraft break their respective themes though, with the two retrojet 737s being named after James Strong, former Qantas and Australian Airlines CEO, and Retro Roo II. There are also two Aboriginal Art aircraft named Mendoowoorrji and Wunala.
While Qantas has had a knack for naming aircraft since its very beginning, Australia wasn't always the main theme. Early aircraft were named after Greek mythology, with the first aircraft being named after Australia not arriving until 17 years after the carrier was founded. Since then, the theme has been mostly about Australia.
The airline took a generic approach with their Constellations, applying the word Southern in front to create names like Sothern Aurora, Southern Melody, and Southern Wind. The Airbus A300s were named after Australian explorers such as James Cook, John Forrest, and William Light while the Boeing 737-400s were named after birds like Kookaburra, Eagle, and Kingfisher. The most consistently used theme is the use of naming aircraft after Australian cities, with the theme being previously used on the Boeing 707s and 767s along with the currently flying fleet of Boeing 747s and 737-800s. Aircraft names depend on the aircraft type; most appear directly under the cockpit windows, with the Boeing 747s and Airbus A380s appearing behind. However, the new revision of the livery sees the aircraft name move farther away from the windows, with the airlines 1970s logo slotting in between the cockpit windows and aircraft name. The word Longreach on the 747s is written above the lower set of windows just before the first door. Qantas expects to receive the Boeing 787-9 in 2017, but the theme for the fleet has yet to be released.
This Name's a Beach – Virgin Australia
While Qantas had seemed to take every theme possible for Australia, Virgin Australia has found one and exploited it. Virgin Australia's fleet of ATR 72s, Airbus A330s, Boeing 737s, and 777s, and Embraer 170s and 190s are named after the beaches of Australia. Names on Virgin Australia range from Little Beach and Mooloolaba Beach to Four Mile Beach with over one hundred beaches represented on the fleet. Aircraft sizes do not determine the beach the aircraft receives, with some of Australia's more popular beaches like Bondi Beach and Surfers Paradise Beach appearing on Boeing 737s instead of Boeing 777s. Aircraft names appear on the nose of the aircraft, underneath the famous Virgin characters that are painted in silver.
The name Virgin Australia has only been used by the airline since 2011, the same year that the beach theme began being used. Virgin Australia was a merger between Virgin Groups' three Oceanic carriers; Virgin Blue, V Australia, and Pacific Blue. Prior to being named after beaches, Virgin Blue named their aircraft after women, connecting them with an Australian town or theme, with names like Sassy Sydney, Lady Victoria, and Darwin Diva coming to light. V Australia was the long haul brand for Virgin, however, unlike Virgin Blue, V Australia only named one of their five Boeing 777-300s, with VH-VOZ being named Didgeree Blue. Pacific Blue was Virgin's New Zealand based carrier and followed a similar pattern to that of Virgin Blue, with a similar livery and names like Maiden New Zealand, Kiwi Ana, and Bonnie Blue appearing on aircraft noses. Upon merging the three brands together, Virgin eliminated the names in favor of a unifying theme.
Island Hopping – Fiji Airways and Air Tahiti Nui
Despite being separated by over 2000 miles, Air Tahiti Nui and Fiji Airways share more in common than landing slots at Los Angeles International Airport. Both island carriers have taken interest in naming their aircraft after their home islands. Air Tahiti Nui has named their fleet of Airbus A340s after the islands of Mangareva, Bora Bora, Nuku Hiva, Rangiroa, and Moorea. Fiji Airways follows similarly but adds the "Island of …." to the title, leaving the fleet of nine Airbus A330s and Boeing 737s with names like Island of Yasawa-i-Rara, Island of Ovalau and Island of Koro.
However, the two carriers separate when looking at their history, with Air Tahiti Nui only existing since 1998. Fiji Airways up until 2013 was named Air Pacific and dated back to 1951. Over the course of Air Pacific, aircraft were continuously named after the islands of Fiji, with some names appearing on over half a dozen aircraft during Air Pacific's operations. Name placement differs on the carriers as well, with Fiji Airways' names appearing under the cockpit windows, while Air Tahiti Nui places there names between the forward door and cockpit windows beneath an image of the flag of Tahiti.
Although Ian McMurtry was never originally an avgeek, he did enjoy watching US Airways aircraft across western Pennsylvania in the early 2000s. He lived along the Pennsylvania Railroad and took a liking to trains but a change of scenery in the mid-2000s saw him shift more of an interest into aviation. He would eventually express this passion by taking flying lessons in mid-Missouri and joining AirlineGeeks in 2013. Now living in Wichita, Kansas, Ian is in college majoring in aerospace engineering and minoring in business administration at Wichita State University.
Latest posts by Ian McMurtry (see all)