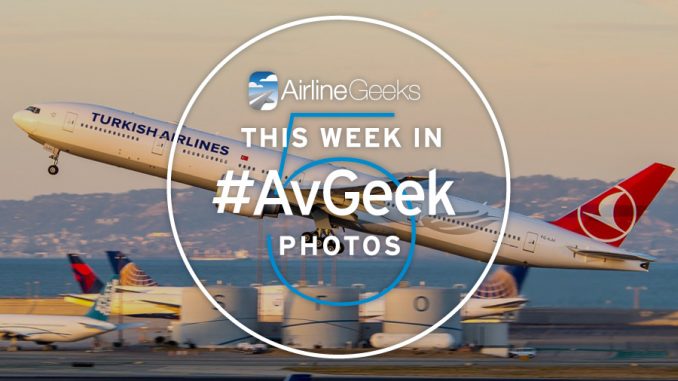 A photo is a thousand words. An aviation photo can serve as a testament to the essence and magic of flight while also telling a story. Each week, the AirlineGeeks team compiles five aviation photos that tell a story and capture the uniqueness of flight.
After being painted at Trois-Rivieres Airport, jetBlue's newest special livery 'Blueprint' arrived in Boston early Saturday morning. This is the first special livery on one of the carrier's Embraer 190 aircraft. The new special livery has recently flown to Ft. Myers, Savannah, and Cleveland. Rich Barnett captured the aircraft on the ground in Boston.
The first Boeing 737-8 MAX (N8701Q) "Spirit of Renton" now has a rudder installed with the Southwest livery. The aircraft is undergoing intensive modification from a test frame into a commercial jetliner. The exact delivery date of the first 737-8 MAX is currently unknown. This photo was taken in Renton by Huy Do.
Hawaiian's newest Boeing 717-200 (N494HA) parked on a hard stand in Honolulu. Also pictured is Aloha AIR Cargo. This photo was taken by @hnlramper.
On Monday, United previewed its first 777-300ER with a flight from Chicago to San Francisco. The new aircraft is the first to feature the airline's new Polaris business class seat.  The extended 777 now operates regular service between Newark and San Francisco, with service to Hong Kong expected to begin in March. Pictured is the walk-up bar on United's 777-300ER. This photo was taken by AirlineGeeks social media director Alex Navitsky.
On Friday, Boeing South Carolina employees celebrated the roll out of the aircraft manufacturer's first 787-10 Dreamliner. U.S. President Donald Trump was also in attendance as the aircraft was unveiled at the North Charleston facility. The 787-10 will be built exclusively in North Charleston. (Photo: Boeing)
AirlineGeeks.com began in February, 2013 as a one-man (er… teenager, rather) show. Since then, we've grown to have 20 active team members, and yes, we're still growing. Some of us are looking to work in the aviation industry as professionals when we grow older. Some of us are still trying to decide what we want to do. That's okay though, because we're all here for the same reason: we love the airlines. We're the youngest team of airline industry journalists out there.
Latest posts by AirlineGeeks.com Staff (see all)