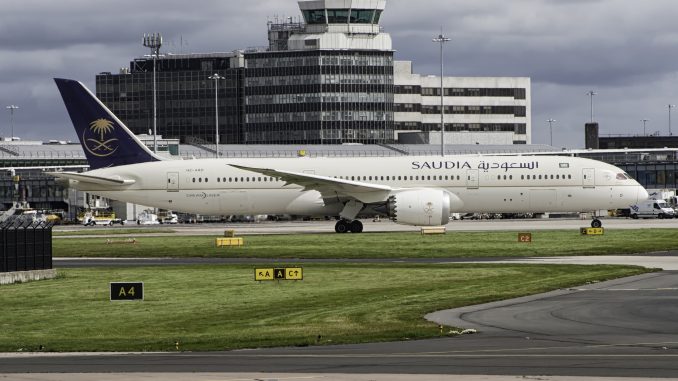 Adding to their existing service to Jeddah from Manchester, Saudi Arabian Airlines, referred to simply as Saudia, has announced an expansion of their route portfolio at Manchester International Airport.
Beginning June 23, 2017, the carrier will launch twice weekly service to Riyadh, meaning that passengers can now fly to Saudi Arabia up to seven times per week. The service is scheduled to depart on Mondays and Fridays using the carrier's Boeing 787-9 Dreamliner aircraft, which is already in use on the Jeddah route. The seating configuration on board the aircraft will feature 24 business class seats in a 1-2-1 configuration, offering a 47-inch seat pitch and baggage allowance of 64kgs (2 pieces of 32kg each). The economy class will have 274 seats in a 3-3-3 configuration with a 32-inch seat pitch and luggage allowance of 46kg (2 pieces of 23kg each).
Fikry Altowayan, Saudia's Manager for the UK commented on this route expansion from the North West: "We are excited with this newest addition to Saudia's growing 83 destinations. We renew our commitment to our passengers by providing easy access, comfort, competitive pricing and convenient travel to the capital as well as more options in flying to further destination either via Jeddah or Riyadh. Manchester Airport is ideally situated to serve as Saudia's gateway to cater to our guests from the North."
Stephen Turner, Manchester Airport's Commercial Director also commented on this new addition: "It's great to see Saudia increasing their presence at Manchester Airport.  The new flights to Riyadh will offer business and leisure passengers alike direct access to the Saudi capital as well as fantastic onward connections and I'm sure they'll prove hugely popular."
The Riyadh flights on Mondays and Fridays will depart Riyadh at 3:35 AM local time and will arrive into Manchester at 8:30 AM local time. The return flight will depart at 11:00 AM and will arrive back into Riyadh at 7:35 PM.
Saudia's existing route at Jeddah operates five times per week already with the Boeing 787-9 Dreamliner. This additional route will offer the carrier a chance to carry much more of the 25.8 million passengers that travel through Manchester annually, as well as the additional 22 million people in the catchment area. Furthermore, as Manchester is due to expand over the next 10 years, which will prove to be an opportunity as Saudia works to grow within the largest airport outside of London.
James is a passionate AvGeek who has been actively spotting for years. James has been an Aviation Enthusiast for 7 years and has a fond likening to Concorde! James hopes to grow in the aviation industry with journalism being his primary focus.
Latest posts by James Field (see all)