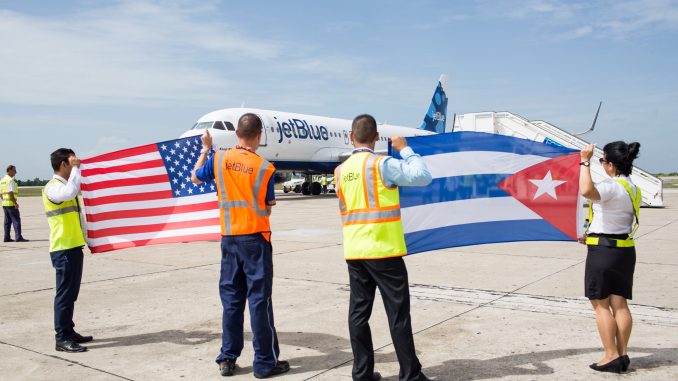 Effective on April 22, 2017, Silver Airways, a Fort Lauderdale-based regional carrier, will be ceasing its 22 daily flights to Cuba due to lower than anticipated demand and an inflation of the market. The decision comes just six months after Silver became one of the first airlines to begin selling regularly scheduled tickets to the island.
Prior to the decision, Silver had used its Saab 340 aircraft to fly to smaller, provincial cities in Cuba such as Cienfuegos and Cayo Coco.
Additionally, Frontier Airlines announced on Monday that they would be ceasing their daily Miami-Havana flight effective June 4 due to higher-than-expected costs and "market conditions failing to materialize."
In recent weeks, American Airlines and JetBlue have also made decisions to ease back on their flights to Cuba, by reducing the number of frequencies and switching to smaller aircraft.
The sudden cutbacks are not due primarily to low passenger volumes, but more so the sudden increase of airlines and flights into a new territory. "Other airlines continue to serve this market with too many flights and over sized aircraft, which has led to an increase in capacity of approximately 300 percent between the U.S. and Cuba," said Misty Pinson, Silver's Director of Communications. "It is not in the best interest of Silver and its team members to behave in the same irrational manner as other airlines."
After commercial travel to Cuba was reintroduced last year, many airlines jumped at the opportunity to serve the virtually untouched island. Spirit, United, Alaska, and Southwest are among the list of U.S. based airlines who offer daily service to cities such as Havana, Varadero, Holguín, and Santa Clara.
With no previous benchmarks to use, airlines seemed to overestimate the commercial travel market in Cuba. "We started pretty big in Cuba. We made some adjustments to the market demand," said Laura Masvidal, a spokeswoman for American Airlines. American offered 1,920 seats a day to Cuba and dropped that number last month to 1,472. JetBlue still offers almost 50 weekly round-trip flights to Cuba but has switched to smaller planes, reducing their seat count by about 300 a day.
But even with numerous flights, traveling to Cuba is not easy. Hotels can be expensive, American credit cards are not widely accepted, and American citizens are still required to jump through a few hoops to get there.
American travelers must pick from a list of 12 reasons to travel. Additionally, they then have to create a defined itinerary for their entire visit, which usually can be done through a travel company. After purchasing the required Cuban medical insurance and tourist visa, costs to the island can run upwards of $2,000 without airfare.
Yet, the travel industry remains optimistic. "The market is exploding. There is some demand adjustment happening as well, but net outcome is still one of the fastest growing markets in global tourism history," said Chad Olin, President of Cuba Candela, which specializes in booking trips to Cuba. Cuban media reported that the number of Americans who visited Cuba jumped by 125 percent in January and the number of Cuban-Americans visiting family members jumped by 38 percent.
"Patience is the word for now," said Gary Kelly, CEO of Southwest. "We went into Cuba with the idea we would stick with them for quite some time – at least a year – and then reevaluate, give them time to develop. We've got minimal investment with these flights, and in the airline business, if you don't like that market you can easily redeploy the aircraft."
An "AvGeek" for most of his life, Akhil has always been drawn to aviation. If there is an opportunity to read about an airline, fly on a new airplane, or talk to anyone about aviation, he is on it. Akhil has been on over 20 different kinds of aircraft, his favorite being the MD-80. Additionally, he has visited 5 continents and plans to knock out the remaining two (Africa and Antarctica) soon. Based in Dallas, Akhil graduated from Texas A&M University with a degree in Management Information Systems and currently works in consulting. His dream is to become an airline executive.
Latest posts by Akhil Dewan (see all)