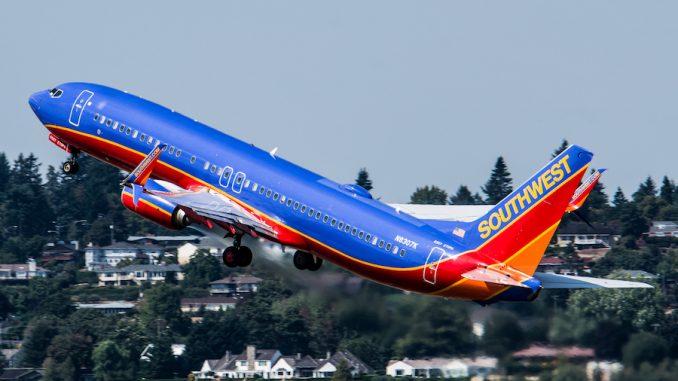 Beginning in May, Dallas-based Southwest Airlines will be replacing paper tickets with electronic tickets. Additionally, the airline will be saying goodbye to its outdated, yet charming "tube system" used by ramp personnel to communicate key information. These changes are expected to come as a part of the $800 million modernization effort to replace its antiquated systems.
Currently, Southwest's operation of iconic pneumatic tubes., which are similar to what you see at a bank's drive-thru, are used to transmit notes about weight, balance, schedule changes, and bags in canisters.
Ramp employees will now receive a tablet that contains the needed information in real-time. This $300 million upgrade, in addition to the reservations system upgrade, makes it the biggest technological upgrade in the airline's 45-year history.
With Southwest being driven by its 'turn time,' or how quickly a plane can be serviced and sent off to its new destination after it lands, these changes are crucial. In the past few years, Southwest saw its average turn time double from 20 minutes to 40 minutes. This new upgrade will hopefully bring it down.
"We're looking for minutes," Southwest's Chief Operating Officer Mike Van de Ven told Bloomberg. "How do I save a minute here, a minute there? In 2017, we are more deliberate in our continuous improvement efforts."
After expanding greatly over the past few years, both domestically and internationally, the new changes will bring the airline's reservations system up to par with many other U.S. based airlines, allowing Southwest to accept foreign currency, adjust to real-time weather updates, and modify prices and schedules more efficiently.
"Southwest's approach was so successful for so long that it has taken them time to recognize where there's room for improvement," said Samuel Engel, aviation vice president at consulting firm ICF International. "Sometimes you look back and realize, 'There have been innovations and we need to catch up.'
Southwest is expecting to recoup the investments being made by 2020, with earnings expected to be boosted to around $100 million a year.
An "AvGeek" for most of his life, Akhil has always been drawn to aviation. If there is an opportunity to read about an airline, fly on a new airplane, or talk to anyone about aviation, he is on it. Akhil has been on over 20 different kinds of aircraft, his favorite being the MD-80. Additionally, he has visited 5 continents and plans to knock out the remaining two (Africa and Antarctica) soon. Based in Dallas, Akhil graduated from Texas A&M University with a degree in Management Information Systems and currently works in consulting. His dream is to become an airline executive.
Latest posts by Akhil Dewan (see all)