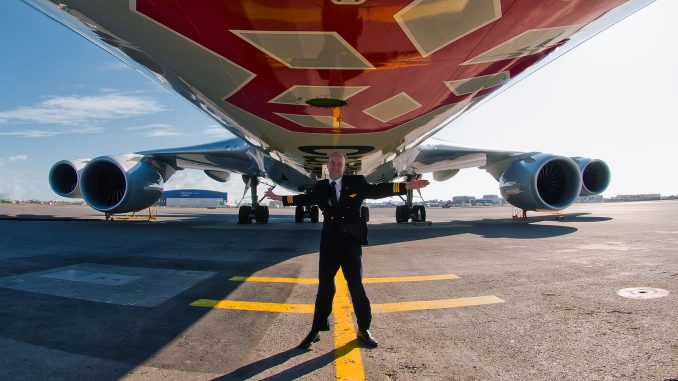 Recently, AirlineGeeks had the opportunity to interview Cargolux pilot Christiaan van Heijst. We asked him a series of questions that could be beneficial or interesting to the common aviator, aspiring pilot or budding aviation enthusiast.
Christiaan is popular amongst social media and other platforms for the sheer quality of his photographs as well as his ability to share some of the best moments from 35,000 feet. His photos have been featured in many different publications and magazines across the globe, including The Huffington Post in the US, Daily Mirror in the UK and even the NTSB and the FAA in financial and annual reports.
Q: Tell our audience a little bit about yourself.
A: I'm Christiaan van Heijst, born and raised in The Netherlands in 1983. Currently 33 years old and flying as a Senior First Officer on the Boeing 747 with Cargolux. I started flying glider planes when I was 14 years old and knew from an early age on that I wanted to become a pilot. Eventually obtaining my PPL Private Pilot License at the age of 18, even before my driver's license.
At the age of 20, I was hired by Denimair on the Fokker 50. Ever since that first flight, I had a strong urge to capture the moods, atmospheres, and views that I had as a pilot, knowing it was such a unique position. Especially when Denimair started flying in Africa and Afghanistan, I just had to immortalize it. This passion continued and grew stronger when I realized how much positive feedback I got from people that came across my photos.
A flying photographer, or a photographing pilot, I think I'm somewhere in between.
Q: What is it like to have come from flying Fokker 50s for carriers like Denim Air to later flying Boeing 747 aircraft for Cargolux?
A: After flying the fantastic Fokker 50 for 2.5 years, I joined Transavia where I flew the Boeing 737 for about 4.5 years. The step from the Fokker 50 to the 737 was not too big and provided a perfect background for the Boeing 747 since the airplane systems and cockpits of the entire Boeing fleet are relatively comparable.
With Denimair I flew some of the most amazing operations you can imagine; our Fokker's were leased to a variety of local African airlines, and later also military VFR operations in Afghanistan. Adventures that could sometimes be best described as if I was living the stories of an adventurous boyhood novel.
With Transavia, I was happy to fly the 737 but was missing the variety and destinations I'd seen before. For me, traveling and seeing the world was one of the reasons I became a pilot. That, in combination with the more interesting operation of flying Cargo, I decided to apply for a job with Cargolux and looking back, the experience on the Fokker 50 and Boeing 737 provided me with the best possible background for flying the Boeing 747 in a worldwide network.
Q: What is your favorite aspect about the Boeing 747?
A: I absolutely love the iconic and beautiful lines of the 747. It's an airplane that nearly everybody in the world recognizes as the 'jumbo', even when people are not even remotely interested in aviation.
Flying wise, the 747 is also a fantastic machine to work with. Extremely reliable and a fun airplane to fly manually. Also, the upper deck of the freighter gives us a lot of space for crews, including two full bunks where we can sleep when we fly as passengers or fly with so called 'heavy' crews where each of us can rest for a few hours during long flights.
Q: Where is a unique destination that you have flown to either with your current carrier or with previous employers?
A: Some of the places we flew to with the Fokker 50 in Africa were nothing more than gravel strips in the desert, sometimes in politically unstable countries. Flying low-passes before landing to see if the runway is in a good state, and to chase away wildlife and locals that might walk or sit on the runway.
The operation in Afghanistan was similar in the sense that some airports were barely usable but with the added danger of very unforgiving mountains all around, and the never-ending threat of hostile combatants that occasionally posed a danger.
Now with Cargolux, we fly to about 90 different destinations and on top of that charters to any airport that can accommodate the Boeing 747; sometimes flying into a cold snowstorm in Siberia, the other day flying to airports high up in the Andes mountains or busy hubs like Chicago or JFK. It's difficult to name one specific airport that stands out from the rest since there is just so much variety, and exactly this variety is what makes flying cargo today so much fun.
Q: How frequently do you fly on the Boeing 747-400/-8F variants in terms of rosters, etc.?
A: This is difficult to say, sometimes I fly the 747-8F for a few months straight, sometimes I fly a lot of -400 routes or just a mixture. For me as a pilot, the differences are not that big and we can fly them all under the same type rating. On top of that, the rosters and airplanes are changed and swapped constantly, making it impossible to know long beforehand what type I'm going to fly. Sometimes I don't even know what variant I'll fly until the moment we arrive on the cargo apron to enter the airplane.
Q: Which destination out of Cargolux's route portfolio is the most visited destination in your network portfolio?
A: Up to last year I had Anchorage as a so-called 'standing bid' for my schedules almost 2.5 years straight, sending me through Hong Kong and Anchorage at least once or twice a month. But since the rosters for us pilots are changing constantly I sometimes find myself in Chicago three times a month, and then suddenly not for many months. All in all, I'd say Hong Kong, New York, and Novosibirsk are some of the most frequently visited airports.
Q: What inspired you to start taking photographs from the cockpit?
A: Ever since my first flight on the Fokker 50, I was gripped by the unique perspective we have from the cockpit. Seeing the mountains, rivers, and clouds from a viewpoint that was only reserved for birds up to 100 years ago, I am trying to immortalize the world as it passes by my window. Capturing those with my camera, I can share them with people that do not have the chance to sit in the cockpit and see the world like this.
Q: What camera equipment do you use in the air to take such crisp and clear photographs?
A: I currently use the Nikon D800 and carry the following lenses with me in my flight bag; the Nikon 10.5mm f/2.8 Fisheye lens that I use to capture the northern lights and most of the long-exposure night shots. The Nikon 14-24mm f/2.8 is one of the wide-angle lenses that is fantastic for cockpit shots or landscapes, but mostly I use the Nikon 24-70mm f/2.8 for daylight pictures.
More millimeters are completely useless from the cockpit since the think layered cockpit windows will blur everything that is zoomed in more than roughly 50mm. This is restricting me to wide-angle shots, generally.
Not all photos I take are that sharp by the way, normally at least a few photos are slightly blurred by the windows, turbulence or the movement of the airplane. Only the best is uploaded for the general public of course.
*Photos by Christiaan van Heijst
Q: Do you prefer being a cargo pilot or do you prefer being a commercial airline pilot?
A: I've flown passenger flights for almost 7 years before I joined Cargolux and fly purely cargo. Personally, I prefer flying freight by far. The entire cargo operation is much easier going, less hassle with slot-times, missing catering, unruly passengers or problems with cabin crew. The worldwide route network is much more interesting and definitely add to the total picture. Then again, we do sometimes carry dangerous goods and I sometimes do miss the fun times we had with a larger crew on destinations. But all things considered, I hope to fly cargo for the rest of my flying career.
Q: If there is one interesting or unique experience you could share with us as a pilot, what would that be?
A: I have countless [numbers] of unique stories that I lived in Africa and Afghanistan, but those will have to wait until I have time to write properly about them. One of the most beautiful things I have ever seen was last year over the Arctic Ocean, North of Alaska. An absolutely mesmerizing and breath-taking northern lights 'storm' erupted in the dark sky above, showing fast-paced curtains of green and purple for as far as the eye could see. The ice on the ocean below reflected the aurora as well, making it an experience that is impossible to capture on any photo. I feel very privileged to see those things from the cockpit and [this] makes me realize how much beauty there is to be seen sometimes.
Christiaan's adventures can be documented also with the release of his first book, labeled "Cargopilot" where he documented his journeys with photographs and other descriptive information. The book is available here.
All-in-all, Christiaan describes the life of being a pilot and documents it so effortlessly through his book and also via his Instagram and his website, in which he aims to show people the sheer beauty of the world that we all live in.
James is a passionate AvGeek who has been actively spotting for years. James has been an Aviation Enthusiast for 7 years and has a fond likening to Concorde! James hopes to grow in the aviation industry with journalism being his primary focus.
Latest posts by James Field (see all)