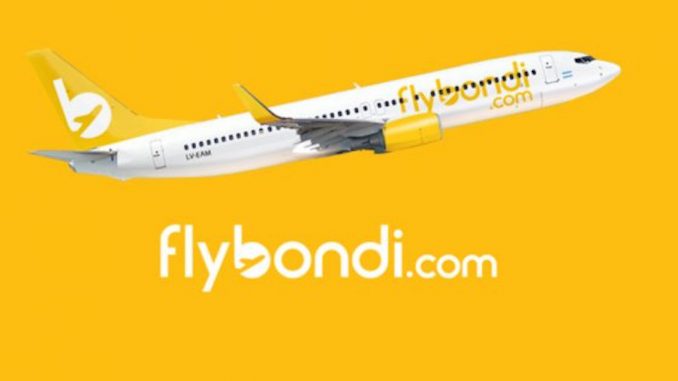 Earlier this week, Flybondi, a new low-cost carrier based in Argentina, announced that it had officially received government approval from Argentina's Ministry of Transport. The approval will now allow the airline to operate 85 routes, which include 43 domestic routes and 42 international. This concession will last for 15 years.
The Buenos Aires-based airline also announced that it plans to use the Boeing 737-800NG on its routes. The aircraft will be configured with 189 seats, with the airline intending to offer the lowest cost per seat in the market. By 2021, Flybondi is hoping to operate a fleet of 30 aircraft to fly its intended goal of 8 million passengers.
In a statement, founder and CEO, Julian Cook said, "We are very pleased with the 85 routes awarded. We are convinced that our ultra low cost model will positively change the travelling culture in Argentina and will have a strong positive social and economic impact on the country."
Currently, the low-cost market in Argentina is non-existent, with the two main domestic carriers being Aerolineas Argentinas and military-operated LADE, while its neighbors have multiple low-cost carriers such as Sky Airlines in Chile and Azul Airlines and GOL in Brazil.
Cook added: "The decision by the Argentinian Government shows the vision to develop an ultra low cost model, which complements the current offering, and will allow the people to travel with the lowest prices in the market."
In another effort to shake-up Argentina's domestic air travel market, Norwegian Air announced that it was interested in creating a subsidiary in Argentina by the name of Norwegian Air Argentina, with domestic flights within Argentina and international flights to cities such as Oslo, Paris, and Barcelona.
Norwegian has applied for an Argentinian Air Operator's Certificate and plans to begin selling routes by the end of this year.
Additionally, airlines such as Panama's Copa Airlines and Chile's Sky Airlines have started to increase their route frequencies into Argentina and other companies, such as Avianca's parent company, Synergy, have expressed interest in starting an airline in the South American country.
The rising interest in Argentina's air travel market can be traced back to the election of a new Argentinian President, Mauricio Macri, who seems open to allowing more competition into the country. This is in contrast to the previous administration that seemed to shield state-owned Aerolineas Argentinas from competition.
Flybondi plans to begin its operations in the last quarter of 2017, with hopes of flying to Argentinian cities such as Cordoba, Mendoza, and Ushuaia as well as to South American countries such as Bolivia, Brazil, Chile, Colombia, Ecuador, Peru, and Uruguay.
An "AvGeek" for most of his life, Akhil has always been drawn to aviation. If there is an opportunity to read about an airline, fly on a new airplane, or talk to anyone about aviation, he is on it. Akhil has been on over 20 different kinds of aircraft, his favorite being the MD-80. Additionally, he has visited 5 continents and plans to knock out the remaining two (Africa and Antarctica) soon. Based in Dallas, Akhil graduated from Texas A&M University with a degree in Management Information Systems and currently works in consulting. His dream is to become an airline executive.
Latest posts by Akhil Dewan (see all)