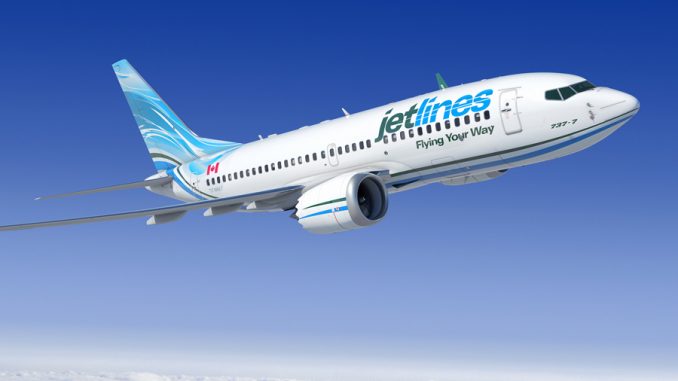 Further information regarding the operations of the new Canadian ultra-low cost carrier Jetlines has been announced, with the new carrier to start operations in June next year. Jetlines has announced that it intends to offer ultra-low fare service from John C. Munro Hamilton International Airport and Waterloo International Airport.
The airline's CEO, Stan Gadek, said: "The high demand for lower airfares in the Toronto Metropolitan Area has led to the decision to base our flying in this region. As a result, we are pleased to announce that we have entered into an agreement with the John C. Munro Hamilton International Airport and are in active discussions with Region of Waterloo International Airport. The combine service area for these airports includes nearly four million people. This factored significantly in our decision to serve both airports."
The carrier's ultimate plan is to offer more flights with ultra-low fares on routes between major markets in Canada, Mexico, the Caribbean and select destinations in the U.S. It will launch services with two 189 seat, all economy aircraft on June 1, 2018.
Mr Gadek continued by saying, "Canadians are overpaying for air travel and we intend to change that. By offering customers the freedom to select the travel experience they want in addition to getting every day ultra-low fares, Jetlines will change the way that Canadians fly."
Upon its launch, the airline will operate services from Waterloo and Hamilton to Vancouver, Halifax, Winnipeg, Calgary and Edmonton. After a period of 60 days, which the airline will utilize to prove to Transport Canada it can operate in accordance with procedures, it will add a further two aircraft and expand to a further 14 locations including Las Vegas and Orlando.
Vijay Bathija, President & CEO for John C. Munro Hamilton International Airport said, "As Hamilton International continues to grow as a low-cost airport in the Toronto Metropolitan Area, the airport is pleased that Jetlines has chosen Hamilton as its Eastern focus city providing further low-cost travel options for Hamilton and the region."
Meanwhile, general manager for the Region of Waterloo International Airport, Chris Wood stated: "We look forward to continuing discussions with Jetlines as they plan the launch of a new ULCC to serve the very dynamic economy in the Waterloo region."
"The industry has evolved to the extent now where carriers have lower cost structures, lower price of fuel, lower input costs – and yet air fares are extremely high here in Canada, there's no rational basis for that" said Gadek.
The carrier, headquartered in Vancouver, hopes to add another two aircraft after six months, and operate service to 23 markets including Cancun and Tampa. It plans to purchase Boeing 737 aircraft through a mixture of acquisition and lease agreements, with eventually operating up to 24 Boeing 737s and five Boeing 737 Max 7 aircraft which were ordered in December 2014.
The airline has not yet announced specific prices for its fares, but has indicated that it expects the majority of fares to be under $100 depending on the market and time of year. It does however claim it will have the lowest costs of any airline in Canada or the U.S, a factor which will prove vital as it sets out to compete with other low-cost carriers like NewLeaf and Flair Airlines.
In comparison, Flair Airlines, a low-cost carrier that launched last year, is already preparing to expand at Hamilton Airport. It expects to add Toronto, Kelowna and Vancouver to its destinations by the end of the year, and by spring of 2019 hopes to increase its fleet size to 12 aircraft.
Josh is a long-term aviation enthusiast and aspiring commercial airline pilot. From a young age, he has immersed himself in all things aviation. From plane spotting at local airports and airfield to racking up frequent flier miles on trips abroad, Josh is a huge AvGeek at heart. He graduated from university in September 2017 with a first class Bachelor of Science degree in Air transport. He completed his pilot training, gaining his Frozen ATPL in November 2017 upon completion of his Multi-Engine Instrument rating and Multi-crew/Jet orientation course. He currently has around 230 hours of flying experience in various aircraft. He hopes to join an airline as a first officer by the end of 2017.

He frequently flies on one of his favorite airlines, British Airways, and is an avid Avios collector and British Airways Executive Club member.
In his spare time, while not studying, flying or immersing himself in aviation he enjoys spending his time volunteering in a variety of roles and running a blog to help other aspiring pilots pursue their dream.
Latest posts by Joshua Drabble (see all)