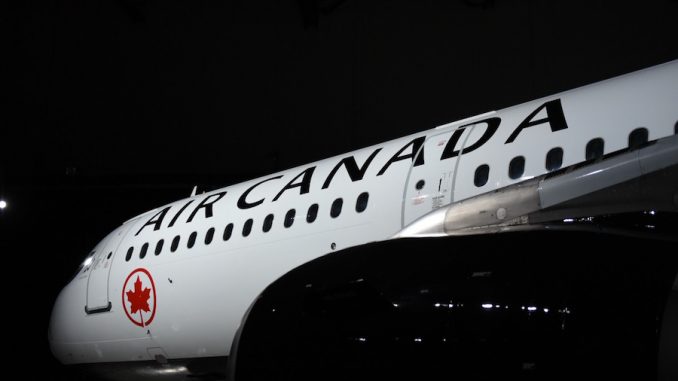 Montreal-based Air Canada announced on Wednesday the first official routes for their to-be-delivered Boeing 737 MAX 8 aircraft. The seasonal flights between the carrier's hubs in Montreal and Toronto and the Irish cities of Dublin and Shannon will begin in July 2018.
Though no exact delivery date has been set, the airline is slated to receive two 737 MAX 8s before the end of the year. In 2015, the carrier placed an order for 61 of the new type, 33 of the 737 MAX 8 and 28 of the larger 737 MAX 9 variant. However, the carrier switched 16 of the orders over to the 737 MAX 8 variant, meaning the carrier now has on order for 49 of the smaller type and 12 of the larger.
The new routes, available for booking beginning Sept. 19, will both be operated four times weekly, and, according to the airline, will feature "a Business and Economy cabin configuration."
Flight AC820 from Toronto to Shannon will depart at 10:00 p.m. and will arrive across the pond at 9:30 a.m. the next day. The return flight will depart at 10:30 a.m. and will touch down in Toronto at 12:45 p.m.
The Montreal to Dublin flight is slated to depart the Canadian city at 9:15 p.m. and should arrive in Dublin at 8:25 a.m. the next day. The corresponding return leg is slated to depart at 10:20 a.m. and arrive back in Montreal at noon.
More changes also came to the carrier's Irish route network as the carrier announced that they continue to have the largest network of any carrier between the two nations.
"Along with these new services, Air Canada is also enhancing its non-stop Toronto-Dublin service by increasing weekly frequencies to four from three, including daily service next summer, and transitioning it to Air Canada mainline from Air Canada Rouge," Air Canada's President of Passenger Airlines Benjamin Smith said in a statement.
Government officials also emphasized that these new routes will have positive effects on economic and cultural relations between the two countries.
"Expanding Air Canada's networks abroad will foster the relationships needed for trade between Canada and Ireland, as well as the creation of good middle class jobs. We commend Air Canada for their leadership on the matter," Canada's Federal Minister of International Trade François-Philippe Champagne said in a statement.
Additionally, these routes mark yet another instance of narrow-body transatlantic flying. Air Canada already operates the smaller Airbus A319 from St. John's, Canada to Heathrow Airport in London. Blocked at only five hours in the eastbound direction, the flight is one of the shortest transatlantic flights currently available to passengers.
The 737 MAX is now a big player in the North America-Europe market. The extremely fuel-efficient jet has long been implicated as a way for airlines to open up routes that did not make fiscal sense to operate with widebody jets.
Already, European low-cost carrier Norwegian Air Shuttle is operating the 737 MAX on flights across the Atlantic. The airline, the second to take delivery of the type, announced their intentions earlier this year to set up bases at airports at Stewart Airport in New York; Providence, Rhode Island; and Hartford, Connecticut.
From those airports, the airline launched flights to three Irish destinations, including Dublin, Shannon, and Cork, and two United Kingdom destinations including Edinburgh, Scotland and Belfast, Northern Ireland.

When he was just six months old, Parker took his first flight. From that point, he was destined to love aviation. His mom worked for Southwest Airlines much of his family have been frequent flyers on American Airlines for years, just as Parker is now. In 2015, Parker, inspired by aviation accounts on Instagram, decided to create an account of his own, and he hasn't stopped spotting since. On top of that, Parker has been writing for his school paper since his freshman year and has been writing and doing photography work for AirlineGeeks since August 2016.

Latest posts by Parker Davis (see all)