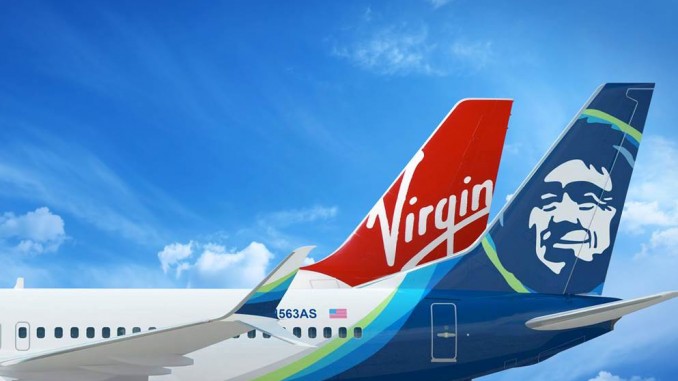 After purchasing Virgin America for $2.6 billion in 2016, Alaska Airlines will switch all Virgin America flights to Alaska operations on April 25, 2018.
Alaska was cleared by the Antitrust Division of the United States Department of Justice in December of 2016 to continue with the acquisition of Virgin America, with the deal being finalized on December 14.
Since then, Alaska has been phasing out the Virgin name with an announcement to have all things Virgin rebranded to Alaska by 2019. The company also made overnight changes at LaGuardia earlier this year. Signage and the Virgin America ticket counters were rebranded to Alaska Airlines without any notice. For some, this was a true realization that the merger was happening.
Now, Alaska has announced that the company will operate all Virgin America flights as Alaska flights by April 25, 2018.
"Alaska Airlines has posted the new Airbus schedule for flights after April 24," said the airline in an internal memo to employees obtained by FlightGlobal. "The flights will be Alaska flights and will only be available through Alaska channels… or through travel agencies and booking sites."
"Today, we took an important step closer to completed our merger with Virgin America by combing our flight inventories into one," said Sandy Steeling, Alaska managing director of process engineering.
Alaska Airlines will add all Virgin America passengers into their current passenger service system by the second quarter of 2018. In addition, the company will soon begin redirecting passengers from Virgin America's website to alaskaair.com. 
Matthew Garcia became interested in aviation at the age of 12 when he installed Microsoft Flight Simulator X on his computer. He was instantly "bitten by the bug" and has been in love with aviation ever since. Matthew took his first introductory flight in 2013 and began normal flight training in February of 2015. Over the years, Matthew's love and knowledge for aviation has grown tremendously, mainly due to FSX. Garcia flies highly advanced aircraft in a professional manner on a highly complex virtual air traffic network simulating real world flying. In 2016 Matthew achieved his private pilot certificate from the FAA. Now he studies journalism at the University of Nebraska at Omaha.
Latest posts by Matthew Garcia (see all)