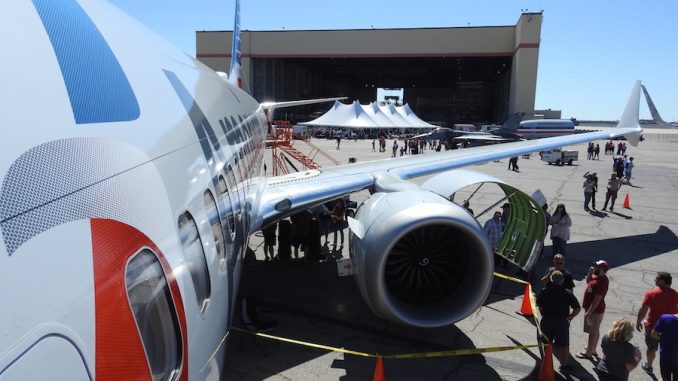 On Saturday, American Airlines was able to host their employees and families at the Tulsa Maintenance Base for family day festivities. At the day-long event, the airline showed off its new 737 MAX aircraft, which was delivered last month. 
Aside from paying attention to the massive LEAP engines and the unique winglets, many people had their eyes set on the newly designed cabin. In May, the Fort Worth-based carrier announced that the aircraft would see 29-inches of seat pitch in Main Cabin, becoming the subject of national headlines.
The airline reversed course on this prospect, though, and in mid-June announced that the airplane would see 30-inches of seat pitch in Main Cabin.
There were two main noticeable differences in the aircraft: the newly designed seats along with onboard entertainment options. 
The 737 MAX features 16 first class cabin seats, 30 main cabin extra seats, and 126 economy seats. When compared to the current 737-800 fleet already in service, the cabin density has increased whereas the seat pitch has decreased.
This will be short-lived as the airline expects to have the same configuration in all 737 aircraft through a "major fleet harmonization and optimization update."
As for the entertainment options, American has fitted adjustable clips where passengers can place their own devices and interact with them similarly to seatback screens. 
USB ports are provided so that travelers can keep their devices charged and interact with the entertainment accessed by the new ViaSat Wi-Fi system. This also means that IFE boxes will no longer be located on the bottom of seats.
The aircraft is expected to enter service between Miami and New York-LaGuardia in November.
AirlineGeeks.com began in February, 2013 as a one-man (er… teenager, rather) show. Since then, we've grown to have 20 active team members, and yes, we're still growing. Some of us are looking to work in the aviation industry as professionals when we grow older. Some of us are still trying to decide what we want to do. That's okay though, because we're all here for the same reason: we love the airlines. We're the youngest team of airline industry journalists out there.
Latest posts by AirlineGeeks.com Staff (see all)