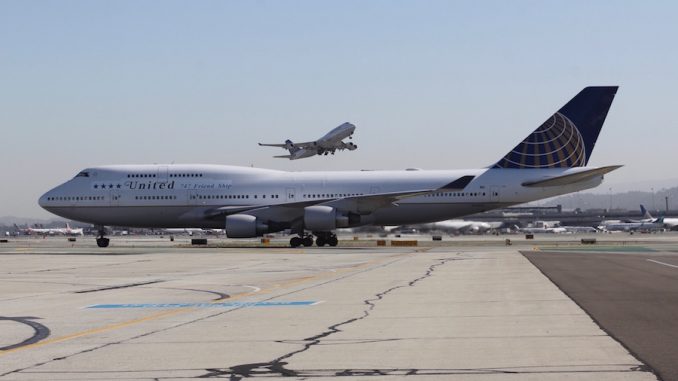 On Oct. 8, United opened its maintenance base at San Francisco International Airport (SFO) up to airline employees and their families for the carrier's annual SFO Family Day. This year was special, though, as the airline celebrated the end of an era, saying goodbye to the Boeing 747 fleet.
At the event, two 747-400 aircraft were on display — N118UA and N119UA — each of which had lines circling around the ramp area for those eager to get onboard. Flight attendants and pilots were on hand to show folks the inside of the iconic jet.
To celebrate the Queen of the Skies, United added retro-themed decals to N118UA and N121UA. These aircraft are expected to travel around the U.S. for tours and special flights leading up to the aircraft's last scheduled flight in November.
N119UA, the second 747 on display at family day, was retired on Monday, Oct. 9, a day after the event. The airline currently has a fleet of nine 747 aircraft.
Also on display at United's SFO Family Day were a 787-9 Dreamliner, a 737 plane pull, and a 757 landing gear demonstration inside the maintenance facility.
United's last 747 flight will take place between San Francisco and Honolulu on Nov. 7 with a retro-theme, harkening back to the airplane's launch on the same route back in the 1970s.
Photos by Carl Barbour and Ryan Ewing
Ryan founded AirlineGeeks.com back in February 2013 (actually, it was called Aviation Official, but we've changed a bit since then). From being on the yoke of a Piper Navajo, to visiting about Delta's operations center in Atlanta, Ryan has done it all. in 2016, along with American Airlines, Ryan masterminded AAviationDay at more than 10 locations around the world. The smell of jet fumes in the morning along with the countless number of passionate airline employees keep him enthralled in the industry, always seeking more. You can find him helping out travelers at Reagan National Airport near Washington, D.C. when he's not doing something for AirlineGeeks.
Latest posts by Ryan Ewing (see all)