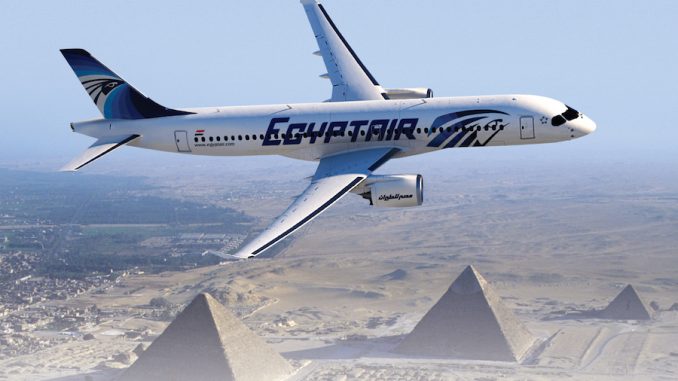 EgyptAir has signed a letter of intent for 12 firm orders of Bombardier's C Series with an option for 12 additional aircraft.
The complete order, which was announced at the Dubai Airshow, is estimated to cost $2.2 billion for 24 CS300 airliners.
During a press conference, Chairman and CEO of EgyptAir Holding Company, Safwat Musallam, signed the letter of intent alongside His Excellency Minister of Civil Aviation of Egypt Mr. Sherif Fathi and Bombardier President Fred Cromer.
"It is our pleasure to have this new partnership with Bombardier, which came as a continuation of our fleet modernization strategy," Musallam said. "We undertook a thorough evaluation process of our fleet and realized that the CS300 would fit perfectly into our business plans and growth strategy."
No additional C Series aircraft orders were announced at the Dubai Airshow. However, the Montreal-based company announced an expected boost of regional aircraft to the Middle East region.
The Bombardier Commercial Aircraft's Market Forecast 2017-2036 stated the company is expecting 450 new 60 to 150-seat aircraft to be delivered to the Middle East over the next 20 years. The expected aircraft boost includes the Q400, CRJ700, CRJ900, and the CRJ1000 as well as the C Series.
Matthew Garcia became interested in aviation at the age of 12 when he installed Microsoft Flight Simulator X on his computer. He was instantly "bitten by the bug" and has been in love with aviation ever since. Matthew took his first introductory flight in 2013 and began normal flight training in February of 2015. Over the years, Matthew's love and knowledge for aviation has grown tremendously, mainly due to FSX. Garcia flies highly advanced aircraft in a professional manner on a highly complex virtual air traffic network simulating real world flying. In 2016 Matthew achieved his private pilot certificate from the FAA. Now he studies journalism at the University of Nebraska at Omaha.
Latest posts by Matthew Garcia (see all)