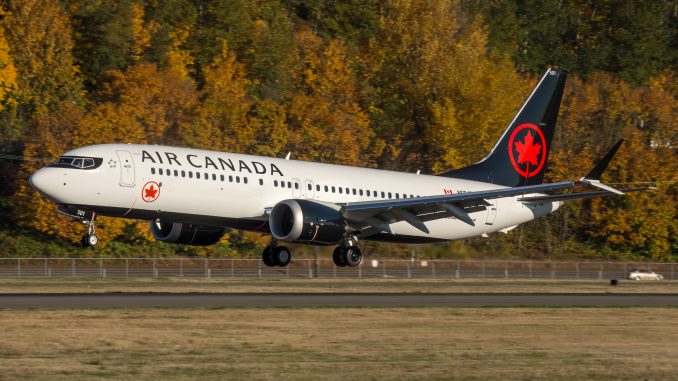 With new aircraft arriving from Boeing and Bombardier, Air Canada and its low-cost subsidiary Air Canada Rouge have announced several changes to their fleets. The expected changes will see modern and more efficient planes replace the current aging aircraft types in their fleets.
The aircraft replacement concerns Air Canada's Embraer 190s and Air Canada Rouge's narrowbody fleet. On the mainline Air Canada side, all remaining twenty-five Embraer EMB-190IGWs will be removed from service by mid-2019. "Our expectation is that we will sell them into the marketplace," CEO Calin Rovinescu said.
The Embraer regional jets, Air Canada's smallest aircraft, will be replaced by Airbus A319-100 in the short term, and then by the new Bombardier CS300 aircraft as they enter Air Canada's fleet. This is expected to happen in late 2019. The airline has forty-five of the Canadian-built short to medium-haul aircraft on order with the manufacturer.
"We have made decisions to accelerate the removal of the Embraer-190s from our mainline fleet. To do this we will retain the A319-100 aircraft a little bit longer than initially planned at the bridge to the deliveries of the Bombardier CSeries scheduled to commence in late 2019. The Airbus 319 aircraft typically has a lower CASM (Cost per Available Seat Mile) than the Embraer-190," Air Canada Chief Financial Officer Mike Rousseau said.
Whether the switch from Embraer to Bombardier benefits passengers remains to be seen. All of Air Canada's Embraer jets had extremely generous seat pitch and width, even in economy class, and a 2-2 configuration. Their comfort may be hard to beat, even by the new CS300, which feature a 3-2 configuration.
On the Air Canada Rouge side, the situation is more significant- both in terms of numbers and in terms of marketing strategy. The low-cost Rouge is expected to convert its entire narrowbody fleet to a high-density, single-class layout. This more clearly distinguishes the brand Rouge as the low-cost carrier from the mainline Air Canada brand.
In this process, Air Canada may choose to assign all of its Boeing B737 MAX to Rouge. Currently, Air Canada has a total of 61 737 MAX aircraft due from Boeing, including 49 B737 MAX 8s and 12 B737 MAX 9s. Four of the 8s have already been delivered. They would be added to the 20 A319-100s and 6 A321s, as well as 24 widebody B767-300ERs Air Canada Rouge operates today.
The carrier believes that its low-cost unit will be well-positioned to compete with WestJet's low-cost counterpart, Swoop, as well as other players such as Flair Airlines. "Air Canada Rouge could also take over some regional routes from Air Canada Jazz," Rovinescu further explained.
If this change does happen, Rouge will gain in size and importance in the Air Canada world. Rouge would grow at a much fast rate than the mainline brand and could help Air Canada make inroads into the low-cost carrier scene not just in Canada, but across North America and even beyond. Whether this is good for passengers, however, is another matter.
Adrian joined AirlineGeeks as a writer in 2017. He had always wanted to become a pilot and while he chose a different career path for now, his interest in aviation continues to grow every day. Adrian was fortunate to travel extensively for business in the past five years. As a result, he focuses his research and writing on passenger services and experiences on a variety of airlines. His favorite aircraft include the Airbus A350, A380, and the Embraer passenger jets.
Latest posts by Adrian Vannahme (see all)