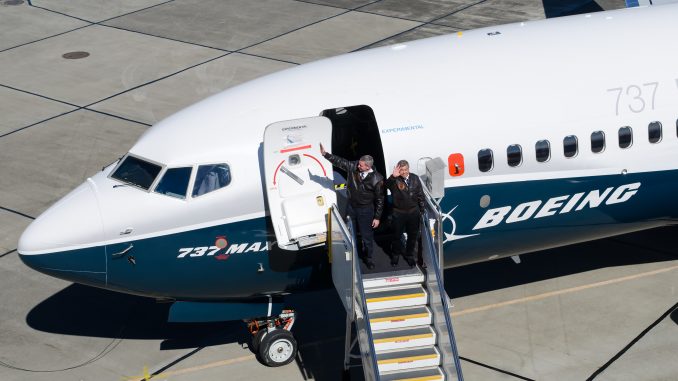 The pressure on Boeing continues to grow following two crashes of its 737 MAX 8 aircraft. French aviation experts have now confirmed that there are strong similarities of the data collected from the black boxes of the crashed Ethiopian Airlines 737 MAX and the Lion Air 737 MAX that had been lost in October 2018.
Ethiopian Airlines flight 302 had crashed on March 12 after takeoff from Addis Ababa airport, killing all 157 souls onboard. Lion Air flight 610 had also crashed shortly after takeoff from Soekarno–Hatta International Airport in Jakarta, Indonesia killing 189. Both aircraft failed to gain altitude after taking off and show similar flight paths in which the nose of the airplane dipped down repeatedly before pilots lost the fight to keep the aircraft climbing.
Experts have suggested that the Maneuvering Characteristics Augmentation System (MCAS) contributed to the crash. MCAS aims to avoid stalls of the 737 MAX aircraft. The system had been developed to ensure safe operations of the 737 MAX after it had been equipped with much larger but more fuel-efficient engines than the regular 737NG.
The Ethiopian transport minister, Dagmawit Mogesam, had previously indicated that there are parallels between the Lion Air and the Ethiopian Airlines incidents. This has now been confirmed by French civil aviation safety agency BEA, who had led the analysis of Ethiopian 302's flight recorder. BEA announced its investigative team had found "clear similarities" between the data extracted from both black boxes.
French aviation safety exports helped analyze the data from the black boxes, which record all radio conversations in the cockpit as well as all flight information. BEA then turned the results over to the Ethiopian government.
According to Minister Mogesam, the black boxes had been in good condition, which had allowed the successful analysis of "almost all recorded data." The Ethiopian government also announced it would release a detailed report on the investigation in about a month.
Meanwhile, the Wall Street Journal is reporting that the United States Department of Justice has begun an investigation into the crashes, particularly as it pertains to the certification of the MCAS. According to the report, prosecutors are investigating whether Boeing failed to inform the Federal Aviation Authority (FAA) that changes had been made to the MCAS following its original certification.
Boeing announced on Sunday it is developing an update to the MCAS software and to the associated pilot training manuals and that it continues to support the investigation into the Ethiopian Airlines crash.
Adrian joined AirlineGeeks as a writer in 2017. He had always wanted to become a pilot and while he chose a different career path for now, his interest in aviation continues to grow every day. Adrian was fortunate to travel extensively for business in the past five years. As a result, he focuses his research and writing on passenger services and experiences on a variety of airlines. His favorite aircraft include the Airbus A350, A380, and the Embraer passenger jets.
Latest posts by Adrian Vannahme (see all)