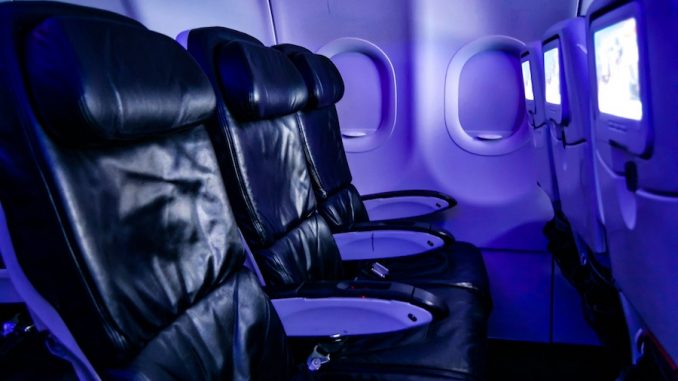 Virgin America is, and always has been, unlike any other airline in the United States. They offer a degree of luxury overtakes any of the other American competition, while keeping prices affordable.
I had been on the airline once before and had an image ingrained in my head that came with high expectations for Virgin and their full experience. Upon arrival at Ronald Reagan Washington National Airport at 5:30 a.m., I was ready to get another full taste of Virgin America to Dallas-Love Field on one of the U.S.'s most coveted routes.
My first impressions were meeting my high expectations right off the bat. Although it was quite a change to see my Virgin America Airbus A319 parked at a shared Alaska gate due to the merger, the arriving crew and gate agents still belonged to the Virgin brand.
Upon boarding the plane and making my way to seat 5F, a completely empty row, I could immediately tell that I would not be disappointed with the product. The seats were a very comfortable leather and each had a sizeable amount of legroom. Even though I had the whole row, I can say with certainty that just one seat to myself would have been more than enough.
Another first impression was the IFE, or in-flight entertainment system. It is fully touch screen with a gaming remote and keyboard to allow a seat-to-seat chat. Not only do they offer many free games and movies onboard, but there is a select menu of snacks and meals that get delivered right to your seat. Virgin is the only U.S. airline to allow on-demand drink service in economy from a touch screen system.
The lovely flight attendants are two minutes from having your snack or drink in their hand and running it down the aisle to your seat, a very premium experience. The IFE also features a modern map, showing the local time at most of the big cities around the world as well as the route, time en route, and speed/altitude.
In addition to a luxurious onboard experience, the Virgin America crew never disappointed.
My flight to Dallas-Love Field was boarded with twenty-eight passengers, so little that the captain was making conversation outside the flight deck before takeoff. Upon walking up to introduce myself, he kindly welcomed me into the cockpit and taught me how to load the weight and balance into the aircraft.
Twenty-eight passengers and eleven checked bags. Shortly after, I got the obligatory picture-holding-the-side-stick and headed back to my seat. That was an experience that many pilots are not willing to give to an aspiring pilot, and it was certainly a moment that I will not forget.
Charting your own course and taking the road less traveled isn't always easy. It requires a sense of separation from the crowd, an independent state-of-mind, and the ability to overcome challenges.
This is certainly the case with Virgin America. All to often we hear stories of airlines shrinking seats or undercutting the customer experience. Virgin America, the quasi-boutique carrier based outside of San Francisco, however, has stayed away from this trend, offering an experience that is not only pleasant for passengers but also unique in so many ways.
This was the mood throughout the flight to Dallas — comfort and joy. It is sad to see the airline fading away, but for those who have experienced it themselves, it won't be forgotten.
AirlineGeeks' Ryan Ewing contributed to this report.
AirlineGeeks.com began in February, 2013 as a one-man (er… teenager, rather) show. Since then, we've grown to have 20 active team members, and yes, we're still growing. Some of us are looking to work in the aviation industry as professionals when we grow older. Some of us are still trying to decide what we want to do. That's okay though, because we're all here for the same reason: we love the airlines. We're the youngest team of airline industry journalists out there.
Latest posts by AirlineGeeks.com Staff (see all)