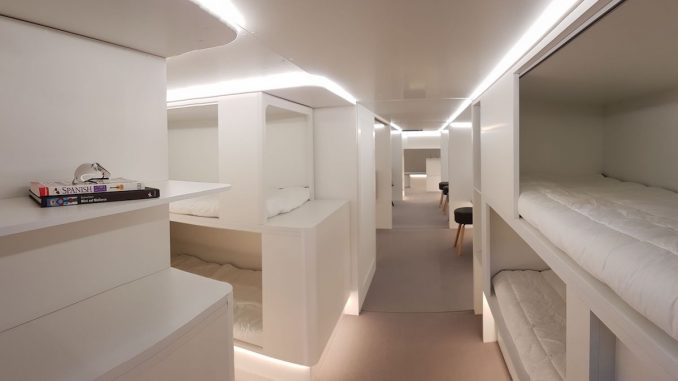 Airbus has presented plans to add sleeping pods to its aircraft — in the cargo hold. The airplane maker plans to include the option of having beds in the cargo hold of its A330 aircraft from 2020 onwards. Sleeper compartments on the A350 XWB airliner is also being studied. Airbus announced the news at the Aircraft Interiors Expo in Hamburg this week.
The sleeping pods would be added as modules, which would allow airlines to continue using the cargo compartments to freight as needed and to slot in the bed modules when the demand is there. Plans presented at the Hamburg expo also show options for a business area with desks and a lounge as well as a kids area with a play structure. Specialized medical equipment for transporting patients could also be put into the modules.
Geoff Pinner, Head of Airbus Cabin & Cargo Program noted in an Airbus press release: "This approach to commercial air travel is a step change towards passenger comfort. We have already received positive feedback from several airlines on our first mock-ups."
Airbus developed the concept with British seat manufacturer Zodiac, who hopes that the modules will be "a key element of differentiation for airlines," according to CEO Christophe Bernardini.
For example, the product may be an option for Australian airline Qantas, which recently announced plans to make its long-haul flights more comfortable. This could prove especially true for ultra long-haul flights such as the recently started route from Perth to London.
Qantas is also exploring options for more direct flights between the U.S. and Australia, as well as Europe and Australia. For its operation, it is considering a four-class cabin, which would see parts of the cargo area used for sleeping arrangements, according to Bloomberg.
The product presented this week could thus be an option for Qantas and would be a welcome new option for passengers on a 17-hour flight.
Adrian joined AirlineGeeks as a writer in 2017. He had always wanted to become a pilot and while he chose a different career path for now, his interest in aviation continues to grow every day. Adrian was fortunate to travel extensively for business in the past five years. As a result, he focuses his research and writing on passenger services and experiences on a variety of airlines. His favorite aircraft include the Airbus A350, A380, and the Embraer passenger jets.
Latest posts by Adrian Vannahme (see all)