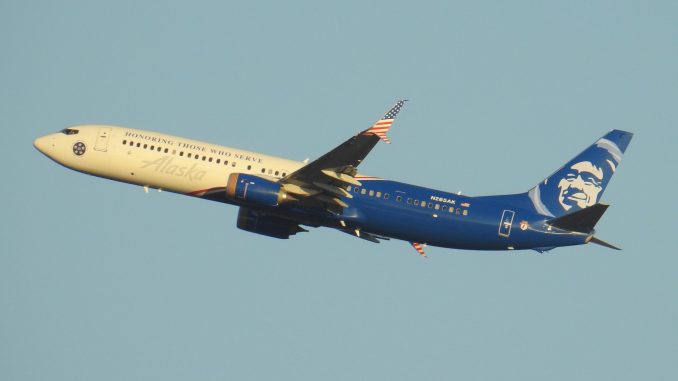 When it comes to sponsorships with organizations and foundations, airlines tend to keep most of their work behind-the-scenes as they donate time and money to various caregiving organizations around their community. However, there are sometimes when a carrier wants to make their cause known or promote travelers to give by painting their aircraft, as these paint schemes show.
The most commonly painted cause that airlines like to promote is the push for being eco-friendly. Airlines like Horizon Air, All Nippon Airways, Cape Air, Japan Airlines, and United Airlines have released special liveries to bring to light their push to care for the environment.
While most of the airlines paint a special green livery to commemorate their efforts to care for the environment, China Airlines' green approach is slightly different as the airline operates a few aircraft equipped for measuring the atmospheric changes.
The system, called IAGOS, was first used by China Airlines in 2013 as the airline placed the first IAGOS on an Airbus A340. The A340 would wear a special livery of a woman holding a globe and the airline would brand itself "The Official Airline of Climate Monitoring." While China Airlines has been joined by Lufthansa and Air France in the IAGOS project, the Airbus A340 wearing the special livery has since been retired and testing moved from the fleet's A340s to A330s.
While the push for a greener world has seen numerous special liveries, airlines also like to push their connections to those fighting breast cancer. American Airlines had multiple aircraft wear the pink ribbon across their mainline and regional fleets as the carrier had a deal with the Susan G. Komen for the Cure that dates back to 1983. Although the ribbons disappeared following the branding change in 2011, American's donations to the Komen foundation have continued and totaled over $35 million since their launch.
Delta Air Lines also pays respect to those who fight cancer with their own pink aircraft as the airline has a deal with the Breast Cancer Research Foundation that dates back to 2005. To commemorate this deal, the airline originally painted a Song Airlines Boeing 757-232 into pink colors as well as various ground equipment in an effort show off their support.
While the original livery was replaced, the task of promoting the BCRF is still strong as the airline operates a Boeing 767-400ER in the pink ribbon and Delta donates roughly $1 million a year to the research foundation.
Alongside breast cancer research and climate change, it is easy to find examples of carriers supporting those who put their life on the line to protect others. Similar to the Susan G. Komen ribbons, American operated aircraft that wore the yellow military ribbon, these aircraft were also repainted when the fleet was rebranded. jetBlue backed the local New York Fire Department with donations as well as creating a red NYFD Airbus A320 that was released in 2013, the airline would continuously support the NYFD as well as add the New York Police Department and US military veterans liveries to their fleet.
As a way to promote Alaska's Fallen Soldier program, Alaska Airlines painted a Boeing 737-990ER into a special red, white and blue livery in 2016 and titled it "Honoring Those Who Serve."
While these make up some of the more commonly seen commercial planes that wear some organizations colors, they are not alone. Some other organizations that appear on aircraft include Unicef on Norwegian Air Shuttle and EasyJet, March for Dimes on United, Life Ball for AIDS Prevention on Austrian, United Nations on Xiamen Airlines and both United Way and Habitat for Humanity on Delta.
Airlines can also make liveries that tie in both organizations for change and other brands, as American Airlines showed when they released a joint livery that showcases both the 2018 movie Avengers: Infinity War characters and promotes Stand Up To Cancer.
However, not all these liveries are still active as Delta's Habitat for Humanity scheme was retired during the carrier's rebranding in the early 2010s even though the airline still supports the organization.
Furthermore, airlines have used their fuselages to bring to light some less known organizations. Emirates starting promoting the United for Wildlife, who are against the illegal trading of animals for profit, with a special livery in 2015. The airline's special livery shows various animals down the length of an Airbus A380.
Although the airline that brought forward a less known organization was All Nippon Airways, who has stickers that give exposure to the TOMODACHI Initiative. TOMODACHI, meaning "friends" in Japanese, is a deal between the United States and Japan to strengthen US-Japanese relations which arose from the 2011 Tōhoku earthquake and the assistance the US provided to both cleaning up the Sendai area and helping those displaced by the natural disaster. The TOMODACHI logo appears on three ANA Boeing aircraft, with two 787-8 Dreamliners and a 777-300ER bearing the red and blue logo.
But it's not just external organizations that can be promoted on airlines as some airlines promote their own donations and ways they give to communities. JetBlue shows support to their employees willingness to go above and beyond with a Bluemanity livery that first flew in 2015.
Also, Lufthansa Cargo operates a special livery promoting their tenth anniversary of Cargo Human Care. Cargo Human Care was set up by German doctors and Lufthansa staff to use Lufthansa Cargo aircraft to send medical supplies to Kenya. The airline started the deal in 2007 and painted an MD-11F into a special livery in 2017 to promote it, featuring multi-colored footsteps running down the length of the fuselage.
While most of these liveries are still flying, there are always examples of companies that work behind the scenes to enact change in both their communities. So from the well-known causes such as the fight against breast cancer and Unicef to the less known ones such as Alaska's Fallen Soldier and TOMODACHI, these airlines are using their fuselages to promote the causes they stand up for.
Although Ian McMurtry was never originally an avgeek, he did enjoy watching US Airways aircraft across western Pennsylvania in the early 2000s. He lived along the Pennsylvania Railroad and took a liking to trains but a change of scenery in the mid-2000s saw him shift more of an interest into aviation. He would eventually express this passion by taking flying lessons in mid-Missouri and joining AirlineGeeks in 2013. Now living in Wichita, Kansas, Ian is in college majoring in aerospace engineering and minoring in business administration at Wichita State University.
Latest posts by Ian McMurtry (see all)