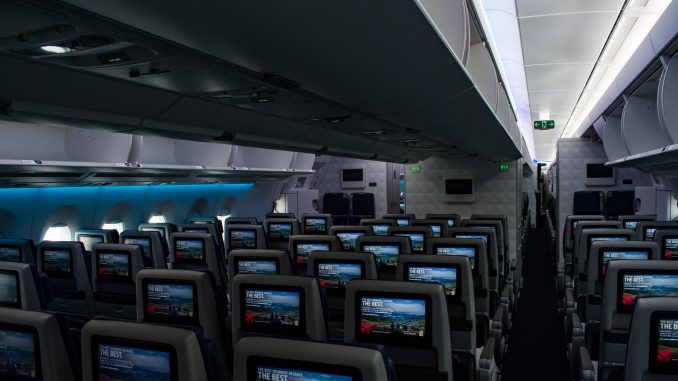 Oftentimes, passengers who are stuck with the middle seat on an airplane are considered the unlucky ones.
From battling over armrests, missing out on the views of the ground below, and being squished between to random strangers, the benefits of a middle seat are slim to none.
However, middle seat passengers flying out of Boston Logan International on Delta yesterday were offered a unique perk.
Atlanta-based Delta Air Lines teamed up with Atlanta-based Coca-Cola to offer the Middle Seat Lounge.
Passengers can enjoy VIP treatment by receiving free Coca-Cola along with other middle seat-ers, playing games, meeting former NBA champion and Boston Celtic, Brian Scalabrine, and receiving specially branded Coca-Cola bottles to share with their seatmates.
Additionally, passengers can even win a free trip with the airline by posting a selfie with their seatmates on board the aircraft.
"Coca-Cola is excited to partner with Delta to help celebrate middle seat travelers and provide them with a special beverage experience during their time at Boston-Logan International Airport and onboard," said Lou Grill, Coca-Cola North America's Vice President of Strategic Partnership Marketing. "This unique opportunity to Share a Coke with fellow seatmates is another way to create meaningful moments and enhance our fans' travel experience."
This isn't the first time the two companies have partnered up to offer passengers a unique flying experience.
In 2017, Delta and Coca-Cola created an art contest to transform tray tables on board a Boeing 767 into works of art inspired by the some of the airline's destinations, including Amsterdam, Atlanta, London, Mexico City, and Shanghai.
The two Atlanta companies have maintained a partnership since 1927, with Delta offering Coca-Cola products on all flights and in all Delta Sky Clubs, serving millions of drinks per year.
An "AvGeek" for most of his life, Akhil has always been drawn to aviation. If there is an opportunity to read about an airline, fly on a new airplane, or talk to anyone about aviation, he is on it. Akhil has been on over 20 different kinds of aircraft, his favorite being the MD-80. Additionally, he has visited 5 continents and plans to knock out the remaining two (Africa and Antarctica) soon. Based in Dallas, Akhil graduated from Texas A&M University with a degree in Management Information Systems and currently works in consulting. His dream is to become an airline executive.
Latest posts by Akhil Dewan (see all)