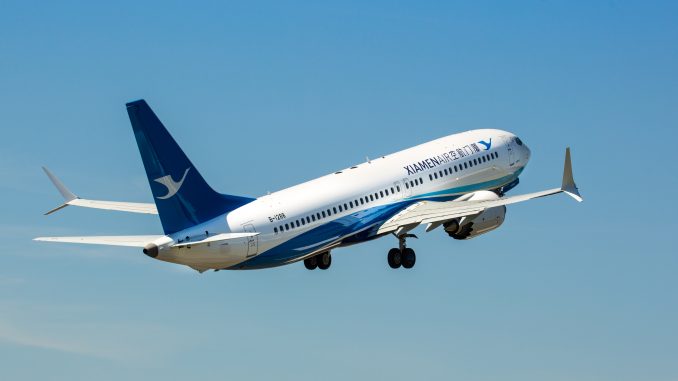 On Sunday, XiamenAir took delivery of its newest aircraft, marking the 200th delivery to the airline since it began flying in 1984. The occasion is cause for double celebration, as the Fujian Province-based airline is now the sixth Chinese carrier to operate the new Boeing 737 MAX aircraft. The first plane, B-1288, was ferried to Xiamen, China on May 23.
To get to its new home, the aircraft flew over 8,300 miles on three separate flights. The first flight lasted almost six hours, flying from Boeing Field in Seattle, Wash. to Honolulu, Hawaii, followed by an eight-hour and 20-minute flight to Guam before the aircraft's final five-hour flight to its new home base in China. After two days on the ground, the aircraft began flying domestically from Xiamen and has so far visited Shanghai, Shenyang and Jinan.
"Xiamen Airlines has achieved incredible success and Boeing is extremely proud to have been their partner from day one," said Boeing Commercial Airplanes President and CEO Kevin McAllister. "The delivery of the first 737 MAX to Xiamen builds on a partnership that has spanned three decades and signals the beginning of an even brighter future together."
"We are confident the MAX will help Xiamen fly farther, improve fuel efficiency and provide greater comfort for their passengers."
Since its creation, the airline has quickly been growing and expanding, becoming a new-found competitor for the big three Chinese carriers. As a result, China Southern Airlines purchased a 55 percent stake in the airline, making Asia's largest airline by passengers carried and fleet size the parent company of XiamenAir.
Additionally, XiamenAir operates two subsidiaries, though none are wholly-owned. The airline owns 60 percent of Jiangxi Air, a joint venture between XiamenAir and the Provincial Government of Jiangxi, which operates four Boeing 737-800s. The airline also owns 99 percent of Hebei Airlines, which began flights in 2010 and operates a fleet of 22 aircraft including Boeing 737s and the Embraer ERJ-190, with 20 Cormac C919s on order.
In 2006, Xiamen Air carried around 7.8 million passengers with a fleet of 43 planes on a combined 140 domestic and international routes. By 2016, the number of passengers carried had more than tripled to over 23 million passengers. The airline's fleet has also grown rapidly with the airline now operating a 165 aircraft all-Boeing fleet which is now used on over 230 domestic and 60 international routes.
Along with its rapid growth, the airline has also been able to achieve 31 consecutive years of profitability. After taking delivery of its 100th 737 in November 2013, the airline now flies 150 Boeing 737 aircraft.
The delivery of the first 737 MAX 8 for XiamenAir comes just a few months after the airline firmed an order for 20 737 MAX 8 and 10 737 MAX 10 aircraft, as well as two years after the airline signed a Memorandum of Understanding for the high-density 737 MAX 200. But these new planes are just the beginning of expansion for the airline.
Che Shanglun, chairman of XiamenAir stated, "We plan to expand our fleet to 568 airplanes by 2035, and evolve into a competitive world-class airline serving the globe, doing our part in helping China build a human community with a shared destiny."
While the 737 MAXs will help the airline expand its domestic operations, the airline's long-haul international presence has also quickly expanded. XiamenAir took delivery of its first Boeing 787 Dreamliner in March 2015 and began flying to its first North American destination, Vancouver, in 2016. The airline also recently opened a route between Xiamen and Los Angeles, which AirlineGeeks flew and reviewed in early May.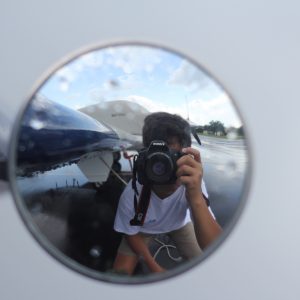 Mateen has been interested in aviation from a very young age. He got his first model airplane at six and has been airplane spotting since he was nine years old. He has always had a passion for aviation and loves learning about different aspects within the industry. In addition to writing for AirlineGeeks, Mateen is also an editor for his high school's newspaper. You can also find him on Instagram (@Plane.Photos) where he enjoys sharing his aviation photography with thousands of people everyday.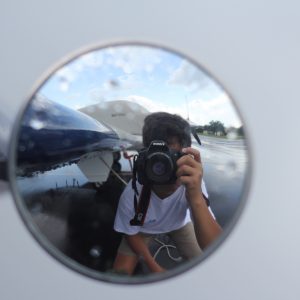 Latest posts by Mateen Kontoravdis (see all)