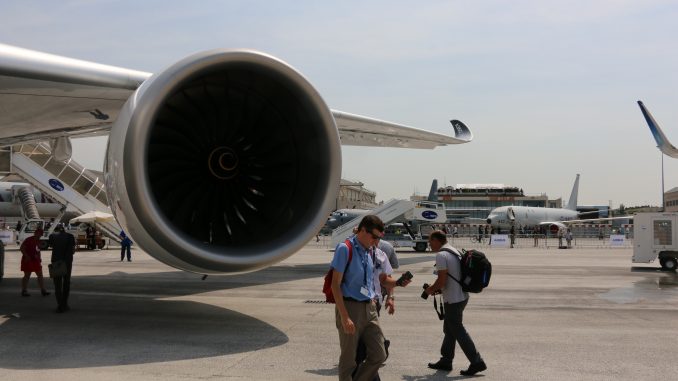 In the early 20th century, two men came together to start a company that would become world-renown in both car manufacturing and airplane engine manufacturing, Rolls Royce. Over the years, Rolls Royce had quickly evolved to become a major player in both fields, raking in over $16 billion in revenue in 2017 alone while supporting the livelihood of 50,000 employees across the globe.
While the company has had its share of triumphs and tragedies, its history reminds us of how far Rolls Royce has journeyed to become one of the world's three largest aircraft engine manufacturers.
History
Frederick Henry Royce and friend Charles Stuart Rolls came together in the early 1900s to create the famous company now known as Rolls-Royce Limited. As airplanes weren't as predominant as they are now, the company kicked off by manufacturing cars, including the famous top-of-line Silver Ghost in 1906 that set the standard for car quality that continues to this day.
Shortly afterward in 1914, World War I broke out in Europe and the company was called upon by the British government to manufacture aircraft engines. Though the company had little experience in this sector, it was able to develop its first engine, referred to as the Eagle.
This powered twin-engine bombers, such as the Handley Page, and later powered commercial airliners that soon began to cross the Atlantic Ocean. In addition to the Eagle engine, the company also produced several other engines for wartime aircraft such as the Falcon for fighter planes and the Hawk for blimps.
As the war raged on, Rolls Royce ended up supplying engines for 60 percent of British military aircraft. After the war demand died down, the company went back to producing cars until seaplane races caught its attention. The company soon went back to building engines in an attempt to create a more powerful engine. Eventually, it succeeded with the R engine. This engine had one shortcoming, however, as it required highly specialized fuels and did not run on conventional aviation fuel.
The team at Rolls Royce continued their endeavor and created a new engine called the Merlin 46. Several variants of the Merlin engine were created and is attributed to helping the Allies win World War II, which saw an increased use of airplanes for air-to-air combat and bombings. Merlin engines were used in Spitfire and Hurricane fighters, which protected the British skies against the Luftwaffe, and also powered fleets of Lancaster bombers and even American P-51 fighters.
Later in the war, the company switched it's focus to a new type of engine, the jet engine, including engines like the Welland, Derwent, Avon, and Conway. These engines powered a variety of aircraft, with the Conway later being used in commercial aircraft.
Commercial Aircraft
The Conway engine was innovative at the time since it used what is known as the bypass principle. A large outer fan at the front of the engine was used to provide greater thrust and lower fuel burn. This principle was then applied to a new engine Rolls Royce was building, the RB-211. This engine was one of the first "high bypass" engines and developing it bankrupted the company.
Eventually, Rolls Royce was given a loan by the United States Congress that allowed the company to emerge from bankruptcy and turn the RB-211 into a successful engine in 1972. This turned the company from a significant player in the industry to a global engine manufacturing powerhouse.
Trent Engines
The RB-211 engine was eventually replaced by a more modern family of engines in the late 1980s and early 1990s, the Rolls-Royce Trent. The first variant was the Trent 600 initially set to power McDonnell Douglas MD-11s operated by British Caledonian. Unfortunately, due to a series of negative events with the engines, nearly every customer fell through.
Rolls-Royce quickly switched development to the Trent 700 engine. These engines powered Airbus A330s, with Cathay Pacific being the first launch customer of the A330 powered by the new engines and Trans World Airlines (TWA) in the United States soon following suit.
This engine and newer models can be found to this day on many A330 aircraft and is regarded by Rolls Royce as having the lowest fuel burn of any engine available for the A330.
Around the same time, the company began testing the Trent 800 for use on Boeing 777 aircraft. However, Rolls-Royce initially had some difficulty competing against the hugely successful GE90 engine and the Trent 800 currently has slightly less than half of the engine market on certain 777 variants
Rolls-Royce also began developing engines to pair with the proposed longer-range variants of the 777. While this developmental engine set many industry firsts in terms of thrust and design, it lost out to GE which inked an exclusive deal to power the new 777 aircraft.
Luckily for the company, Airbus was also considering new longer-range variations of its four-engine Airbus A340. After some trouble with GE, Airbus announced that the new Trent 500 would power the aircraft. Slightly over 500 of these engines were delivered to the European manufacturer, making the variant moderately successful.
Jumping forward a bit, Rolls-Royce announced that it would power the double-decker Airbus A380 aircraft, the largest passenger airliner in the skies. The engine is used on A380s operated by British Airways, Singapore Airlines, Qantas and currently, has over half the market share of the A380 engine market.
Trent 1000 Engine Trouble
Rolls Royce continues to enjoy success in the commercial engine business with the Trent family of engines being used on next-generation aircraft such as the Boeing 787 and Airbus A350. With the new fuel-efficient engines, airlines have been able to expand service to smaller cities on low-demand routes while still being able to make a profit, especially when oil prices remain a constantly changing variable.
However, the engine is not without its downsides and some issues have arisen regarding the engine.
Rolls-Royce has been in the news recently over a major issue with the Trent 1000 engine. It has been reported that the engines are experiencing a greater level of wear faster than expected and has resulted in numerous aircraft being grounded for repairs.
Compressors within the engine are wearing out faster than expected and have forced Rolls-Royce to lower inspection intervals from 2,000 cycles to just 300 for nearly 400 aircraft. This is in addition to turbine blade corrosion issues the aircraft engines were already facing.
In light of these engine issues, the FAA has also lowered the amount of time that an affected aircraft must be within range of a diversion airport from 330 minutes to 140 minutes.
The issue was first announced in April that aircraft with 'package C' engines mainly impacted. However, this was extended to 'package B' units as well in early June. In total, 549 engines must be checked for unreliable parts during the peak Northern Summer period.
Airlines with large 787 operations such as Virgin Atlantic, British Airways, Norwegian and Air New Zealand are now put in challenging positions as their fleets are being grounded for repairs. To minimize the impact, these airlines have been leasing aircraft to maintain their schedules with minimal disruptions. Norwegian leased a Wamos Air Boeing 747-400 to operate its flagship London-New York route, as the airline maintains an all-Boeing 787 long haul fleet.
All of this is coming at an immense cost to Rolls Royce and is expected to cost well into the hundreds of millions of dollars. In addition, the engine manufacturer states that it will likely take years for all impacted engines to be repaired. These engine issues will leave a dark stain on the manufacturer for years to come.
From a small-time car operation that eventually started building engines in the First World War to today, Rolls Royce is without a doubt Britain's most well-regarded engineering firm. Unfortunately, even the great have tough times. Rolls Royce announced 4,600 job cuts over the next two years as part of a massive reorganization and confidence in the manufacturer has dropped due to increase prolonged pressure from airline customers due to issues with the Trent 1000 engines.
In an interview with AirlineGeeks, TAP Air Portugal Co-Owner David Neeleman placed the blame for the delay in the airline's newest aircraft, the A330-900 Neo, and other Airbus Neo aircraft on the engine manufacturers rather than Airbus itself.
Looking Forward
Rolls Royce CEO Warren East still remains optimistic about the future, expecting the company to exceed its 2020 guidance through ambitious new mid-term goals and cost savings through the job cuts. After restructuring, Rolls Royce will be divided into three business units, Civil Aerospace, Defense and Power Systems.
Rolls Royce has been a major player in the aircraft engine history and has every intention to keep doing so well into the future. Rolls Royce engines power the world's longest flights and some of the cheapest flights too due to their low cost of operation.
The world's longest flight, Perth to London, is operated by Qantas on a Dreamliner using Trent engines, the East Coast of the United States will soon be connected to Singapore via a nonstop flight operated by a Singapore Airlines A350 using Trent engines and the Dreamliners that ferry passengers from the U.S. to Europe on Norwegian Long Haul for a third of legacy carrier fares also use Trent engines.
Rolls Royce has had a remarkable impact on aviation throughout its entire lifetime and these engine issues are nothing more than a rough patch that will be overcome in due time.

Hemal took his first flight at four years old and has been an avgeek since then. When he isn't working as an analyst he's frequently found outside watching planes fly overhead or flying in them. His favorite plane is the 747-8i which Lufthansa thankfully flies to EWR allowing for some great spotting. He firmly believes that the best way to fly between JFK and BOS is via DFW and is always willing to go for that extra elite qualifying mile.

Latest posts by Hemal Gosai (see all)