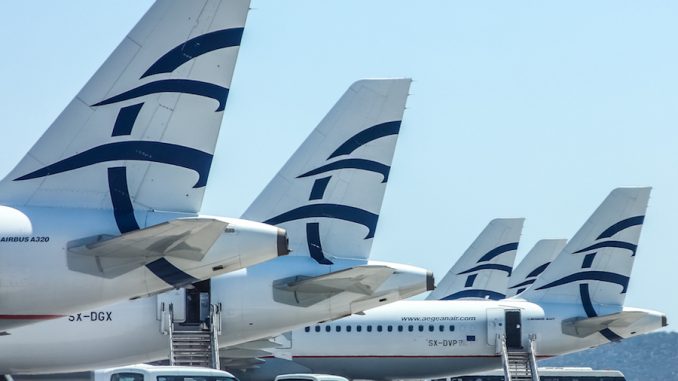 Earlier this year, Aegean Airlines signed an MoU with Airbus for 30 brand new Airbus A320neo aircraft. Recently the Athens-based carrier has announced that is has firmed up a deal worth $5.8 billion with Airbus to purchase up to 42 new Airbus A320neo aircraft. According to a statement from Airbus, the order will allow the Greek carrier to add 20 A320neo aircraft and 10 A321neo aircraft with options for a further 12 A320neo aircraft to its fleet. Aegean expects to take delivery of the aircraft between 2020 and 2025.
In a joint ceremony with Airbus, Aegean chairman Eftichios Vassilakis said, "Our agreement with Airbus augments Aegean's capacity for development along with a trusted, long-standing partner. We invest in the bestselling A320neo Family to enhance our competitiveness and to further improve our service offering to our passengers. We believe in the ability of our people to excel in what they do and they deserve to best the hardware for the job."
Currently, Aegean operates an all-Airbus fleet of 49 aircraft, with 37 A320s, 11 A321s, and one A319.
Financially, the airline has been on somewhat of a roller coaster as the carrier tries to keep up with the economic situation in Greece while competing with other low-cost carriers who have drastically increased their presence at Greece's airports, such as Ryanair, easyJet, and WizzAir.
The carrier has posted consistent losses for some time and its business model of operating as a primarily leisure-oriented Greek/European carrier has not helped due to a weak domestic market in Greece.
However, in 2017, the carrier posted its first €1 billion in revenue, up over 6% from the $983 million in revenue for 2015. On top of that, the carrier has expanded its route network significantly over the past three years, adding destinations in Egypt, France, and Scandinavia.
The airline has continued to grow as it works to strengthen its brand throughout Europe. In 2012, Aegean acquired the debt-stricken Olympic Air which operated as an island-hopper airline with turboprop aircraft. Today, Aegean is Greece's largest and most prominent airline. The airline has also been voted the Best Regional Airline in Europe by Skytrax.
"Aegean Airlines is a great example of a resilient and superbly managed airline. It has weathered the country's financial crisis and come out of it much stronger than before. Moreover, Aegean's customer focus and attention to service excellence have made the company one of the most awarded airlines in terms of customer satisfaction. We are extremely proud Aegean has selected Airbus to boost the efficiency of their future fleet." said Tom Enders, CEO of Airbus.
The carrier has also stated that it plans to invest $35 million to construct a new, 39,370 square foot state-of-the-art flight and cabin crew training center close to Athens International Airport.
An "AvGeek" for most of his life, Akhil has always been drawn to aviation. If there is an opportunity to read about an airline, fly on a new airplane, or talk to anyone about aviation, he is on it. Akhil has been on over 20 different kinds of aircraft, his favorite being the MD-80. Additionally, he has visited 5 continents and plans to knock out the remaining two (Africa and Antarctica) soon. Based in Dallas, Akhil graduated from Texas A&M University with a degree in Management Information Systems and currently works in consulting. His dream is to become an airline executive.
Latest posts by Akhil Dewan (see all)