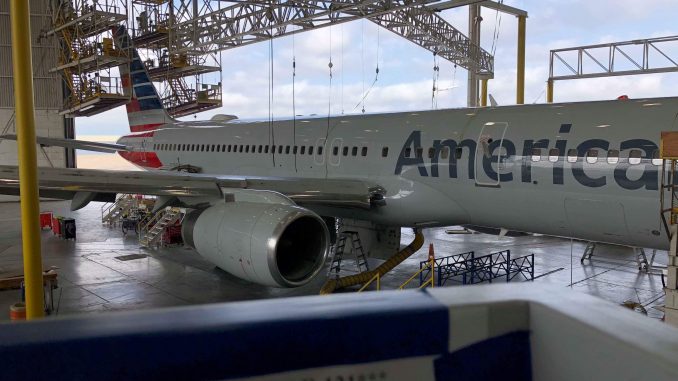 Fort Worth, Texas-based American Airlines has filed a lawsuit in U.S. District Court against the International Association of Machinists and Aerospace Workers (IAM) and the Transport Workers Union (TWU).
The airline cites that the two unions, which support the carrier's maintenance employees, have organized a work slowdown that has affected nearly 1,000 flights since January.
"Since the beginning of the year, there's been significant actions to slowdown the airline," said Robert Isom, president of American, at the Wolfe Research Annual Global Transportation Conference.
Isom goes on to call the slowdown an "illegal work action."
In the lawsuit, American alleges that mechanics have taken an "inordinately long time" to repair aircraft and have refused to work overtime at many of the carrier's maintenance bases. The lawsuit also alleges that the unions have been threatening and intimidating employees who have accepted overtime or who have volunteered to fly to a station with no maintenance crew to repair an aircraft, also known as a field trip.
American has cited evidence of the slowdown through union communications and operational metrics. In the lawsuit, the airline goes on to say that 644 flights have been cancelled and 270 flights have been delayed due to the unions' actions.
A representative from the TWU retaliated by saying, "There is no union-instituted slowdown. The incompetence of American Airlines is responsible for many of the problems they're alleging."
The back and forth between the carrier and the unions comes as labor contracts are being negotiated for employees from both US Airways and American after the 2013 merger.
Prior to the merger, US Airways sent maintenance work overseas and the unions in the lawsuit allege the outsourcing of work currently to South America as a trigger in the labor disputes.
In contrast, American performed much of its maintenance work in-house.
The lawsuit will include encompassing an injunction that American executives hope will bring everyone back to the negotiation table.
"Allegations of a slowdown are unfounded," John Samuelsen, International President of the TWU. "This is an intimidation tactic by AA because the union is fighting back against their efforts to offshore thousands of solid blue collar Jet Mechanic jobs into South America. We will continue to battle AA to keep these jobs on USA soil and in doing so, ensure the safety of air travelers."
Fellow Dallas/Fort Worth-based carrier, Southwest Airlines, also filed suit against its maintenance union in March after accusing its mechanics of writing improper safety assessments to take aircraft out of service.
Southwest resolved the lawsuit when both the airline and the union agreed on a contract that gave mechanics a 20 percent pay increase.
An "AvGeek" for most of his life, Akhil has always been drawn to aviation. If there is an opportunity to read about an airline, fly on a new airplane, or talk to anyone about aviation, he is on it. Akhil has been on over 20 different kinds of aircraft, his favorite being the MD-80. Additionally, he has visited 5 continents and plans to knock out the remaining two (Africa and Antarctica) soon. Based in Dallas, Akhil graduated from Texas A&M University with a degree in Management Information Systems and currently works in consulting. His dream is to become an airline executive.
Latest posts by Akhil Dewan (see all)