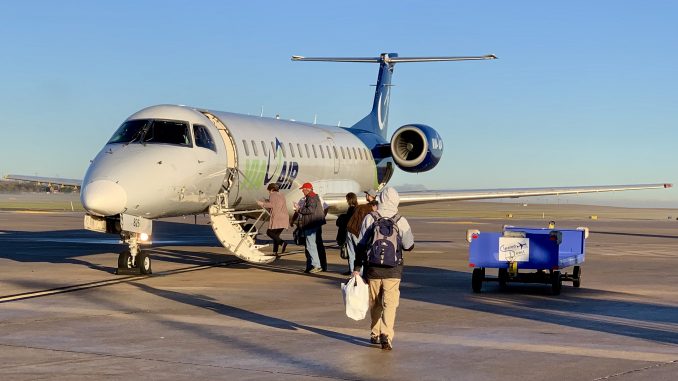 Growing independent regional airline Via Airlines has abruptly ended all scheduled commercial flights with plans to revert back to its original business model of conducting charter operations. Known by its shortened name, ViaAir, the airline began flying in 1997, specializing in both public and private charter flights catered for corporations, casinos and sports teams.
In early 2014, the airline entered the world of Essential Air Service (EAS) routes, commencing flights between Charlotte and Beckley, Va with its Embraer E-120 Brasilia aircraft. That same year, ViaAir commenced its first scheduled commercial flight between Charlotte and Northeast Florida Regional Airport in St. Augustine, Fla.
Since 2016, the airline has focused more on non-EAS scheduled commercial flights from its hubs in Orlando and Austin since summer 2017. Over the years, Via was kicked out of its contract at North Central West Virginia, Shenandoah Valley and Greenbrier Valley airports for failing to meet contract obligations and lack of operational reliability.
In Nov. 2018, Via Airlines abandoned its last EAS routes between Charlotte Douglas International Airport and Raleigh County Memorial Airport and Mid-Ohio Valley Regional Airport with Contour Airlines replacing the carrier on both routes. That same month, the airline was on the cusp of shutting down with flights from its Austin and Orlando hubs canceled for over a week straight.
Since the major disruption in operations in November 2018, the airline has focused exclusively on its commercial flights. By December, a certain level of normality returned with fewer flight cancellations and a bigger focus on ensuring flights stuck to the published schedule.
The airline was working to increase load factors on many routes that saw less than 50 percent of seats filled. That same month, AirlineGeeks experienced a flight with Via Airlines from Austin to Amarillo.
In January 2019, the regional airline announced its biggest expansion ever with plans to expand service from its Austin and Orlando hubs as well as create focus cities in Pittsburgh and Birmingham, Ala. Since then, the airline has struggled financially, failing to fully pay rent and other payments at multiple airports. At its Texas hub, Austin-Bergstrom International Airport, aircraft service providers were ordered on multiple occasions not to fuel Via Airlines aircraft until the carrier was able to pay the city and service providers what it owed.
The airline has not operated a commercial flight since May 5, blaming its reduction in current service and delays in planned new services on an ongoing pilot shortage. In a statement to the Birmingham Airport after the airline trimmed its schedule just weeks after starting flights, Via claimed that the attraction of bigger aircraft and large sign-on bonuses is pulling pilots away from flying for the carrier, which has no attachment to any major carriers.
Via also claimed that increased training requirements have delayed its pool of potential pilots from joining the flight line. A class of pilots was being trained in Houston to receive their type rating on the Embraer ERJ-145; however, sources disclosed that the class was dismissed as Via Airlines intended not to expand its pilot pool despite the shortage.
In the same statement given to Birmingham Airport in early May, the airline also claimed that additional oversight from the Federal Aviation Administration after the grounding of the Boeing 737 MAX contributed to the airline reviewing its schedule. Despite being plagued by constant maintenance issues due to the old age of its fleet, a spokesperson for the FAA told AirlineGeeks that: "The FAA has taken no enforcement actions against Via Airlines in the past year."
N825HK, one of two aircraft the airline has based in Austin, has not flown since April 12 and has been sitting on the cargo ramp of Austin's airport since then. This aircraft was rumored to have been scrapped to keep its other two operating ERJ-145s flying, but a spokesperson for Austin-Bergstrom International Airport told AirlineGeeks that to the airport's knowledge, the plane is still operational. On May 30, the aircraft ferried back to the airline's home base at Orlando Sanford Airport.
When the airline abruptly stopped operating its scheduled commercial flights in late April and early May due to a pilot shortage, N841HK continued flying, picking up charter flights from Austin. The aircraft has since been repositioned to Orlando.
Almost a month after Via began regularly canceling scheduled flights from Austin, the airport took action and confirmed to AirlineGeeks that the airline's commercial contract would be terminated on May 30.
The airport released a statement saying: "We have sent Via Airlines a Notice of Termination due to failure to meet contract obligations with the City of Austin Department of Aviation. Via Airlines' last day of service at AUS is May 30, 2019."
AirlineGeeks reached out to Via on multiple occasions for comment regarding the carrier's future; however, no emails or phone calls were answered or returned. Multiple airports reported issues with the inability to communicate with the airline, such as Mobile Airport, which recently opened a new downtown terminal catered specifically for Via Airlines and Frontier Airlines. Via Airlines; however, was a no-show to the new terminal and has not operated a commercial flight to Mobile since mid-April.
Finally, after weeks of uncertainty Via Airlines confirmed to multiple airports that it is ending its commercial flights. Michael Conner, director of aviation at Rick Husband Amarillo International Airport, said: "They will revert back to being a charter carrier, which will affect every airport where they had scheduled service."
All routes have been suspended, with the exception of the Orlando-Jackson, Miss. route which is scheduled to resume on June 20, 2019. Several routes such as Austin-Birmingham are still on sale from Oct. 3, 2019, onwards, but both airports have confirmed the airline is no longer flying from their respective cities.
For now, Via Airlines is returning to the charter business, the sector of the industry the airline has over 20 years of experience with. With one commercial flight scheduled to continue, it's uncertain if the airline has any future plans to reinstate any other scheduled commercial flights.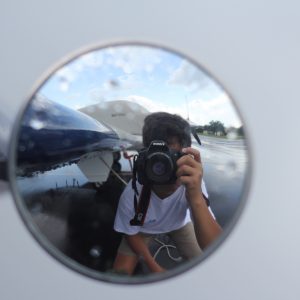 Mateen has been interested in aviation from a very young age. He got his first model airplane at six and has been airplane spotting since he was nine years old. He has always had a passion for aviation and loves learning about different aspects within the industry. In addition to writing for AirlineGeeks, Mateen is also an editor for his high school's newspaper. You can also find him on Instagram (@Plane.Photos) where he enjoys sharing his aviation photography with thousands of people everyday.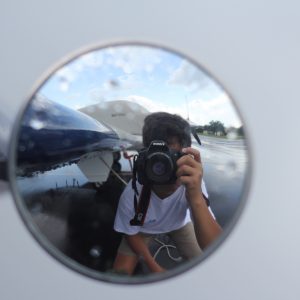 Latest posts by Mateen Kontoravdis (see all)