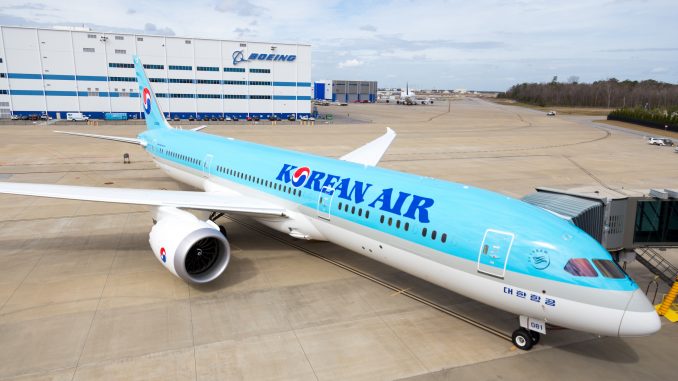 Korean Air and Boeing have signed a Memorandum of Understanding (MOI) for the airline to purchase 20 widebody aircraft. The deal included 20 Boeing 787 Dreamliners split evenly between the Dash 9 and Dash 10 variants, valued at $6.3 billion at current list price. In addition to the 10 from Boeing, Korean Air will also lease 10 Dash 10s from Air Lease Corp. (ALC).
The agreement was confirmed at the Paris Air Show at Le Bourget Airport in Paris, France. Earlier, the International Airlines Group (IAG), the parent company of British Airways and Aer Lingus, signed a letter of intent to order 200 Boeing 737 MAX aircraft, which is believed as a "vote of confidence" in Boeing.
Ihssane Mounir, Boeing's senior vice president of commercial sales and marketing, said, "Korean Air is a leading global airline and has become one of Asia's largest transpacific carriers. We are honored that Korean Air has decided to quadruple its 787 Dreamliner fleet and we will work closely with them to finalize this landmark deal."
The deal may relieve the pressure on the aircraft manufacturer which has been suffering from the global 737 MAX groundings in March. The South Korean flag carrier will introduce the first 787-10 Dreamliner in 2021 amid a fleet modernization plan.
In response to the transaction, Walter Cho, the airline's chairman said, "As we continue to innovate our products, the 787 Dreamliner family will become the backbone of our mid-and long-haul fleet for many years to come."
Korean Air has a fleet of 168 aircraft, 119 aircraft were manufactured by Boeing, including an all-Boeing cargo fleet, and the rest by rival Airbus.

Will has been a travel agent in Hong Kong for almost three decades, as time goes by he hasn't lost his passion for his job, He still has plenty of enthusiasm for the airline industry and airport operations.