There have been countless films, television shows, music videos and commercials throughout the years that have portrayed the airline industry in some way or form. In some of these productions, flying is portrayed as a modern and glamorous adventure where flight attendants don chic uniforms and airline cabins feature the latest technology and mood-lit cabins – think the fictional Northern Goldstar Airlines on The Twilight Zone's new "Nightmare at 30,000 Feet" episode. In some rare ones even, everything from the cabin seats to the stewardess's crew bag has to be completely period-accurate – such as in the short-lived ABC television series, Pan Am.
More often than not, however, most productions would rather skip these details and go for the generic airline cabin which at best probably involves several recliner seats on a generic single-aisle plane. No matter how a director interprets an airport or airplane for their scene, Air Hollywood is probably where it all happened.
Located in Pacoima just behind the Hollywood hills, Air Hollywood is the LA film studio where almost any sort of airplane or airport scene becomes a reality for the silver screen. The studio was founded in 1998 by Talaat Captan, a veteran of the film industry and a big aviation enthusiast, and it specializes in building airplane movie sets whether it be the inside an airport terminal, an airplane cabin, or the exterior of a fuselage. The studio's sets have been featured in major films and television shows such as Bridesmaids, Get Him to the Greek, Grey's Anatomy and The Wolf of Wall Street.
Most recently, the studio's mock 1970s Pan Am 747 cabin was used to film Quentin Tarantino's latest feature film, Once Upon a Time In Hollywood.
Captan got the idea for Air Hollywood in the late 1990s from working on a disaster thriller film depicting air traffic controllers called Ground Control. Filming for Ground Control had originally begun at LAX, but permits to shoot at the airport were rescinded at the last minute, losing Captan a lot of production money. Captan had to finish the film using alternate locations such as Ontario Airport east of Los Angeles County.
With extra tight security after 9/11, filming anywhere near an airport or a plane became nearly impossible and Captan immediately saw a need for airline and airport sets from major entertainment and motion picture companies. Thus, Captan opened Air Hollywood, an entire studio dedicated to creating the flying experience for Hollywood.
Although it's hard to believe, many of the airport and airplane scenes we see have been filmed on the same sets at Air Hollywood. These sets can be customized and re-assembled to suit the setting for different films. Most directors often go for the narrow-body 737 to film being in an economy class cabin on an airplane, but you can always get creative and dress the cabin as you see appropriate.
According to Captan, even the airlines themselves come to Air Hollywood to film their safety videos and television ads.
Besides providing the facilities, trailers, and equipment for shoots, Air Hollywood also provides the plane sets, the seats, the airport jetway, the flight attendant uniforms, the cockpit, the flight safety cards, and almost anything you can think of needed to re-create being in an airport or on an airplane. Captan's on-site prop department is pretty extensive and covers a wide range of time periods and genres relating to aviation.
Other than making airline sets a reality for movie directors, Air Hollywood also brings Pan Am back to life on Saturday nights in its studios with its weekly retro-themed Pan Am dining experience. Born from a longing for the golden age of air travel and a love for Pan Am, The Pan Am Experience immerses the 21st-century traveler into a classier era of air travel and treats them to Pan Am's original cabin décor and branding elements as it would've appeared in the 1970s.
In addition to re-creating flying experiences, the studio also administers public programs at its studios that help people overcome their fear of flying. One special program, in particular, Open Sky For Autism, helps families living with autism and other developmental disabilities overcome their fear of air travel through acclimation during a commercial airport and passenger flight simulation. The free program is administered a few times a year and gives families a chance to survey the airport and airplane environment before they travel.
Air Hollywood also hosts immersive simulations – complete with turbulence and landing – for passengers (and dogs) who have hesitation or fear of flying.
Air Hollywood is an LA-based motion pictures studio, however, it also has facilities in Atlanta and Seoul, South Korea. Furthermore, for client's filming outside of those areas, Air Hollywood's is able to transport its aviation sets to clients all over with AutoPlane. AutoPlane is a fully-mobile 53-foot long airplane mock-up that can be transported in a shipping container to almost any point across the globe. The best part is that it can be assembled and ready to go in just two hours.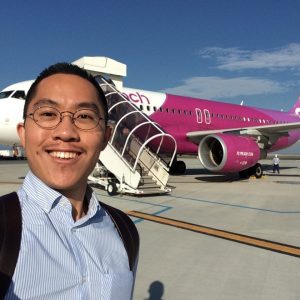 Most people hate long flights or overnight layovers, but Albert loves them. The airport and flying parts of traveling are the biggest highlights of any trip for him – as this avgeek always gets a thrill from sampling different airline cabin products and checking out regional developments happening at local U.S. airports. He's flown on almost every major carrier in the U.S. and Asia Pacific, and he hopes to try out the new A350s soon.

Albert recently completed his undergraduate studies in Business Accounting at USC in Los Angeles and he is currently recruiting for a corporate analyst position at one of the U.S. legacy carriers. During his college years, he interned at LAX for Los Angeles World Airports working behind-the-scenes (and on the ramp) in public relations and accounting. Outside of writing for AirlineGeeks, he enjoys trekking the Hollywood hills, visiting new hotspots throughout SoCal, and doing the occasional weekender on Spirit Airlines.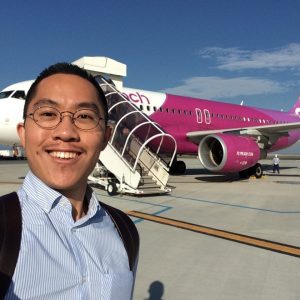 Latest posts by Albert Kuan (see all)