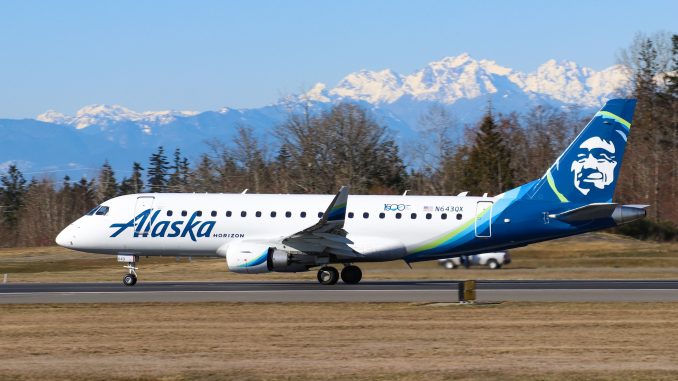 Alaska Airlines has announced that the carrier will expand its presence at Paine Field in Everett, Wash. with the addition of service to fellow instate city Spokane. The flight will be operated using Horizon Air Embraer ERJ-175 equipment and will begin on Nov. 4. Horizon's aircraft are configured with 12 first class, 12 premium economy, and 48 economy seats.
For flight times, Alaska Airlines flight 2892 will operate the outbound leg from Paine Field to Spokane with a departure of 7:55 p.m. and arriving into Spokane just after 9 p.m. The aircraft will overnight in the eastern Washington city before becoming flight 2891 and operating a 7:40 a.m. return flight to Everett.
In a story by KXLY, Spokane International Airport CEO Larry Krauter praised the new service, "This new service to Paine Field will directly benefit the aerospace industry sector as it continues to expand in our region and create time-saving efficiencies for our business community overall."
For Spokane, the route is another service to add to their plethora of Alaska Airlines branded flights. The airline currently serves the Lilac City from Boise, Portland, San Diego and Seattle-Tacoma using a mix of mainline and regional airframes. The airline is one of the largest in Spokane, with the Bureau for Transportation Statistics showing that Horizon and Alaska service combines for over 33 percent of the airport's service.
As for the still-new Paine Field terminal, Alaska's new service is the 10th destination that was announced and will be the 9th city to receive service by the carrier when the route starts in November. The route will also be the second city in the Pacific Northwest served after flights to Portland, Oregon were started on the terminal's opening day. All Alaska flights out of Everett are operated with Horizon Air Embraer ERJ-175s.
Paine Field's Airport Director Arif Ghouse mirrored Spokane's enthusiasm saying, "One of the questions I've been asked the most over the past few months is when service might start to Spokane. There will be considerable interest in the new flight."
Although Ian McMurtry was never originally an avgeek, he did enjoy watching US Airways aircraft across western Pennsylvania in the early 2000s. He lived along the Pennsylvania Railroad and took a liking to trains but a change of scenery in the mid-2000s saw him shift more of an interest into aviation. He would eventually express this passion by taking flying lessons in mid-Missouri and joining AirlineGeeks in 2013. Now living in Wichita, Kansas, Ian is in college majoring in aerospace engineering and minoring in business administration at Wichita State University.
Latest posts by Ian McMurtry (see all)