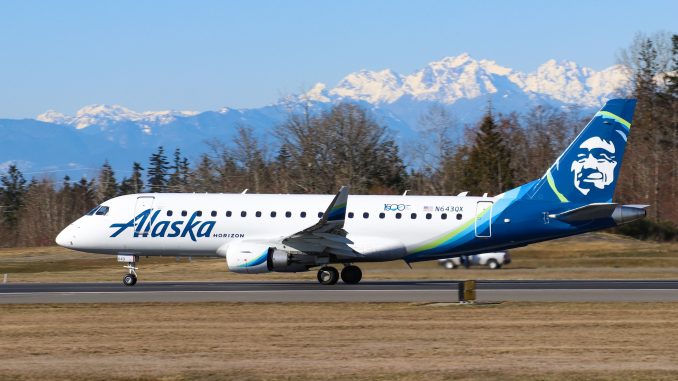 Commercial service is finally underway at Paine Field in Everett, Wash. as Alaska Airlines began regional operations Monday morning from the airport's newly-opened passenger terminal. Paine Field, also called Snohomish Country Airport, has been known for decades as the home for a majority of Boeing's builds and tests flights but is now seeing airliners pass through with paying passengers onboard instead of just Boeing test equipment. Service launched from the newest commercial air terminal in the United States with the first flight, Alaska Airlines/Horizon Air flight 2878, departing to Portland, Ore. at 10:00 a.m.
"The opening of a brand-new commercial air terminal at Paine Field is history in the making," said Andrew Harrison, Alaska Airline's chief commercial officer. "We're extremely proud to be a part of a growing, thriving Pacific Northwest and West Coast."
This is not the first time Alaska Airlines has operated out of Paine Field. Alaska was headquartered at the airport before moving down to Seattle around 80 years ago. The re-launch of Alaska operations marks a new chapter for the airport but also a homecoming for the airline.
Harrison shared his excitement about the return, "The other really exciting thing about this is Alaska Air used to be here in the '40s. We had our headquarters here before we moved them to Seattle proper, but we're back!"
Alaska hopes the new service will provide those living in the northern Puget Sound area with a shorter, easier commute to bypass the busier and farther Seattle-Tacoma International Airport to the south, as well as the ability to connect on other Alaska routes and to over 900 destinations offered by its 15 global partners. Three routes to Portland, Phoenix and Las Vegas were inaugurated on Monday, with the rest being opened within the next two weeks.
Still to come are Los Angeles, San Francisco, San Diego, Santa Ana and San Jose, with the two most important for onward connections being Los Angeles and San Francisco due to the international carriers based there that partner with Alaska, notable among them being Qantas, Fiji Airways, LATAM and Finnair, which don't currently serve Seattle. From Everett, Alaska Airline's customers will be able to travel on 18 daily nonstop departures to eight Western United States cities.
"We actually bought 8 airplanes specifically for Paine Field, which is a massive investment, but we have one hundred percent confidence in the community and the needs of the traveling public up here and the businesses that this is going to be a huge success," Harrison added.
The eight aircraft based at Paine Field will be Embraer E175 aircraft operated by Horizon Air, Alaska Airlines' regional subsidiary. The aircraft will feature three classes including first class, premium class, and economy. A key benefit of the E175 is that it only features window and aisle seats, eliminating the dreaded middle seat.
"Our team is excited to deliver an enjoyable, hassle-free travel experience for our guests at Paine Field," said Horizon Air President and CEO Gary Beck. "This is a new destination for us, but we have a lot of experience in providing outstanding service. We're eager to welcome everyone from our long-time Mileage Plan members to those who are flying with us for the first time."
Though Alaska is the launch operator, it will have to share the terminal sooner rather than later. United Airlines' regional brand United Express will be starting flights to Everett beginning on March 31, 2019, with service to Denver and San Francisco. The two routes will also be ideal for onward connections both domestic and abroad as United is growing its international route network from both cities. The Chicago-based airline announced its intention to launch flights to Everett in August 2017, three months after Alaska first announced in May of that year.
Southwest Airlines was also slated to serve the new airport but gave its slots to Alaska and has no current plans to serve the airport in the future. The Dallas-based low-cost carrier thrives on serving alternative airports to lower costs for its flights as seen in New York, Boston and other cities.
Inside the New Terminal
Paine Field's new terminal, developed and owned by Propeller Airports, is located on the south side of the airport, the opposite side of Boeing's massive production facility. In building the terminal, developers were able to start completely from scratch as there was no existing terminal infrastructure there prior to work around. With his came an incredibly modern facility unlike most airports in the country.
Upon, walking in, two rows of Alaska Airlines self-service kiosks await with three Alaska check-in and baggage drop kiosks off to the right. The contrast to a major airport just as SeaTac is immediately noticeable, contributing to a more relaxed flying experience from the moment one steps into the terminal.
After checking in, the sole security checkpoint is just a short walk away and then you are airside less than 500 feet from where you were dropped off curbside. The new terminal looks more like the lobby of a hotel than an airport, filled with modern design and details not commonly found in airports.
The space is open and possesses a cozy, laid back feeling though maintaining modern amenity including a plethora of power outlets to keep passengers charged and connected before their flights. The developers took note of the most common problem to plague airports, the lack of power outlets and charging ports, and solved it by seamlessly incorporating them into the seating areas.
Only two gates occupy the terminal, each fitted with glass jet bridges and divided by a large lodge-type area providing seating and comfort for passengers. Paine Field is one of the few American airports to feature glass jet bridges. a common practice in Europe though incredibly uncommon stateside due to government regulations. 
The building features glass facades increasing the amount of natural light coming in and allowing for views of the surrounding airfield. With Boeing operating test and delivery flights nearly nonstop and other service providers setting up shop on the field, Paine Field is an AvGeek's dream with few obstructions to block one's view.
The entire building is fitted with warm tones and natural Pacific Northwest colors, providing a genuine Washington State feel and truly welcoming arriving passengers to the Pacific Northwest from the moment they disembark the aircraft.
Matthew Garcia became interested in aviation at the age of 12 when he installed Microsoft Flight Simulator X on his computer. He was instantly "bitten by the bug" and has been in love with aviation ever since. Matthew took his first introductory flight in 2013 and began normal flight training in February of 2015. Over the years, Matthew's love and knowledge for aviation has grown tremendously, mainly due to FSX. Garcia flies highly advanced aircraft in a professional manner on a highly complex virtual air traffic network simulating real world flying. In 2016 Matthew achieved his private pilot certificate from the FAA. Now he studies journalism at the University of Nebraska at Omaha.
Latest posts by Matthew Garcia (see all)