Austin has grown at a pace faster than almost all other U.S. cities over the past decade. Dubbed Silicon Hills for the large number of tech companies that are headquartered in and around the city, the rising tech industry has helped fuel both domestic and international air service over the past decade.
Between January and August, Austin-Bergstrom International Airport welcomed 11,434,493 passengers, up 8.78 percent compared to the same period in 2018. The airport is expected to handle upwards of 17.2 million passengers this year, over one million more than the record 15.8 million passengers last year.
The upward trend in passengers is clearly visible in the international figures where new transatlantic routes over the past five years have stimulated immense growth for the airport. 2014 was the airport's first year with a nonstop flight to Europe when British Airways inaugurated service to London Heathrow with the Boeing 787-8. The route helped the airport's international enplanements and deplanements increase over 330 percent to 161,879 passengers from the previous year when no transatlantic route existed.
In 2018 the airport handled 385,153 international passengers, 34.8 percent more passengers than 2017. As new routes have been established over the past few years, the number is expected to continue growing. With the airport's newly opened $350 million east terminal expansion and Lufthansa's new flight to Frankfurt, which began operating in May with an Airbus A330-300, 2019 is expected to be the busiest year yet for international traffic. 2020, however, will top all previous years as two new players enter the transatlantic market in Austin.
KLM Establishes Permanent Connection to Amsterdam
During the 2018 South by Southwest festival, Delta offered four flights between Austin and Amsterdam with a Boeing 767-300, similar to SAS's South by Southwest shuttle service that has operated since 2018.
The airline was likely testing the waters for a permanent connection and found success with it. Delta's joint venture partner Air France-KLM announced a new service to Amsterdam on Sept. 24, 2019.
KLM will operate year-round flights between Schiphol and Austin from May 4, 2020, on Mondays, Thursdays and Saturdays. These Airbus A330-300 flights will offer 30 World Business Class seats, 40 Economy Comfort seats and 222 Economy class seats. As of now, no European airline serving Austin offers direct-aisle business class seats and KLM's A330 will not change this since the business class is configured in a 2-2-2 configuration.
Data for April 2017 to April 2018 gathered from a route forecasting service showed 44 passengers traveling between the two cities every day. This number is expected to grow significantly with the two cities now connected with a nonstop flight.
Flight KL667 departs Schiphol at 12:40 p.m. and arrives at 4:10 p.m. local time in Austin. Flight KL668 departs Austin at 6:00 p.m. and arrives at Schiphol the next day at 10:25 a.m.
Peter Elbers, CEO & President KLM, said in a statement: "We have built up a robust transatlantic network thanks to our joint ventures with Air France and Delta Air Lines. We will continue to optimize this network. As part of this, we launched services to Boston and Las Vegas in the summer and are now adding Austin to our North American destinations."
Delta Air Lines recently named Austin a focus city and opened a brand new SkyClub, the airline's latest investment for its Austin travelers.
Elizabeth Wolf, General Manager, Corporate Communications, said: "Delta offers approximately 30 peak-day departures with nonstop service to all of its U.S. hubs, including three daily flights to both Los Angeles and New York City. Delta also offers nonstop daily service to other key Austin destinations including Boston and Raleigh."
The airline has been the fastest-growing legacy airline in Austin this year, carrying 1,562,617 passengers, up 10.9 percent compared to last year. The new KLM flight is expected to boost SkyTeam's presence in Austin, the Texas city where all three alliances battle for a share of the growing passenger pool.
American's senior vice president of network strategy, Vasu Raja, has taken note of Delta and SkyTeam's growing focus in Austin and said: "The largest hub carrier in Austin is American Airlines and we're going to be the largest hub carrier in Austin for a long time to come. We will continue to grow and upgauge in Austin."
Delta is currently the only airline in Austin with partners that serve Mexico, Canada and Europe from the Texas capital. Austin will join Houston in being the second city in Texas with KLM service.
Mandy McClendon, Communications & Media Manager at Austin-Bergstrom International Airport, said that the airport has been working for five-plus years to land this flight.
"We were very pleased to welcome the Star Alliance via FRA in May 2019 and now SkyTeam to AMS in May 2020," said McClendon.
Norwegian Expands With Paris and More London Flights
Just one month after KLM joined Austin's international portfolio, Norwegian announced its second destination from Austin. The airline plans to offer summer seasonal flights to Paris beginning May 6, 2020.
The new service will operate three times weekly on Wednesdays, Fridays and Sundays between May 6 and Sept. 20, 2020. Between Sept. 25 and Oct. 23, 2020, the flight will be operated twice weekly on Fridays and Sundays.
"Austin is a great example of our seasonal focus, serving increased demand during the popular summer months. After two successful seasons of our London service, the need to grow our presence in Austin was clear. Paris is one of our most popular European destinations from the U.S. and with great growth potential in this market," said SVP of Commercial at Norwegian, Matthew Wood in a press release.
Data for April 2017 to April 2018 gathered from a route forecasting service showed 56 passengers traveling between the two cities every day. Like with the new Amsterdam service, this number is expected to significantly increase when the new flight begins in May.
Lars Sande, SVP of Sales at Norwegian, said: "It's only been one and a half years since we began our London operation which has proved very successful, therefore, it's an honor for us to add another destination in Europe."
Austin became Norwegian's first Texas destination in April 2018 when it began Texas' first and only flight to London Gatwick. Coming off two successful summer seasonal services to London, Norwegian plans to expand its London offering next year, starting the season on Feb. 25 and offering a fourth weekly flight on Mondays between May 4 and Aug. 20, 2020. Sande mentioned that the majority of bookings on the Gatwick route originate in the U.S.
"It's a natural step for us to do Paris, we know that there is a big demand," Sande said.
Both Paris and London flights are operated with a Boeing 787-9 offering economy and premium economy cabins. While both flights are "Norwegian" flights, the London flight is operated by Norwegian Air UK while the Paris flight will be operated by Norwegian Long Haul.
"We've seen a year-over-year in passenger traffic to and from Europe specifically that doesn't show any sign of slowing any time soon," the airport's executive director Jacqueline Yaft said.
Norwegian is adding five additional Dreamliners to its fleet over the next year and hopes to use the new aircraft to continue developing services to Austin with hopes to make Paris a year-round flight in the future.
Sande listed Oslo, Stockholm, Copenhagen, London, Paris, Rome, Barcelona and Madrid as cities the airline could continue expanding into from Austin. None of these cities are currently part of Austin Airport's new incentive program which includes both Paris and Amsterdam as international priority routes.
"We hope that this can be a success and we can move on from here and start new services like we have done in other U.S. cities," said Sande.
With Europe Covered, Asia Flight Still Missing
In the airport's newly published incentives program, Beijing, Seoul, Shanghai and Tokyo are all considered international priority routes. While the airport still lacks Asia service, Austin-Bergstrom has been in talks with Korean Air and China Eastern, both members of the SkyTeam alliance, as of 2018 to commence Austin's first route to Asia.
The airport's 2040 Master Plan suggests a Korean Air flight to Seoul operating on the 777-300 once weekly as a route that is assumed to begin in the next five years. The potential flights are "insight as to what international demand is not being met by the current nonstop service." The list also includes a hypothetical flight to London Gatwick and Paris which the airport has since landed.
"AUS welcomes carriers with an interest in servicing Asia in the future," said McClendon.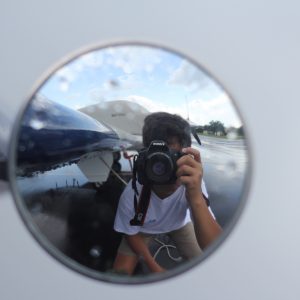 Mateen has been interested in aviation from a very young age. He got his first model airplane at six and has been airplane spotting since he was nine years old. He has always had a passion for aviation and loves learning about different aspects within the industry. In addition to writing for AirlineGeeks, Mateen is also an editor for his high school's newspaper. You can also find him on Instagram (@Plane.Photos) where he enjoys sharing his aviation photography with thousands of people everyday.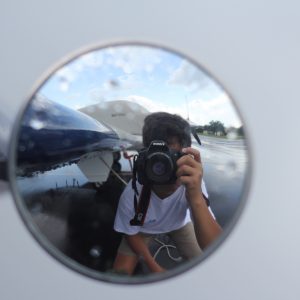 Latest posts by Mateen Kontoravdis (see all)