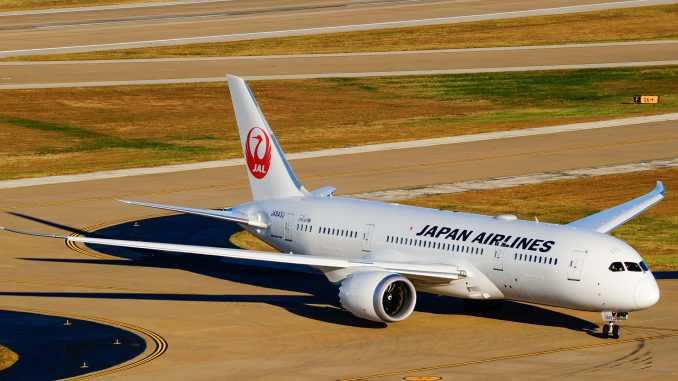 Japan Airlines has announced how it will take advantage of the new slots at Tokyo's Haneda Airport with an increase in service for its main carrier and first routes for its low-cost arm. The airline will also still hold on to its position at nearby Narita Airport with new routes being launched to the more distant Tokyo airport in 2020, including an additional service to San Francisco to complement existing service from Haneda.
Flights that currently operate from Narita Airport to Chicago, Dallas-Ft. Worth, Sydney, Los Angeles, Honolulu, Helsinki, Moscow and Delhi will transfer to Haneda starting on March 29. The airline will discontinue these routes from Narita upon their movement to Haneda except for Honolulu and Los Angeles services.
The airline also previously announced that it will launch flights to two Asian cities with nonstop service to Vladivostok, Russia and Bangalore, India coming online in the summer of 2020. Flights to the Chinese cities of Dalian and Shanghai have also been announced but specifics about flight times and aircraft types have yet to be detailed by the airline.
For Hawaii, the most popular leisure destination in the U.S. for Japanese tourists, the airline plans to operate two flights from both Tokyo airports to Oahu utilizing Boeing 767s and 777-200s from Narita and Boeing 787-9 Dreamliners from Haneda. Los Angeles's connection with Narita will be downgraded from the Boeing 777-300ER to the smaller Boeing 787-8 Dreamliner as the 777-300ER will become the aircraft used for the afternoon Haneda flight.
Despite relocating the route to Haneda, the airline plans to reconnect Narita and Chicago's O'Hare International Airport in the future with plans calling for the flight to be reinstated in February 2021. JAL says that the flight will be operated with a Boeing 787-9 Dreamliner and the aircraft will overnight in the Windy City with an arrival time of 2:50 p.m. and a departure time of 10:40 a.m. the following day.
JAL is using the shift of its routes at Narita to create space to get ZIPAIR Tokyo off the ground. The low-cost subsidiary is expected to launch flights in May 2020 starting with Boeing 787-8 Dreamliner flights between Tokyo and Bangkok. The airline will follow up with the start of flights to Seoul two months later.
For JAL, the expansion at Haneda has taken a lot of prep work but will lead to higher results, with the managing executive officer of international route marketing, Tetsuya Onuki, saying, "The expansion of these new services at Tokyo's metropolitan airports will provide convenient options to our business and leisure customers in Japan and throughout the world. With the upcoming 2020 Tokyo Olympics and Paralympics, we look forward to serving our valued customers through Tokyo's Haneda and Narita airports, while providing a seamless travel experience."
American carriers have already taken advantage of Haneda's expansions, with the United States' Department of Transportation granting 12 slots to American Airlines, United Airlines, Delta Air Lines and Hawaiian Airlines in May. Japan Airlines mentioned that the expansions made by oneworld alliance partners American Airlines and Finnair at Haneda benefit it well with the other airlines' new routes strengthening the Tokyo-based carrier's position at the metropolitan airport.
Although Ian McMurtry was never originally an avgeek, he did enjoy watching US Airways aircraft across western Pennsylvania in the early 2000s. He lived along the Pennsylvania Railroad and took a liking to trains but a change of scenery in the mid-2000s saw him shift more of an interest into aviation. He would eventually express this passion by taking flying lessons in mid-Missouri and joining AirlineGeeks in 2013. Now living in Wichita, Kansas, Ian is in college majoring in aerospace engineering and minoring in business administration at Wichita State University.
Latest posts by Ian McMurtry (see all)