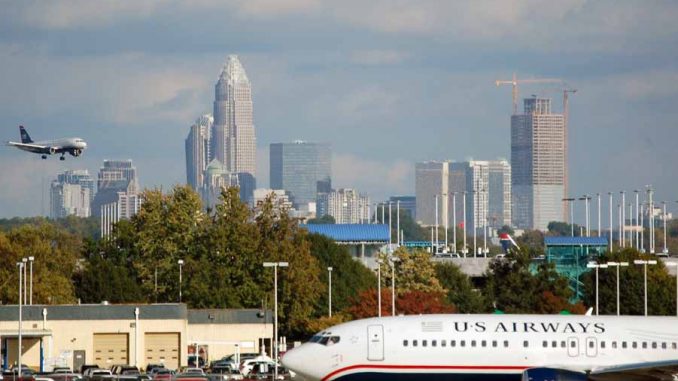 Since the creation of the first airport in 1909 by Wilbur Wright, cities in the United States have come together to create one of the most expansive airport systems in the world. Over the next few months, our writers have taken an in-depth look to see what airports each state has to offer, what its history entails, and what changes we can expect in the future that will continue to shape the airline industry.
The Tar Heel State became the 12th state to join the Union on November 21, 1789. The state, which borders Virginia, South Carolina, Tennessee and Georgia, is the 28th largest state by area, but the ninth most populated. Its two most populated cities are Charlotte and the capital, Raleigh, with 827,000 and 451,000 people, respectively. The state has had a rich aviation history since 1903, when the Wright brothers made the first ever controlled powered airplane flight near its West Coast. More than 100 years later, it is home to two major airports and three comparatively minor airports.
MAJOR AIRPORTS
Charlotte/Douglas International Airport – Charlotte, North Carolina (CLT)
Charlotte/Douglas International Airport is a joint civil-military airport located in its namesake city. It received the latter part of its name from former Charlotte mayor, Ben Douglas, Sr. It is the sixth busiest airport in the U.S. by passenger traffic and total aircraft movements. A multitude of airlines serve 154 domestic and international destinations, from Portland in the west to Rome-Fiumicino in the east. The airport has four runways, 18L/36R, 18C/36C, 18R/36L and 5/23 with lengths of 8,676 feet, 10,000 feet, 9,000 feet and 7,502 feet, respectively.
The airport currently serves as American Airlines' second biggest hub, after Dallas/Fort Worth International Airport. American has the largest market share to date, transporting about 60 percent of the 44 million passengers to pass through the airport last year. The airline is also the only U.S.-based airline to operate transatlantic flights out of the airport, with year-round service to Frankfurt and London-Heathrow and seasonal service to Barcelona, Paris, Madrid and Rome. Lufthansa operates flights to Munich as well. With the airport being reported as American Airlines' most profitable hub, its safe to say that Charlotte has a future in remaining a major connecting point for passengers traveling in the United States and abroad.
Raleigh-Durham International Airport – Raleigh, North Carolina (RDU)
Raleigh-Durham International airport serves the surrounding major cities of Raleigh and Durham in addition to the "Research Triangle Region," which comprises much of the surrounding land. Nearly 10 million passengers traveled into or out of the airport in 2015, making it the second busiest in the state. The airport currently supports an average of 126 daily departures to 41 different cities. All of these flights take off from the airport's three runways, 5L/23R, 5R/23L and 14/32, which measure 10,000, 7,500 and 3,570 feet, respectively. Currently, the only two transatlantic routes of the airport are American's route to London-Heathrow and Delta's seasonal service to Paris-Charles de Gaulle.
Currently, ten airlines and their corresponding regional carriers operate flights into Raleigh-Durham. Even though the airport was an American Airlines hub back in the 1980s and 1990s, Delta and Delta Connection currently have the most flights into and out of the airport. In terms of traffic, the number of passengers passing through the airport has remained from around 8 million to 10 million since the late 1990s.
MINOR AIRPORTS
Piedmont Triad International Airport – Greensboro, North Carolina (GSO)
Piedmont Triad International Airport, located in north-central North Carolina, serves the surrounding communities of Greensboro, High Point and Winston-Salem, as well as the general Piedmont Triad region of the same area. The airports three runways allow an average of 280 daily takeoffs and landings. In addition, nearly 920,000 people pass through the airport's two concourses. All three U.S. "legacy" carriers operate flights to the airport, though United only does so with their regional carrier. The airport has also been undergoing somewhat steady passenger growth. As of October, traffic has grown nearly 1 percent over the year before, and, as the airport has said, that number will continue to increase over the coming months.
Wilmington International Airport – Wrightsboro, North Carolina (ILM)
Wilmington International Airport is a public airport located in Wrightsboro, just north of Wilmington, in southeast North Carolina. In 1927, the airport opened and was christened Bluethenthal Field after native Wilmingtonian aviator Arthur Bluethenthal. It was renamed multiple times before finally receiving its current name in 1997. The airport has two runways, both around 8,000 feet, and a single terminal with eight gates. There is also a 24-hour US Customs ramp that services the nearly 3,200 international flights that land at the airport each year, nearly all of them either private or charter. In terms of regularly scheduled passenger traffic, only Delta and American have regularly scheduled service to the airport, taking the majority of the 800,000 travelers through the airport each year. The airport's passenger traffic numbers have been relatively steady in recent years, but the owners of the airport are optimistic for both mainline and private growth.
Asheville Regional Airport – Fletcher, North Carolina (AVL)
Asheville Regional Airport is located in the very west end of the state, near the Appalachian Mountains, and well within the surrounding hilly terrain. The airport opened in 1961 to replace another nearby airfield. American, United, Delta, Allegiant and DHL Cargo, on top of swaths of private aircraft, utilize its one permanent, 8,001-foot, runway. Despite the fact the airport is only the fourth busiest in the state, it has been visited by some unexpectedly exciting aircraft over the years, including the Concorde, chartered United 747s, an Airbus A340 from Great Britain and a Boeing VC-25 operating as Air Force One for President Obama in 2011 and 2013. Though these aren't common visitors to the small airport, passenger traffic has been growing steadily in recent years, as its 2015 passenger traffic number of more than 787,000 was a huge increase of nearly 4 percent of the previous year's traffic, driven largely by tourism to the growing craft beer capital of the nation.

When he was just six months old, Parker took his first flight. From that point, he was destined to love aviation. His mom worked for Southwest Airlines much of his family have been frequent flyers on American Airlines for years, just as Parker is now. In 2015, Parker, inspired by aviation accounts on Instagram, decided to create an account of his own, and he hasn't stopped spotting since. On top of that, Parker has been writing for his school paper since his freshman year and has been writing and doing photography work for AirlineGeeks since August 2016.

Latest posts by Parker Davis (see all)