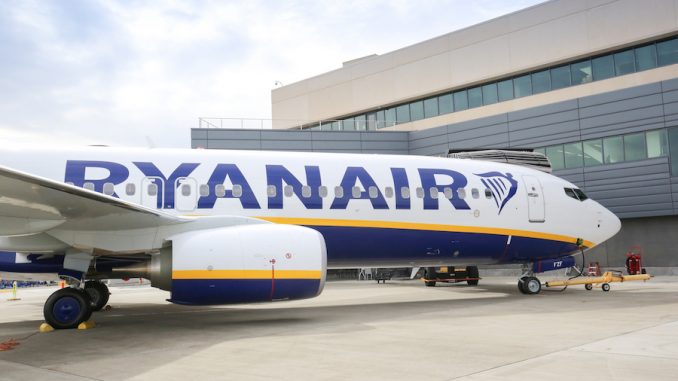 Ryanair, one of Europe's largest airlines, has taken delivery of its 450th Boeing aircraft. The Irish carrier had its latest Boeing 737-800 delivered to Dublin Airport after arriving from Boeing Field in Seattle, Wash.
Mick Hickey, Ryanair's Chief Operations Officer said in a statement: "We are delighted to receive our 450th Boeing Aircraft, which brings to 380 the number of Boeing aircraft in Ryanair's current fleet. Ryanair is proud to partner with Boeing and has operated an all-Boeing fleet since 1994. We look forward to receiving many more aircraft in the years ahead, including the rest of the 'Next Generation' 737-800s and 200 737 Max 'Gamechanger' aircraft on order, as we grow out fleet to 585 by FY24."
Ryanair continues to operate one of the industry's youngest and greenest fleets, with an average aircraft age of only five and a half years, making the airline one of the most fuel efficient in Europe.
The carrier is expecting further deliveries of another 84 Boeing 737-800 aircraft, and will be the launch customer for the Boeing 737 MAX 200 variant of aircraft when it arrives in 2019.
The airline currently has 100 of the new jets on order with options for a further 100 if desired. CEO Michael O'Leary has described the jet as a "game changer" and anticipated back in February that the airline will exercise its options for the further 100 aircraft.
The new aircraft will be put to immediate use as the carrier continues to expand its operations over the coming months. Starting next week, the airline will be launching its highly anticipated service into Frankfurt am Main Airport following its announcement at the end of last year.
The carrier also announced a £5/€5 flash sale today, allowing customers the opportunity to purchase tickets during a 12-hour window which ultimately ended in the airline's website going offline. A spokesman for Ryanair issued an apology, and insisted that the airline will "launch another exciting flash sale on the Ryanair.com website very soon."
Josh is a long term aviation enthusiast and aspiring commercial airline pilot. From a young age he has immersed himself in all things aviation. From plane spotting at local airports and airfields, to racking up frequent flier miles on trips abroad, Josh is a huge AvGeek at heart. He is currently in his third and final year of university in the United Kingdom, studying for a degree in Air Transport alongside his full flight training towards a frozen Air Transport Pilot's license. He currently has his PPL and CPL with around 200 hours of flying experience in various aircraft and is expected to start his Instrument rating later this year. He frequently flies on one of his favorite airlines, British Airways and is an avid Avios collector and British Airways Executive club member.

In his spare time, while not studying, flying or immersing himself in aviation he enjoys spending his time volunteering in a variety of roles and running a blog to help other aspiring pilots pursue their dream.
Latest posts by Joshua Drabble (see all)