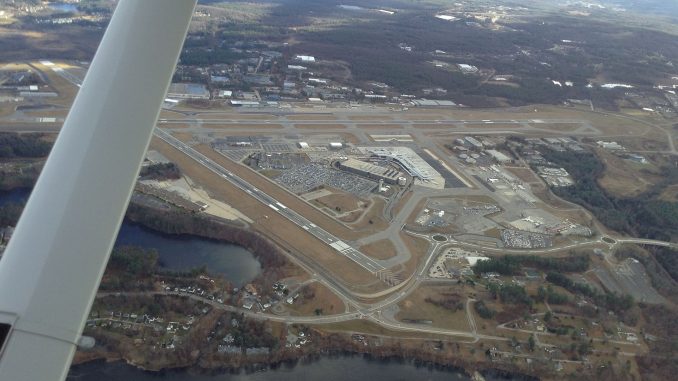 Since the creation of the first airport in 1909 by Wilbur Wright, cities in the United States have come together to create one of the most expansive airport systems in the world. Over the next few months, our writers have taken an in-depth look to see what airports each state has to offer, what its history entails, and what changes we can expect in the future that will continue to shape the airline industry.
New Hampshire was the 9th state erected into the union of the United States on November 23, 1804, and Vermont was erected into the union on July 4th, 1872 as the 14th state of the United States. Both states do not have a significant aviation presence and are combined in this state series due to their close proximity on a state basis.
New Hampshire
Lebanon Municipal Airport – Grafton County, New Hampshire
Lebanon Municipal is the northernmost commercial airport in New Hampshire and is not far from the Vermont border. Featuring two asphalt runways (7/25 at 5,496 feet & 18/36 at 5,200 feet), the airport's commercial presence isn't too significant. The airport used to be served by Northeast Airlines before being acquired by Delta Airlines. Colgan Air formerly offered flights to New York's LaGuardia Airport under operations conducted from US Airways Express before suspending services in November 2008. After the demise of Colgan Air from Lebanon, Cape Air began services to Boston & White Plains using Cessna 402 aircraft under the Essential Air Service Program, conducted by the U.S Government.
Cape Air monopolised the commercial market from Lebanon and carried 9,000 passengers from January 2011-December 2011. In terms of other traffic, 77% of all traffic into Lebanon counts as General Aviation, 22% being Air Taxi and 1% being military. The airport averages 40,000 operations per year and has over 50 aircraft based at the field. For the past five years, the airport has been able to surpass 10,000 passengers each year.
Manchester-Boston Regional Airport – Manchester, New Hampshire
Founded in 1927, Manchester-Boston Regional Airport is the biggest airport in the state of New Hampshire. Carrying an average of two million passengers per year off of two asphalt runways (labelled 17/35 at 9,250 feet & 6/24 at 7,650 feet), the airport is Americanised in terms of carriers operating to and from the airport. The airport took shape as a military base in the 1960s, known as Grenier Air Force base and by 1978, the airport's commercial expansion took place and was renamed to Manchester Airport. As well as operating as a military base, the airport was served by Northwest Airlines with Convair CV-240's, DC-9's and the FH-227 aircraft in the 60's. Services continued from the airline with Boeing B727-200 aircraft until the 1980's when the airline withdrew services from the airport.
To further accommodate additional traffic to the airport, Manchester-Boston Regional expanded in 1992 hosting a brand new 158,000 square foot terminal where carriers such as MetroJet, Northwest and Southwest Airlines would launch services from 1998 onwards. Nowadays, carriers such as American Eagle, Delta, Southwest & United operate into the airport and carry over two million passengers collectively. Cargo operators such as FedEx & UPS offer services to Memphis, Buffalo, Hartford, Indianapolis, Louisville, Philadelphia, Syracuse, Bangor and many other destinations across the U.S. Although Manchester-Boston has a standard American-based airline portfolio, the airport has seen a decrease over a 15-year period from over three million passengers in 2000 to just over two million passengers in 2015. Between the years of 2004 and 2005, the airport recorded their highest passenger count of 4.3 million passengers but to see numbers half in a decade is something concerning for the airport.
Portsmouth International Airport at Pease – Rockingham County, New Hampshire
Hosting one asphalt/concrete runway (labelled 16/34 at 11,321 feet), Portsmouth International Airport at Pease is a joint military-civil airport and shares the runway by an actively utilised 157th Air Refueling Wing of the New Hampshire Air National Guard operating KC-135R and KC-46A Pegasus aircraft. The 64th Air Refueling Squadron of the 22nd Air Refueling Wing of the United States Air Force are also embedded within the New Hampshire Air National Guard's military operations at Portsmouth. The airport became a hub for Pan Am from 1998 until 2005 when they pulled out of the airport. Shortly after, in 2008, Skybus Airlines also ceased operations from the airport, after a very short career at the airport.
Allegiant Air is the only carrier operating from Portsmouth at the moment with services to Fort Lauderdale, Orlando-Sanford & Punta Gorda/Fort Myers. In November 2016, the carrier launched services to St Petersburg/Clearwater to expand their portfolio of destinations served. On average, 68% of all air traffic at Portsmouth is listed as general aviation, with 22% being military, 7% being Air Taxi and 3% only contributing as commercial operations. On a miscellaneous note, the airport was one of seven launch abort sites and one of 18 emergency landing sites for the NASA Space Shuttle Program, showing a wide variety of operations offered at the airport!
Vermont
Burlington International Airport – Chittenden County, Burlington
Burlington International Airport is one of two airports that are of significance in Vermont. The airport's history began in 1920 when land was leased for $100 by airport developers. The airport was primarily used as a military airbase during the second World War for the Vermont Air National Guard until the 1970's mark when Mohawk Airlines became the first carrier to operate into the airport. One year after Mohawk started operations, a $1.25 million expansion was approved, which featured a brand new 40,000 sq ft terminal. The terminal opened in 1973 and was subjected to further renovation in 2008, costing $24 million. This renovation featured additional gates, boarding bridges, and extra car parking capacity.
Featuring two asphalt runways (labelled 15/33 at 8,320 feet & 1/19 at 3,611 feet), the airport carries an average of over half a million passengers per year to destinations such as New York JFK, Philadelphia, Chicago, Detroit, Washington and many other popular destinations across the United States. Quite a few carriers operate out of Burlington. Airlines of interest would be Porter Airlines who operate seasonal flights to Toronto-Billy Bishop Airport. Other than that, the conventional US carriers like Allegiant Air, American Eagle, Delta, JetBlue and United operate flights to and from the Vermont-based airport.
Rutland – Southern Vermont Regional Airport – Rutland County, Vermont
Rutland Regional is a smaller airport compared to Burlington in terms of carriers and operations. The airport only has 90 operations per day on average, with over 70% of that counting as General Aviation traffic. The airport averages over 30,000 aircraft operations per year and has around 45 aircraft based at the field.
The airport hosts two asphalt runways (labelled 1/19 at 5,003 feet & 13/31 at 3,170 feet) and is only home to Cape Air in terms of commercial traffic. Cape Air offers services under the Essential Air Service program using Cessna 402's on flights to Boston. Additionally, the airport carries over 500,000 pounds of cargo from 1,500 cargo operations courtesy of UPS and FedEx.
All in all, both of these states have a very quiet aviation presence due to their size and lack of commercial airports. Demand for air travel out of the two states appears to be minimal and they are always competing with eachother to receive new airlines and destinations.
James is a passionate AvGeek who has been actively spotting for years. James has been an Aviation Enthusiast for 7 years and has a fond likening to Concorde! James hopes to grow in the aviation industry with journalism being his primary focus.
Latest posts by James Field (see all)