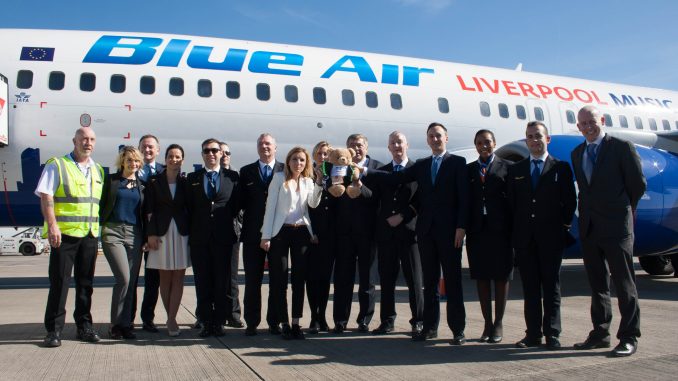 On Friday, Romanian carrier Blue Air launched its latest European base from Liverpool John Lennon Airport (LJLA) featuring celebrations and a familiarization flight for guests and the media.
Liverpool will be Blue Air's eighth established base and will house one of the airline's 189-seater Boeing 737-800 aircraft with a sporting livery for the city. The livery recognizes the city's strong musical links, its warm welcome, and famous city skyline.
The basing of this aircraft will support 35 local jobs as part of the airline's commitments to serve the local economy of Liverpool. In the coming week, the carrier will launch daily service to Rome Fiumicino, four times per week service to Milan Bergamo and Hamburg along with three times per week service to Alicante.
On top of this, starting in June, Blue Air will also be launching twice weekly flights to Larnaca, Cyprus which will be the carrier's eighth route from Merseyside.
Before the familiarization flights began, AirlineGeeks had an opportunity to interview Blue Air's Chief Operating Officer, Tudor Constantinescu, and the airport's CEO, Andrew Cornish, asking them a series of questions about the expansion for Blue Air.
Q&A with Tudor Constantinescu, Blue Air's Chief Operating Officer
Q: What was the main benefit to the airline of picking Liverpool rather than Manchester for a base of operations?
A: I think the biggest benefit is the way we are working with the airport, the way we are supported by the airport to build up our base, our network and our routes.
Q: Was Manchester a good enough target market for Blue Air? If it still is, is the carrier considering such operations?
A: I think that we have a big job to do here in Liverpool for the moment so we are really looking to grow the base, set it up and potentially after that, we could go further.
Q: Based on new destinations in Blue Air's Liverpool Portfolio at low prices, is the carrier looking to expand into Europe on the same scale to that of easyJet, Ryanair and Norwegian?
A: We are far smaller than Ryanair, easyJet and Norwegian. We are looking more at the niche elements over the next two to three years and how it can be further developed.
Q: How far is Blue Air looking to expand out of Liverpool looking into the future?
A: We are definitely looking at being able to add more routes already. We started three years ago with one route to Bucharest and nowadays we have eight routes and almost 40,000 seats available so we are looking to grow further on that.
Q: In terms of picking the Boeing 737-800 as your main aircraft type, what made it the perfect pick compared to perhaps the A320?
A: The 737 is an amazing machine. It is very efficient. We have a very long history of flying that machine since the very beginning of the airline and we are happy with Boeing for the moment.
Q&A with Andrew Cornish, Liverpool Airport's CEO
Q: How beneficial is it for the airport to expand their portfolio now Blue Air have opened up a base here?
A: It is great news. It is great news for the airport. Great news for the city and the region. Blue Air are now flying eight routes out of Liverpool. Three years ago, they weren't here. These are now very exciting routes, especially with one aircraft based here. It directly supports 35 local jobs and indirectly 70 jobs. It is a very exciting time for the airline, the airport and the region.
Q: In your opinion, what do you think made Blue Air choose to open a new base into Liverpool rather than your competitor in Manchester?
A: I think that we focus on Customer service, and as mentioned by the Blue Air CEO (Gheorghe Racaru) in the speech this morning that Liverpool looks after Blue Air more than any other airport that they fly in and out of. I think that we demonstrated that with the first four routes that they started over the last couple years.
Q: Does this expansion from Blue Air reinforce the airport's relationship with the carrier?
A: Oh absolutely. We always had a great relationship. This takes it to another step. And as we have said, hopefully, this is just the start and over the coming years, we will see more Blue Air aircraft based here, more routes and more jobs so we really are in a win-win situation.
Familarization Flight Review
After the interviews were concluded, media and other officials then proceeded to board YR-BMH, the Boeing 737-8K5/WL (winglet) aircraft with the Liverpool livery painted on it. The aircraft itself only has one cabin, standard economy in a 3-3 configuration.
After waiting at holding point C for a few minutes, the aircraft was finally in the air. The flight cruised at low level after departure to have a look at the scenery of Liverpool and places of interest such as Anfield, the home to Liverpool F.C. and Goodison Park, home to Everton F.C. before passing the Mersey docks.
During the climb, cakes to celebrate the event were handed out to flyers and had general compliments all around.
In terms of seating, even though it is a one class cabin in economy, the seats are incredibly comfortable compared to other European airlines that operate in and out of Liverpool or Manchester. Complimentary champagne was then offered which topped off a fantastic and smooth cruise.
On descent, Andrew Cornish highlighted his thanks to all staff that were involved in the event as well as Blue Air for their continued commitment out of Liverpool. He also stressed the importance of the locality of the jobs being created, which would stimulate the local economy further.
The approach over Liverpool was spectacular, flying right over the city and the river. We then touched down on Runway 09. This concluded what was a spectacular flight around the sunny North-West of England.
The event highlighted the growing importance of Blue Air in the Merseyside market, and with further route expansions on the way, Blue Air is set to be a key player potentially not just in the U.K. but also in Europe.
James is a passionate AvGeek who has been actively spotting for years. James has been an Aviation Enthusiast for 7 years and has a fond likening to Concorde! James hopes to grow in the aviation industry with journalism being his primary focus.
Latest posts by James Field (see all)