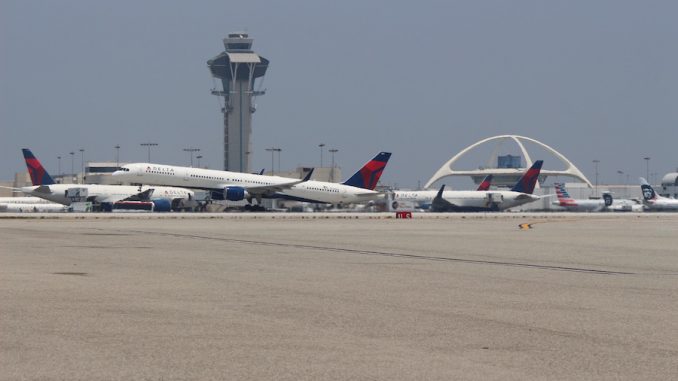 After months of preparation, the monumental challenge of moving 21 airlines from various terminals across LAX began on Saturday morning. The cost of the move? $60 million, picked up by Delta Air Lines who plans to spend a further $1.9 billion developing its new location with upgraded check in areas, concessions, a VIP lounge and a rebuild of terminal 3.
The move, which is due to finish on May 17 will see Delta shift from terminals 5 and 6 to terminals 2 and 3, which delta officials hope will reduce delays and speed up take off and landings. Previously, the three big U.S. carriers: Delta, American, and United all utilized the south side of the airport, which led to delays and congestion at the gates. Various other carriers will move into the areas vacated by Delta.
The Atlanta-based airline will now be able to utilize seven additional passenger gates while allowing quicker and easier access to the Tom Bradley International Terminal, making things more convenient and streamlined for both its customers and partner airlines, Aeromexico, Virgin Atlantic, and WestJet.
The move is already well under way with Delta and multiple other airlines having relocated their ticketing machines and various other equipment to their respective new terminals, but the process still has a long way to go, with Delta expected to utilize the full allocated time period for the changes.
The majority of the move is expected to happen in the early hours of the morning, in an effort to minimize disruption to passengers but officials of both LAX and the airlines have been working hard to notify the public of the changes, while additional staff are present to offer support and guidance to customers during the move.
⚡️ The first of 15 airlines are making moves to different terminals at @flyLAXairport overnight #LAXontheMOVE https://t.co/E8xDy6jxwC

— AirlineGeeks.com (@AirlineGeeks) May 13, 2017
Both airlines and LAX officials have also advised passengers to arrive earlier for flights, check their flight status and consult the airline's website for further information regarding the move. Los Angeles World Airports CEO Deborah Flint said, "It all comes down to our guests being informed and taking the necessary actions to make sure they are in the right place at the right time to catch their flights."
These relocations come as the latest part of a huge $14-billion development of LAX. The nation's second- busiest airport, which carried 80.9 million passengers in 2016, has a magnitude of plans to upgrade the airport's infrastructure, with the new Tom Bradley International Terminal taking center stage.
The new terminal opened in 2013 and currently handles the majority of foreign carriers operating into LAX.  The move is due to finish on May 17 with operations to continue as normal as further work is carried out to develop the airport's infrastructure and improve the passenger experience.
Josh is a long-term aviation enthusiast and aspiring commercial airline pilot. From a young age, he has immersed himself in all things aviation. From plane spotting at local airports and airfield to racking up frequent flier miles on trips abroad, Josh is a huge AvGeek at heart. He graduated from university in September 2017 with a first class Bachelor of Science degree in Air transport. He completed his pilot training, gaining his Frozen ATPL in November 2017 upon completion of his Multi-Engine Instrument rating and Multi-crew/Jet orientation course. He currently has around 230 hours of flying experience in various aircraft. He hopes to join an airline as a first officer by the end of 2017.

He frequently flies on one of his favorite airlines, British Airways, and is an avid Avios collector and British Airways Executive Club member.
In his spare time, while not studying, flying or immersing himself in aviation he enjoys spending his time volunteering in a variety of roles and running a blog to help other aspiring pilots pursue their dream.
Latest posts by Joshua Drabble (see all)