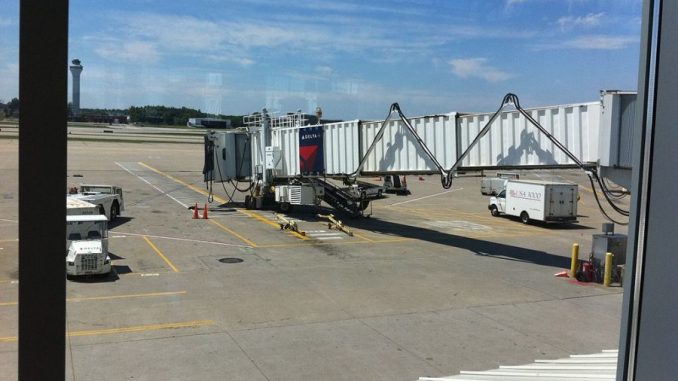 Airline hubs are generally not something the kind of place that change much in terms of service. In the United States, given the recent consolidation among airlines, most hub airports will likely stay hubs for their respective airlines for years to come, with only growth or minor downsizing as time goes on.
However, this was not the case for Memphis International Airport (MEM) and Cincinnati/Northern Kentucky International Airport (CVG), as they were "dehubbed" over the past 10-15 years, losing many flights and large portions of peak period operations.
Both Memphis and Cincinnati were hubs for Delta Air Lines at their peaks, but since have been "dehubbed" by the airline following major route cutting and cost saving moves.
Comair Influence in Cincinnati
Delta actually still officially lists CVG as a hub airport, but it serves as a mere shadow to what it once was, with many locals no longer considering it a hub of any kind for Delta. Some service has slowly been replaced by Low-Cost Carriers (LCCs) and Ultra Low-Cost Carriers (ULCCs), but gaps still remain unfilled from the glory days at the airports.
Cincinnati was the larger of the two airports to be dehubbed by Delta, reaching its peak in 2005 before Delta declared bankruptcy. The airport was Delta's second largest hub, behind Atlanta, handling over 670 Delta and Delta Connection flights each day. While the airline still has a very sizable Delta operation, it is nothing compared to the pre-bankruptcy days.
The building of the Delta hub in Cincinnati started in the 1980s and got a major boost in 1992 when the airline invested over $500 million into the airport, building a third terminal along with expanding runways and other changes.
In the late 1990s, Delta changed many of the flights at CVG from mainline to Comair, helping to create the Delta Connection regional service that is still around today. These changes helped double passenger numbers within a decade.
Delta served over 130 destinations out of Cincinnati, including short flights to Dayton, Ohio, a mere 64-mile route) along with daily long-haul flights to destinations such as Honolulu, Anchorage, Amsterdam, and Frankfurt. Expansion to Asia was also on the books, though, this became delayed due to slot restrictions and never came to fruition when Delta filed for bankruptcy.
Due to the dominance of Delta, CVG constantly had higher fares than most of the country, but that has started to change given an increasing presence of LCCs at the airport in recent years. Frontier Airlines and Allegiant Air are the two largest LCCs/ULCCs at the airport. Frontier now operates to 17 different cities with 93 weekly flights. Although this is nowhere near the 670 daily that once existed, it is a step in the right direction while also dragging down fare costs.
Along with the ever increasing presence of LCCs and ULCCs, Delta has also started to grow again in Cincinnati. With the retirement of smaller regional aircraft, there has been an increase in mainline flying to the airport.
In early 2017, Delta announced its first major expansion since the final round of cuts, announcing a planned six percent capacity growth. This growth comes on top of an almost eight percent growth since 2015.
This expansion from all of the carriers, including Delta, coupled with a major reorganization of the airport's future plans by consolidating into one terminal with two concourses, will ensure the airport's success for the foreseeable future.
Blues City's Struggles Turn Into Growth
Memphis' decline as a hub was more constant than Cincinnati's, as flights were continuously reduced following Delta's merger with Northwest Airlines in 2008.  The hub was acquired via Northwest Airlines, who had the hub operating around 300 daily flights at its peak, before the merger.
Following the merger, major cuts were made, and flights have been continuously declining since. As of July 2014, Memphis saw an average of 83 daily flights total, from all airlines, a major decrease from the 300 flights a day. Delta currently only offers service to its major hubs including Atlanta, Detroit, Los Angeles, and Minneapolis/St. Paul.
The airport has added several LCCs and ULCCs recently such as Allegiant Air, Frontier Airlines, and Southwest Airlines. These airlines have added flights to destinations that saw service lost, as well as increasing competition, seeing a major drop in flight prices for passengers. These new airlines continue to increase their presence and are bringing a sense of life back into the airport.
Given that the number of flights are a fraction of what they once were, Memphis, similar to Cincinnati, has started a master plan to consolidate three concourses into one, which should allow it to be in a much better position moving forward.
Final Thoughts
Although the future does not look great for Memphis in terms of a Delta hub, the future looks bright for the airport, driven by the expansion of LCCs and the increased competition they bring. Cincinnati, on the other hand, looks to be in good shape in all aspects, as Delta seems to be committed to staying in the city, while the expansion of LCCs is helping the market in terms of cost.
Jace has been working at AirlineGeeks for nearly three years. Born in Seattle, Boeing and aviation quickly took over his life and he never stopped looking up. Jace enjoys plane spotting and taking trips just so he can fly. He is currently studying at Embry-Riddle Aeronautical University while earning his Bachelors of Science in Air Traffic Management.
Latest posts by Jace Moseley (see all)