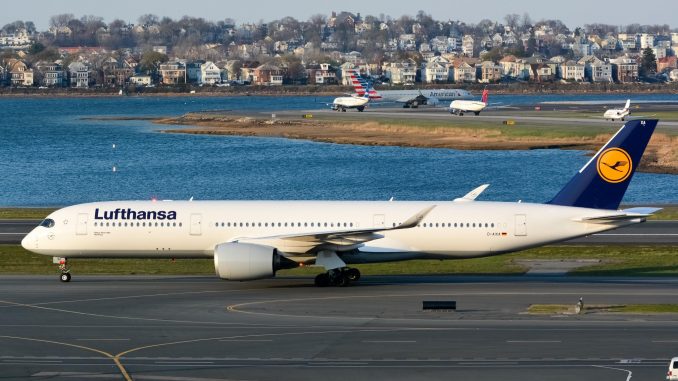 Lufthansa has announced that it will be upgrading its Munich – Hong Kong service to an Airbus A350-900. The route will continue to be served by airline's aging A340-600 aircraft, which is over 14 years old, until the A350 takes over in September.
This will be the airline's first Chinese destination with the A350. The aircraft is already deployed to New Delhi, Boston, and Mumbai, India. The airline is also going to be adding the A350 to a fifth destination with the re-introduction of the Singapore route, which is due to start operations in March 2018.
Malte Haut, Lufthansa Group's general manager of sales for Hong Kong, South China, and Macao said: "The A350-900 is a fabulous aircraft that plays out its strengths especially on long haul flights. Our customers will enjoy more comfortable cabin pressure, higher humidity and arrive more refreshed after the non-stop flight at our five-star hub in Munich."
This is the first of two changes that will be coming to this route after the airline announced that the Airbus A380 will be brought onto this service in 2018 along side the A350. The A380 currently operates to Hong Kong from Frankfurt, but the airline will soon transfer five A380s to Munich to begin flights to Los Angeles, Beijing and Hong Kong.
This move has come only one month after Lufthansa announced that it would be adding an A350-900 service from Munich to Singapore five times a week. The flights are due to begin in March of 2018.
The A350-900 is one of the most advanced and efficient aircraft in the Lufthansa fleet, producing fewer emissions than other long haul aircraft in its fleet. The A350 allows passengers to enjoy the latest in-flight entertainment and comfort from new seats to updated LED lighting concepts in order to improve passenger comfort.
All in all, it would appear that Lufthansa is committed to growing the number of flights out of its Munich hub and allow for more connectivity to the Asian and German market. It would also appear that the A350 will become a much more common sight on these types of routes as the airline continues to find the right size aircraft for each of its major global routes.
Tomos has had a keen interest in aviation for over 10 years and 4 years ago he decided to take it to the next level. He currently holds a private pilot's license and is working towards his commercial license.
Latest posts by Tomos Howells (see all)