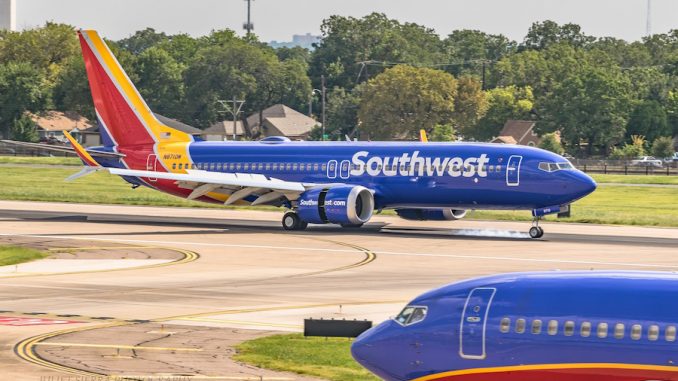 As of Tuesday afternoon, Southwest became the first airline in the U.S. to take delivery of the 737 MAX 8. According to the airline, they will begin working to get the aircraft on schedule for the launch of passenger flights on Oct. 1.
Southwest is expected to have 14 737 MAX 8 aircraft in their fleet by the end of 2017, nine of which should be delivered before the first passenger flight. Overall, the carrier has more than 200 737 MAX aircraft on order, which breaks down to 170 737 MAX 8 and 30 737 MAX 7 aircraft.
The carrier's initial route network for the 737 MAX 8 includes various cities, often on longer flights, such as Baltimore, Denver, Las Vegas, Los Angeles, Phoenix, Chicago, and Orlando, among others. The scheduling will allow overnights at crew and maintenance hubs.
The first three flights, operated as WN1, WN2, and WN3 respectively, are scheduled to fly Dallas to Houston, Houston to San Antonio, and San Antonio to Dallas on Oct. 1.  These flights pay homage to the carrier's 1970s roots when they began customer operations with only three Boeing 737-200s.
The Dallas-based airline quietly took delivery of the MAX on Tuesday evening with a flight from Boeing Field to Dallas Love Field. Southwest flight 8701 departed Boeing Field at 10:57 a.m. local time, arriving in Dallas at 4:16 p.m. local time.
N8710M was the first Southwest 737 MAX aircraft to land in Dallas, while other deliveries are expected later in the week.
Southwest initially did not confirm the delivery flight as a spokesperson noted it as a "brief visit" to Dallas. Later, the airline told AirlineGeeks.com in a statement: "Southwest took delivery of the aircraft from Boeing, and we will continue our work to get the aircraft ready to enter the Southwest schedule on Oct. 1. More delivery details will be available this week," a spokesperson said.
The airline is still working to recover from the effects of Hurricane Harvey at its Houston-Hobby hub with regular operations not expected to begin until Saturday.
Ashley is currently a senior in high school and plans on pursuing a career in aviation or journalism. Her favorite airplanes include the Boeing 777, 737MAX, and Airbus A350. She enjoys taking flights on various airlines to different airports and planespotting at her local airports.
Latest posts by Ashley Magoon (see all)