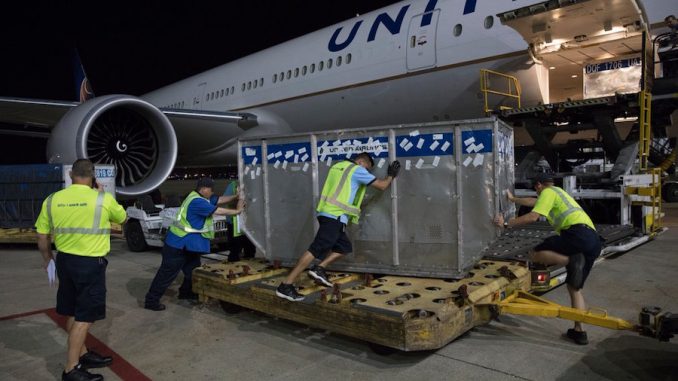 At 6:54 a.m. Central Time on Tuesday, United Airlines flight 2757 took off from Chicago's O'Hare International Airport bound for San Juan, Puerto Rico. When the Boeing 777-300ER touched down at 12:14 p.m. local time, airline employees onboard were greeted by the destruction Hurricane Maria left in its wake just days prior.
Nearly 3.5 million left without power, thousands displaced, an island in shambles. With everyone left to clean up what remains of homes, schools, hospitals, many were unsure how they would be able to endure the trials that are to come.
United flight 2757 is one of the numerous flights airlines are flying into and out of the U.S. territory in order to bring in supplies and get those stranded out. On an average day, 12,000 passengers board flights at San Juan's Luis Muñoz Marin International Airport, but after the storm, those numbers had plummeted, leaving many travelers and businesspeople alike on the island with nowhere to turn.
200,000+ lbs. of supplies and counting as humanitarian flights continue to SJU. Join our relief efforts: https://t.co/WzMD3agbj5 #Maria pic.twitter.com/KHn1gij4xZ

— United (@united) September 26, 2017
But even before the weekend began, airlines including JetBlue had already begun their relief efforts. The New York City-based carrier by flying down two Airbus A321 aircraft filled with supplies and provisions. One of these aircraft also brought along with it New York National Guard members and New York Governor Andrew Cuomo.
Proud to join @NYGovCuomo on a relief mission to San Juan to deliver food and supplies for Puerto Rico #100x35JetBlue pic.twitter.com/PufbMUJVCR

— HelloJetBlue (@HelloJetBlue) September 22, 2017
American Airlines is also working with local officials to bring relief flights into San Juan. On Tuesday, the carrier flew a 777-300ER in from Miami with more than 50,000 pounds of cargo onboard. American also carried more than 111,000 pounds of relief supplies into San Juan on Wednesday with three flights, including an A330-200 from Philadelphia, a 777-300ER from Miami, and a 737-800 from Miami.
MIA's @AmericanAir team has delivered more than 317K lbs of relief supplies to aid recovery in #PuertoRico. #MIA4PR pic.twitter.com/v788u75Qvy

— Ken Pyatt (@KenPyatt) September 27, 2017
Due to conditions at the airport, American says they're permitted to operate only three round-trip flights per day into San Juan.
On Tuesday, Delta Air Lines operated three flights containing 33,000 pounds of water, generators, blood, food and other supplies to help stranded passengers and victims in surrounding areas.
With the vast majority of the island without power and thus without running water, supply missions like these are crucial to providing the millions of Americans there with the necessary provisions to survive until everything is back to normal, with some experts speculating the full extent of the damage will not be repaired for decades.
Maria is just the most recent of numerous storms to wreak havoc on not only the airline industry, but also the nation's infrastructure and morale in recent weeks. Hurricanes Harvey and Irma devastated the Texas and Florida coasts, respectively, as they arrived in relatively quick succession.
Airlines, especially in the case of Harvey, utilized aircraft and employees to help. But the main difference in these cases is that neither will likely have the same lasting effects as Maria.
Multiple airplanes packed with supplies and airline employees continue to fly down to Puerto Rico every day in order to help all aspects of recovery. But with no end yet in sight, airlines will continue to be a crucial part of the relief process day in and day out.
AirlineGeeks.com's Parker Davis and Ryan Ewing contributed to this report. 
AirlineGeeks.com began in February, 2013 as a one-man (er… teenager, rather) show. Since then, we've grown to have 20 active team members, and yes, we're still growing. Some of us are looking to work in the aviation industry as professionals when we grow older. Some of us are still trying to decide what we want to do. That's okay though, because we're all here for the same reason: we love the airlines. We're the youngest team of airline industry journalists out there.
Latest posts by AirlineGeeks.com Staff (see all)