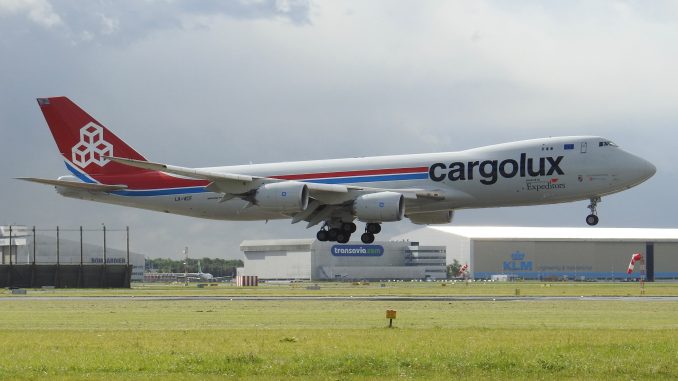 Much like the Phoenicians and the Dutch, smaller countries have found success in being the logistics facilitators for their neighboring countries. This rings true today, where Luxembourg based Cargolux has made themselves the largest all-cargo airline in Europe. So how did this small cargo carrier manage to become Europe's go-to carrier for air transport? It all started back in the 1970s.
Forming a New Airline in Luxembourg
Cargolux traces their start back to 1970 when they were created with a joint venture between two commercial carriers who used Luxembourg as a hub: Luxair and Loftleiðir. The trend of starting cargo carriers was a common practice in the 1970s, with airlines like KLM Cargo, Lufthansa Cargo and Swissair Cargo beginning to appear in the skies.
The carrier officially launched operations in May 1970 when it started cargo service between Luxembourg and Hong Kong using a Canadair CL-44 turboprop cargo airplane. The carrier would expand with the addition of four more CL-44s and an expanded route map that included more destinations in Europe and Asia.
The airline also inked a deal with local trucking company Arthur Welter to handle the ground portion of Cargolux's air cargo, including local deliveries and pickups, rounding out the cargo company's operation on both land and air.
Cargolux's Early Expansion
While the carrier had quickly expanded with the CL-44s, both Luxair and Loftleiðir agreed that the cost of operating a different fleet from their passenger fleet was expensive and, therefore, decided just four years into Cargolux's life to overhaul the fleet.
The airline would take hold of cargo Douglas DC-8s to be more compatible with Loftleiðir's fleet. With this compatibility, Cargolux moved into the same office as their Icelandic partner and shared maintenance hangars with them.
With the 1980s fastly approaching, Cargolux was continuously finding ways to expand. The carrier had signed a commitment for Boeing 747 freighters and made a strategic alliance with China Airlines. The carrier had seen Loftleiðir sell off their stake in Cargolux, as the Icelandic carrier merged with Icelandair, and Lufthansa take a 24 percent stake in the Luxembourger air cargo operator.
With Loftleiðir gone, Cargolux decided to retire the Douglas DC-8s in favor of Boeing 747s that had larger cargo capacity for the company to work with. The remainder of the 1980s saw the carrier take hold of a few more Boeing 747s to replace the DC-8s and launch service to North America. Meanwhile, the carrier also took full control of the Loftleiðir hangar and offices at Luxembourg Airport.
The 1990s were quiet for the airline, choosing to phase out older Boeing 747-100F and 747-200Fs in favor of the newer Boeing 747-400Fs. The airline would also see Lufthansa sell their stake in Cargolux, while Luxair would strengthen theirs to 34 percent.
Reshaping Their Route Network
In the early 2000s, Cargolux made their strength out of listening to what their customers wanted for destinations, regardless of location. The airline crossed 10 Boeing 747-400Fs and launched service to various destinations, ranging from Seoul, South Korea to Indianapolis, Indiana.
The airline continued to expand as they signed a deal with Wallenborn Transport to assist Arthur Welter in local Luxembourg transportation. Cargolux also added an Italian branch to the carrier in 2009, with Italian investors helping create Cargolux Italia, which would be based in Milan-Malpensa with a single Boeing 747-400F.
While the airline would stabilize with 10 Boeing 747s through the 2000s, that would drastically change when the carrier became the launch customer for the Boeing 747-8F. Cargolux took hold of 14 of the new aircraft, joining Cathay Pacific Cargo as the largest operator of the Boeing 747-8. With the arrival of the 747-8F, Cargolux was able to transfer three more Boeing 747-400Fs to Cargolux Italia.
Making New Partnerships
Although the carrier was expanding with Cargolux Italia, it was always looking for new marketing deals and potential cargo partners. Qatar Airways purchased a 35 percent share of the carrier while Luxair strengthened their hold with a jump to 43 percent in 2011.
The Qatari involvement would last only two years before a rift between union forces and then CEO Richard Forson forced Qatar Airways to sell their stake. The unions claimed that Forson was paid by Qatar to consider moving the carrier to the Middle East. Qatar sold their stake to the Luxembourg government, who in turn sold it a year later to the Chinese Henan Civil Aviation Department as long as Cargolux would make Zhengzhou a cargo destination, which was agreed to.
While the Qatar deal fell through, others succeeded for the airline. Cargolux made deals with Swiss logistics company Panalpina, Seattle-based logistics company Expeditors, freight forwarding service JAS Worldwide, and Benelux supply chain operator GEODIS. The airline also has air cargo partners in Emirates SkyCargo and Nippon Air Cargo to allow for simplified transfers at cargo hubs.
Celebrating Its Success
The celebrate their 45th anniversary, Cargolux decided to paint an aircraft to commemorate their years of service. While most airlines go with a retro paint scheme, Cargolux did a "cutaway" paint scheme which featured some of the various and strange cargo they have hauler over their lifetime, ranging from live animals to race cars.
As a result of this success, Cargolux now stands with a fleet of 22 aircraft consisting of eight Boeing 747-400s and 14 Boeing 747-8Fs. The airline has seen multi-million dollar profits the last few years after recovering from the economic recession in the late 2000s.
The airline operates an extensive route map from their main hub in Luxembourg, with cargo services to 81 destinations across six continents and flight destinations ranging from as close as Amsterdam, Netherlands and as far away as Melbourne, Australia.
Cargolux has also diversified their hubs, operating a secondary base in Novosibirsk serving nine destinations, of which most are Asian cities including: Seoul-Incheon, Shanghai-Pudong, Taipei-Taoyuan, Hong Kong and Komatsu. Cargolux Italia still operates as well, using the four Boeing 747-400Fs to fly to 20 destinations in Europe, Asia, and Africa from Milan-Malpensa. Altogether, the Cargolux brand includes 26 aircraft and 90 destinations.
The Future of Cargolux
As for the future of the Luxembourg carrier, much is left to be speculated. The airline has put emphasis on expanding in Japan, Africa, and Zhengzhou while maintaining their current schedules. Cargolux currently has no plans to increase their fleet size and right now or choose to switch their marketing plans, with the current one proving success over a 47 year period.
While carriers like TNT Cargo, JAL Cargo, and Aeroflot Cargo have faltered or disappeared over the last couple of years, Cargolux has endured and affirmed that they will be around for some time to come.
Although Ian McMurtry was never originally an avgeek, he did enjoy watching US Airways aircraft across western Pennsylvania in the early 2000s. He lived along the Pennsylvania Railroad and took a liking to trains but a change of scenery in the mid-2000s saw him shift more of an interest into aviation. He would eventually express this passion by taking flying lessons in mid-Missouri and joining AirlineGeeks in 2013. Now living in Wichita, Kansas, Ian is in college majoring in aerospace engineering and minoring in business administration at Wichita State University.
Latest posts by Ian McMurtry (see all)