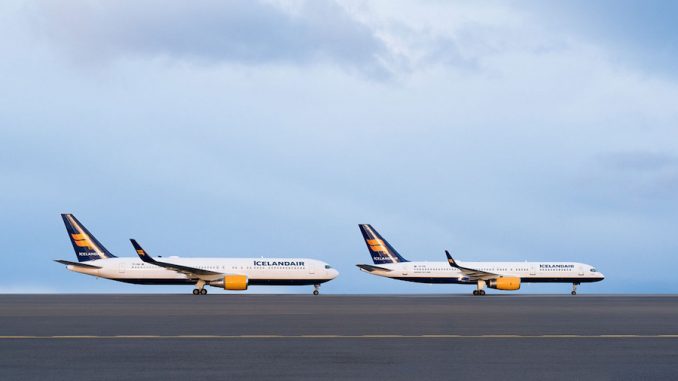 Located in the North Atlantic Ocean, just south of the Arctic Circle, the Nordic island country of Iceland sits at the top of the world. While on its surface it appears to have no exports or natural resources of value, it does have one resource that it has done exceptionally well at utilizing: its location.
Due to its location in the mid-North Atlantic, Iceland serves as almost a mid-point between North America and Europe. In the same way that the United States used Hawaii in the past to serve as a stepping stone between North America and Asia, Iceland has been successfully utilizing its location as the stepping stone between North America and western Europe.
Traditionally, Icelandic flag-carrier Icelandair had provided connections between the two continents via its hub in Reykjavik, the capital of Iceland. However, in recent years, new-found competition has been threatening Icelandair's lock on the "via Iceland" market.
Traveling Through Iceland
In the past, major airlines such as TWA and Pan Am have transited through countries such as Iceland and Greenland en route to Europe in order to refuel and resupply their aircraft. Back then, before the jet age, planes couldn't fly as high as planes do today, restricting their range. These North Atlantic countries served as crucial stepping stones from North America all the way to Europe. However, that's all they were, stepping stones.
Icelandair was the first to reimagine this strategy. Instead of using Iceland as simply a refueling port for aircraft, Icelandair established a connection hub in Iceland for flights to and from North America and Europe. Geographically, Iceland is close enough to both continents where it can service almost all of the cities on both continents using medium-range aircraft. In doing this, Icelandair could provide one-stop service between any combination of cities in Europe and North America.
For example, a person flying from Bergen, Norway could fly Icelandair to Reykjavik and connect to a flight to New York sitting next to someone who started their journey in Paris, France. Essentially, it is the hub-and-spoke system. However, Reykjavik is the sole hub and every other city is its spoke. Instead of numerous hubs connecting numerous spokes, there's only one hub, allowing Icelandair to limit its total amount of flights while maintaining a high number of cities served on both continents.
Since most cities in both continents are medium-length distances, Icelandair doesn't have to rely on a long-haul widebody fleet that most international airlines utilize for these trips of transatlantic flights. Famously, Icelandair has operated a fleet comprised primarily of medium-range, narrow-body Boeing 757-200 aircraft.
On more popular routes, the airline uses its Boeing 757-300 aircraft and the wide-body Boeing 767-300ER aircraft. However, there are less than five of each in Icelandair's fleet, making the 757-200 the workhorse.
The Boeing 757-200/-300 and 767-300ER are interchangeable to pilots, as they have similar avionics systems. The parts and avionics for the aircraft are similar, reducing maintenance costs for the airline. Since pilots can be given type ratings on both aircraft simultaneous and fly them interchangeably, combined with the various maintenance aspects, using the single type saves Icelandair money in pilot training and maintenance costs.
The airline is also in the process of acquiring Boeing 737 MAX 8 and 9 aircraft, as well as a Boeing 787-8 Dreamliner. These fuel-efficient and inexpensive to operate aircraft will serve its less in-demand and less profitable routes. The first MAX route will begin in March from Reykjavik to Berlin.
Iceland's strategic location is one of the major reasons why the airline chose the Boeing 737 MAX for its North American and European expansion. The chosen routes for the MAX between Reykjavik and cities such as Philadelphia, Berlin, Paris-Orly and Cleveland are short enough for the new aircraft, which can fly them with ease, and the MAX's relatively inexpensive operating cost allows for profitable service to less popular cities on both continents due to its lower fuel costs and price per passenger.
Block Times and Quick Connections
Flight times when transiting through Iceland are simple: depart North America at night for a red-eye flight to Reykjavik arriving early in the morning, connecting to a Europe-bound flight arriving in the mid-morning, and departing Europe in the early afternoon, connecting to a North America bound flight arriving in the evening.
Flights leave their origins at different times, as flight lengths and time zones vary, but they all arrive in Reykjavik at around the same time. This strategy is utilized by hub-and-spoke airlines all over the world but works particularly well for Emirates in Dubai. However, Icelandair has perfected this system to allow for short elapsed times. For instance, Icelandair's connection times can be as little as 45 minutes, making the time spent in Iceland almost nonexistent.
These one-way block times allow Icelandair to maintain a small fleet. The airline only needs to maintain as many aircraft as it does destinations, 35 cities in North America and 37 in Europe, as all of its flights move in the same direction at the same times. For example, there are no European-bound flights from Reykjavik in the morning, as all of the flights are coming in from North America.
This is both good and bad, however. It's good in that Icelandair can maintain a small fleet, currently 32 aircraft with 17 more on order, thus, passing on the savings to the customer. But it's also bad in that there are fewer options for customers. Many destinations served by Icelandair are only once-daily, with very few exceptions. Also, in the event of a delay, passengers are at greater risk of missing their connections as the connection times are tight and there are few backup flights to their destinations.
In order to prevent misconnections, Icelandair will hold departing flights as there are very few, if any, back up flights. This was the case on my flight from Reykjavik to New York where we waited almost an hour for late incoming passengers on delayed flights from Europe. This is extremely rare in the aviation industry, as airlines are always rushing to get flights out on time and with minimal delays.
With it's a very nice gesture, holding flights, of course, has a domino effect on the later flights. The flight after will be inevitably delayed. However, despite a few delays I encountered, the time was made up in the air, as usually happens since many airlines pad their flights times to account for such delays.
Icelandair's New Found Competition
While Icelandair held somewhat of a monopoly on the Icelandic connection market, which was to be expected as Iceland is a small country and didn't have room for another national carrier, it has a new found direct competitor: WOW Air.
WOW Air, not to be confused with WIZZ Air, has also taken up residence in Iceland. The airline has been around for a few years, providing low-cost service between Iceland and mainland Europe. However, during its expansion to North America in 2015, WOW air essentially copied Icelandair's route network and structure, with few differences, and put its own spin on the service.
As a low-cost carrier, WOW air uses the low-cost business model to operate inexpensive flights between North America and Europe. As with any low-cost carrier, ancillary fees for every extra item are to be expected. Seat assignments, drinks, food, checked bags and carry-on bags are all available for an extra fee. Although self-stylized as a low-cost carrier, the airline's business model resembles that of an ultra-low-cost carrier.
As is the trend with low-cost carriers, WOW air uses a fleet primarily comprised of the Airbus A320 family. Similarly to Icelandair with its Boeing 767-300ER, WOW air also maintains three Airbus A330-300 aircraft for its longest flights not accessible by the A320 family.
The use of the same type of aircraft, Airbus aircraft in WOW's case, is less expensive for the airline as it reduces pilot training costs, since the cockpits are interchangeable, and maintenance costs since the parts are the same or similar across different types of Airbus aircraft. As previously mentioned, Icelandair does the same except with a Boeing 757/767 fleet.
The route structure of the two airlines is almost identical. Both serve popular cities in both North America and Europe and share many routes among them. 23 of Icelandair's destinations are also served by WOW air, Icelandair's only competition for many of them. Before, Icelandair had a lock on service to Europe and North America and now WOW air is threatening to disrupt them.
WOW air has been more ambitious than Icelandair, however, starting service to cities in the United States which major carriers have overlooked due to their lack of profitability. Cities such as Cleveland, St. Louis, Detroit and Baltimore have all been or will be the recipients of WOW air service to Iceland and, by extension, greater Europe. These cities have been dubbed the forgotten cities, which U.S. low-cost carriers such as Frontier Airlines have been adept at serving.
Icelandair followed, in kind, by announcing service to more cities within the U.S. Just as recently as last week, Icelandair announced service to Kansas City, Baltimore and San Francisco, in addition to Cleveland and Dallas. Some of the cities thought WOW air would be the first to serve them, as they thought Icelandair had skipped them.
With the recent additions, there is no doubt that Icelandair is battling with WOW air for passengers, as Baltimore and San Francisco are current WOW air strongholds.
Extended Stopovers in Iceland
Often times, transiting through a country is simply for the purpose of changing planes and continuing on to your destination. Due to its geographic location, small size, and isolation from the rest of Europe, Iceland is not a typical vacation destination for most travelers. In an attempt to bring more people to the island nation, while also promoting flights on their airline, Icelandair began the Iceland stopover program.
The Iceland stopover program allows Icelandair travelers flying between North America and Europe to stay in Iceland on either their way to or back from their destinations. This is an inexpensive way for travelers to tack on an extra stop to their trip to a destination which they might not have gone to otherwise.
Both Icelandair and WOW Air feature this service, as it doesn't cost them anything to allow passengers to stay in Iceland before continuing on to either Europe or North America. Once in Iceland, travelers need only pay for accommodations, food and transportation from the airport to Reykjavik, which is usually in the form of a coach bus on one of the numerous tour groups that operate in Iceland.
There are numerous activities and tours for stopover passengers to take part in. Iceland is known for its natural wonders including the Blue Lagoon, a hot spring with naturally hot blue water; Volcanoes; and Glaciers. Tours usually last all day. When I went, I went to downtown Reykjavik and explored the beautifully colorful city.
During my time in Iceland, I was surrounded by travelers who were taking part in the stopover program either on their way to Europe or back to North America. Coach buses shuttled passengers around the city and everybody had a camera around their necks to capture the natural beauty that exists in Iceland. Despite the snow and wind, temperatures are quite moderate in Iceland, making walking around enjoyable.
Once travelers are done sightseeing, they return to the airport for their flights home. If they are flying to Europe, an early start awaits them as European-bound flights leave in the morning hours. Those flying to North America, such as myself, can expect an early evening departure.
Not only does the stopover program bring in an increased number of tourists to Iceland, which greatly benefits their economy, but it also provides travelers with a reason to fly Icelandair or WOW air. Since these airlines are basically asking people to fly them and put up with a connection in Iceland, the stopover program helps them sell the connection by offering passengers a mini-vacation at no extra airfare.
Keflavik International Airport
Keflavik International Airport is Iceland's main airport, serving the capital of Reykjavik and as the hub for Icelandair and WOW Air. The airport handles mainly international flights from Europe and North America with very few domestic flights.
The two major airlines, Icelandair and WOW Air, are the two most common sights at the T-shaped terminal. Everywhere you turn you're either looking at an Icelandair Boeing 757 or a WOW Air Airbus A321, and the departure boards show flight in airline order, not city order.
The airport is divided in two: flights to and from Schengen countries and flights to and from non-Schengen countries. If you're arriving from or departing to a Schengen country, you're on the upper level of Keflavik, either the A or C gates, as these gates don't require passport control on departure.
Non-Schengen arrivals and departures will utilize the lower-level D gates, as the only way to access or depart this area is by presenting yourself to passport control and receiving either an arrival or departure stamp.
As the two airlines share the same connection model, the block times, connection times and gates, their operations are pretty similar. Unfortunately for Keflavik Airport, this means that it's handling double the capacity it once did, with the number of new destinations served by each airline seemingly increasing by the day as the two battle for dominance in the provenly successful "via Iceland" market.
Its clear to almost anybody as soon as they land at Keflavik that the airport is overcrowded. Immediately upon arrival at the terminal ramp area, a quick glance out of the window will reveal scores of Icelandair and WOW air aircraft alike being parked at hardstands with air-stairs and buses lined up to receive passengers and transport them to the main terminal building.
While off-terminal hardstands are not uncommon, they do come at a cost. First, precipitation is not uncommon in Iceland. Rain and snow are two staples of life in Iceland. Passengers relegated to hardstands may be subjected to these conditions, as I was when arriving and departing Iceland. As I boarded my Icelandair Boeing 767-300ER, it was windy and snowy with the stairs partially frozen and covered in snow.
Second, the shuttle buses that take customers to the terminal are often overcrowded and unorganized. In the rat race that is air travel, everybody always wants to be at the front of the line. These shuttle buses are no different, and pushing and shoving can be expected as people rush to get into the terminal either for their connecting flights or to leave the airport altogether.
Flights to and from non-Schengen airports are more likely to be the recipients of a hard stand, as the shuttle buses depart and arrive from the lower level of Keflavik Airports, where the non-Schengen flights leave from. While it may be coincidence, the larger aircraft are often parked at hardstands, such as Icelandair's Boeing 767-300ER and WOW Air's Airbus A330-200.
Another aspect that everybody that's ever been to Keflavik Airport will tell you, myself included, is that it is chaotic and crowded. Its chaotic nature is fueled by two things. First, the terminal is quite small and narrow. As mentioned, the terminal is in a T-shape. In the narrow part of the T, which leads from the check-in and security checkpoint area that houses the duty-free and food court, is the A gates.
Those gates are shared by Icelandair and WOW Air, as well as other European airlines, for flights to and from Schengen countries. The A gates line the passageway that brings passengers to the C and D gates. There are no formal gate areas. A roped-off section or glass wall forms the single, sometimes double boarding line, that's all.
In the C and D gates, the conditions are worse. While there are some seating areas for some gates, most gates don't even have a roped off area for passengers to line up. Different lines of hundreds of people filled the concourse for my flight back to New York, which was at the very last gate, compounded by the fact that all flights to North America were departing within the same 2-hour block.
It felt very claustrophobic, as at some points you couldn't even move. I can't speak for WOW Air, but Icelandair doesn't have established boarding procedures, outside of pre-boarding. There was no separate line for business class travelers, only an announcement made saying that business class and economy comfort travelers could come to the front, which didn't bode over well with those at the front who were waiting already.
While it's a very modern, clean and easy-to-navigate airport, Keflavik Airport is in dire need of an expansion.
Clearing Customs in Iceland
Flights through Iceland are international flights, obviously. Which begs the question: how does one clear customs, recollect bags and still make their connecting flights? Two ways. First, since 2006, Iceland has been part of the Schengen Agreement among European countries. Countries that are party to this agreement have open borders between one another. This means that no passport control is required when traveling between Schengen countries.
Since Iceland is party to the agreement, flights to other Schengen countries are technically domestic flights. However, Non-European Union citizens still need to go through passport control and get a Schengen visa in the form of a standard passport stamp. This process, however, takes minutes, as Icelandic immigration agents merely perform a quick passport check to ensure your eligibility to enter Schengen.
Very few questions are asked and no declaration card is required. Once clear, you can travel to any Schengen country without presenting your passport to an immigration official. This system is simply meant to move as many people through passport control in as short amount of time as possible in order to maintain the tight connection times between flights. European Union citizens go through an automated passport control.
The second way quick connection times are possible is that flights from non-Schengen countries to non-Schengen, however, such as the United Kingdom and the Republic of Ireland, are subject to airside transfers. Airside transfers allow passengers to remain in the gate area without having to go through passport control as they will ultimately be going through customs and immigration at their destination countries.
Many travel forums that I've read incorrectly state all passengers need go to passport control, regardless of destination country, which is incorrect. Also, passengers don't even need to recollect bags, as their bags are transferred directly through to their final destination, which is uncommon for international connecting flights, further reducing required connection times.
The Success of the "via Iceland" Model
I'm old enough to remember when Icelandair was the original low-cost carrier to Europe, touting roundtrip flights to Europe via the Nordic country for less than $500 on billboards throughout New York City. In fact, I still see them occasionally. When it boils down to it, Icelandair needs to be an inexpensive option for travelers, as they're asking passengers to add to their elapsed times by connecting in Reykjavik.
In the world of tradeoffs in air travel, something always has got to give. Passengers prefer non-stop flights, that's a given. By asking its passengers to add a connection to their flights, they had to compromise. By offering low fares, they were able to do just that. To this day, despite the introduction of low-cost carriers on transatlantic routes, Icelandair remains to be the cheaper major carrier on some routes to Europe.
Having the chance to fly Icelandair for myself, I noticed that the majority of travelers on the flight were under 30 on their way to Europe. For them, the stop in Iceland was just that, a stopover point. While some were taking advantage of Icelandair's stopover program, most went straight to their connection flights onwards to mainland Europe. This was also the case in Reykjavik, where a younger crowd roamed the snowy streets with cameras in hand.
These passengers are often looking for the best deal, regardless of having to make a stop, if necessary to save money. I didn't notice many business travelers flying on Icelandair, even in the business cabin. This was partially because I was flying on a weekend, but also because those types of travelers don't often look for low fares as their companies pay for their tickets and convenience is key for them.
However, Icelandair also excels in that it makes flying to the more remote places in Europe and North America accessible with only one stop for a low price. As I mentioned before, you can fly from Denver, Colo. or Anchorage, Alaska to Bergen, Norway or Gothenburg, Sweden with a quick stop in Reykjavik, without going largely out of your way as Iceland is just a few hundred miles north of most North Atlantic tracks between North America and Europe.
WOW Air is only doing the same thing, just to the extreme. As Icelandair will give you all the amenities of a major carrier, with already established low fares, WOW air needed to differentiate themselves from Icelandair in order to give passengers a draw to them. With its base fares to Europe and flash sales, they're encouraging people to give them a try.
Clearly, the Icelandic stepping stone model has been a success as Icelandair and WOW Air have been seeing success with their flights. If a key indicator of success is competition, then Icelandair has been largely successful, or else WOW Air wouldn't be following its lead.
While it's unclear whether or not WOW Air will be successful, as imitation doesn't always guarantee success, they have added to the competition on the low-cost transatlantic flights which have been driving prices down on flights to Europe in the aggregate. As I've always said, increased competition only brings about good things in the airline industry and ultimately benefits the passenger.
Disclaimer: Icelandair provided the flights for this article solely to assist with the author's research.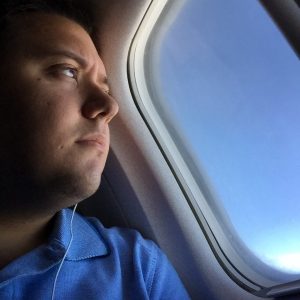 Tom has been flying for as long as he can remember. His first flight memory was on a Song Airlines 757 flying from LaGuardia to Orlando. Back then, he was afraid to fly because he thought you needed to jump off the plane in order to get off. Some years later, Tom is now a seasoned traveler, often flying to places just for the fun of it. Most of the time, he'll never leave the airport on his trips. If he's not at home or at work as a Line Service Technician at Long Island MacArthur Airport, he's off flying somewhere, but only for the day.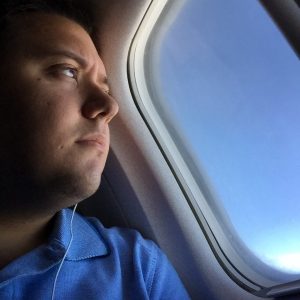 Latest posts by Thomas Pallini (see all)