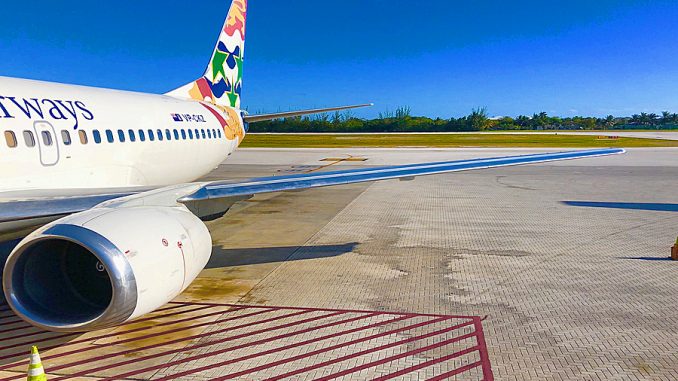 Laid-back Caribbean carrier Cayman Airways is one of the few operators to still fly the classic 737 series. With three of the aircraft in their current fleet of six aircraft, the Classics play a large role in the airline's operations. However, the airline is in the process of getting these aircraft out the door, granted rather slowly, to make way for new 737 MAX aircraft, which are expected to be delivered in December of this year.
The addition of the MAX and phasing out of the Classics are part of a modernization plan for the airline. The airline recently began a fleet modernization to replace its aging aircraft and retired its first of four 737-300 aircraft, VP-CKY, in November 2017. At the time, bridging the gap in aircraft availability and familiarizing crews with NG 737 aircraft is a lone 737-800 registered as VP-CNG.
With these aircraft going out the door and my newfound need to travel to the Cayman Islands, I decided to give these old birds a try. I booked my return portion of my trip on the airline, with my flight being KX792 departing Owen Roberts International Airport in Grand Cayman to New York's John F. Kennedy International Airport. My aircraft was VP-CKZ, a 21.9-year-old 737-300 that served various airlines in the past such as Viva Air, Air One, and BMIBaby.
Pre-Flight
The Owen Roberts International Airport, the hub of Cayman Airways, was surely unique and provided an experience of what traveling was like in the past, especially in the Caribbean. However, with the large number of passengers that were traveling through the Cayman Islands' only major international airport, this experience was somewhat of a hassle. The airline only has 3 check-in/bag drop-off counters available, and for a full 737-300 of about 122 passengers, it can get pretty crowded. On the other hand, security was surprisingly a breeze and reminded me of having TSA Pre-Check.
However, the good news is that underway at the airport is an airport expansion and redevelopment project, which is currently in phase 2. Hopefully, this means an improved passenger experience overall. One fun fact is that GCM once had a waving gallery and observation deck, but it has been closed since January 2017, part of the redevelopment project, in order to achieve similar security standards of other international airports.
The boarding process was rather quick, simple and exciting as we had to do so airside. It provided a great opportunity to get up close and personal with the aircraft that would be taking us back to New York.
In-Flight
Since I booked my flight at the last minute, I ended up sitting in the back of the aircraft, although it did provide an intimate experience as no one seemed far away. The 737-300s at Cayman Airways only have 21 rows with 2 rows of business class seats with a standard 2-2 configuration and 19 rows of economy seats with a standard 3-3 configuration.
Upgrades to business class were offered at the check-in counter for $150 a seat. I, however, declined. On the flight, the "Caymankind" experience began as soon as we boarded with friendly flight attendants and many Caymanian references such as the islands' coat of arms on the aircraft's cabin walls and the Cayman Airways SKIES in-flight magazine.
As we got in the air there, was a two-part beverage and meal service. The first part consisted of only a beverage service, where standard drinks were served. The second part consisted of a meal service with the options of having a pasta or chicken meal alongside another round of beverages. One unique feature of the Caymankind experience is being served free Caymanian rum punch, which tastes pretty good.
Also, the meal service the airline provides was also noteworthy. Nowadays, the only times you can get a meal in economy on a major carrier is on long-haul flights or you can pay for a pricey snack-box on domestic routes.
The flight was rather standard but comfortable as there was enough room to stretch out and get some decent rest.
Landing and Closing Thoughts
KX792 landed smoothly on 31R at JFK, despite strong winds, and ahead of schedule. Compared to the multitude of international flights that use JFK's Terminal 4, Cayman Airways uses Terminal 1, alongside airlines such as Norwegian, Korean Air, and Saudia. Quite surprisingly, the 737-300 had to be towed into the gate.
Overall, Cayman Airways is closing the book on their 737-300 operations and it means exciting times for the future of the company. The 737-300s have served their time well and with the 737 MAX expected to enter the fleet, there is a large room for growth based on basic airline operations and passenger experience. It is interesting to see how Cayman Airways continue and plan to utilize their aircraft, providing an authentic Caymankind experience.
However, as Cayman joins the rest of the world's airlines and progresses into the future with new aircraft, it must, unfortunately, have to say goodbye to its workhouse, the Boeing 737-300 Classic. The aircraft, no doubt, served the airline well. But, as Southwest Airlines recently did with their 737-300 fleet, Cayman will be saying goodbye to them in the near future as they move to bigger and better things.
Recognition
Gisela Ebanks, my wonderful FO on this flight can be found on Instagram, @Flylady_Gizzy. Be sure to give her a follow.
AirlineGeeks.com began in February, 2013 as a one-man (er… teenager, rather) show. Since then, we've grown to have 20 active team members, and yes, we're still growing. Some of us are looking to work in the aviation industry as professionals when we grow older. Some of us are still trying to decide what we want to do. That's okay though, because we're all here for the same reason: we love the airlines. We're the youngest team of airline industry journalists out there.
Latest posts by AirlineGeeks.com Staff (see all)