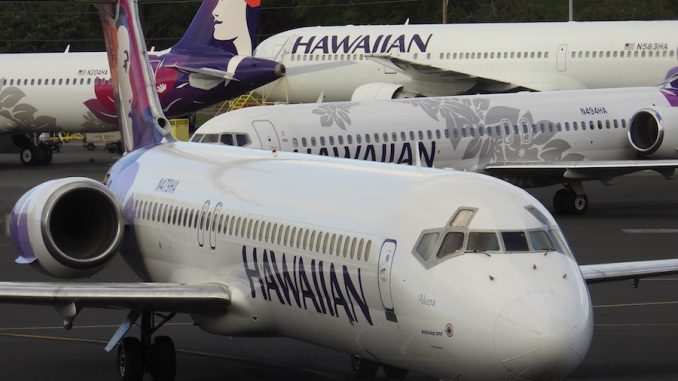 In a new initiative to immerse its passengers into Hawaiian culture, Hawaiian Airlines initiated its first Hawaiian language flight.
Hawaiian Airlines flight 18 from Honolulu to Las Vegas became the first mainland-bound flight operated by the airline in which the Hawaiian language was spoken for cabin announcements. Additionally, announcements at the gate in Honolulu were also done in Hawaiian.
In a statement to USA Today, a spokesperson for the airline said that the new experience will provide a "one-of-a-kind cultural experience by engaging with guests in both Hawaii and English."
The crew members, who are able to converse fluently in Hawaiian, are to speak solely in the language during crew briefings.
"It's a huge day for us," said Debbie Nakanelua-Richards, Director of Community Relations for Hawaiian Airlines, to Hawaii Magazine. "We bear the name Hawaiian Airlines, and we understand that we have this responsibility, not necessarily to speak the language or do the hula, but in everything that we do to have a Hawaiian approach to it."
Hawaiian Airlines hopes to expand the language program in the coming months and the immersion experience was also tested on regional flights to Hilo earlier this month.
Preservation of the Hawaiian language has been a been a major issue on the islands, even though Hawaiian was made an official state language in 1978. The language currently has roughly 30,000 speakers, only making up 0.2 percent of Hawaii's total population.
Many state legislators, however, have debated the practicality of the language, as well as whether official business can be conducted in the language and the legal standing it holds.
An "AvGeek" for most of his life, Akhil has always been drawn to aviation. If there is an opportunity to read about an airline, fly on a new airplane, or talk to anyone about aviation, he is on it. Akhil has been on over 20 different kinds of aircraft, his favorite being the MD-80. Additionally, he has visited 5 continents and plans to knock out the remaining two (Africa and Antarctica) soon. Based in Dallas, Akhil graduated from Texas A&M University with a degree in Management Information Systems and currently works in consulting. His dream is to become an airline executive.
Latest posts by Akhil Dewan (see all)