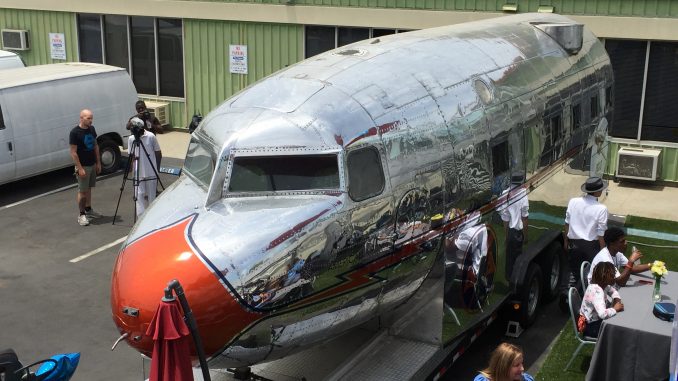 In aviation, aircraft conversions are standard practice, with older aircraft being converted from passenger to cargo configurations. On Monday, however, American Airlines and Tomorrow's Aeronautical Museum, a local Los Angeles aviation museum, unveiled the first-ever DC-3 aircraft converted into a gourmet food truck. The DC-3/food truck, named the "DC-3 Gourmet," is sourced from an old DC-3 fuselage that had formerly served in World War II.
The fuselage of the DC-3 was found in a Nevada airplane boneyard and was transported to the museum, located next to Compton Airport, a general aviation airport 8 miles east of LAX. The interior of the DC-3 food truck has been converted into a fully-equipped gourmet kitchen. The original DC-3 cockpit, however, has been kept intact for diners to experience during their visit.
The food truck will serve gourmet meals including Chilean sea bass, lobster tail, ribeyes and other custom dishes for under $20. The food truck's location at the museum features a double-decked open-air dining area with expansive views of Compton Airport. VIP diners will also be invited to sit and dine inside the DC-3 cockpit. On Wednesdays, era re-enactors will provide dancing entertainment for diners as well.
The food truck is being sponsored by American Airlines' Regional Council in Los Angeles and will serve as a fundraising tool for the local museum which empowers youth in surrounding community to be inspired by aviation.
Graduates of the museum's youth classroom programs have actually gone on to work at American Airlines' LAX hub and have even risen to more senior positions with the airline. American Airlines' Regional Council looks for opportunities to make a positive impact in the communities the airline serves and in Los Angeles, the airline brings together team members to volunteer and support nonprofits in their community.
Although this specific DC-3 was only used during the war, the DC-3 aircraft played an important role in the airline's history. The DC-3 was designed in part by American Airlines Founder C.R. Smith and served as the airline's flagship through the 1940s.
The aircraft made cross-country trips more efficient, comfortable and cut down the time it took to fly their flagship Los Angeles to New York route, making the trip in less than 17 hours. Previous, it took the airline 48 to fly the route. Being a bigger airplane designed with passenger comfort in mind, the plane was able to accommodate at least 14 luxury sleeper berths or 21 passenger seats. Now, the same route is done in around 5 hours on an Airbus A321 in a 3-class configuration.
During World War II, the DC-3 was eventually transformed into a military aircraft, the C-47. Today, the original DC-3 flagship aircraft is memorialized at the airline's museum at its headquarters in Dallas/Fort Worth.
The food truck's livery features a similar polished aluminum livery donned by American's flagship DC-3 in the 1940s, except that this one pays tribute to the City of Compton. The nose of the DC-3 food truck also features the words "Flagship Compton."
"As our airline now focuses and really zeroes in 100 years of service, we want to make sure that the next hundred years of history are rich with diversity and includes strong representation from every community throughout Los Angeles," Jim Moses, American Airlines' Managing Director at LAX, said. "After today, the DC-3 will take on a new critically important mission, and that mission is helping inspire young aviators from Compton pursue careers in aviation."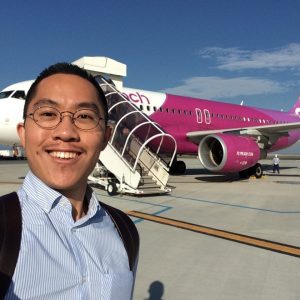 Most people hate long flights or overnight layovers, but Albert loves them. The airport and flying parts of traveling are the biggest highlights of any trip for him – as this avgeek always gets a thrill from sampling different airline cabin products and checking out regional developments happening at local U.S. airports. He's flown on almost every major carrier in the U.S. and Asia Pacific, and he hopes to try out the new A350s soon.

Albert recently completed his undergraduate studies in Business Accounting at USC in Los Angeles and he is currently recruiting for a corporate analyst position at one of the U.S. legacy carriers. During his college years, he interned at LAX for Los Angeles World Airports working behind-the-scenes (and on the ramp) in public relations and accounting. Outside of writing for AirlineGeeks, he enjoys trekking the Hollywood hills, visiting new hotspots throughout SoCal, and doing the occasional weekender on Spirit Airlines.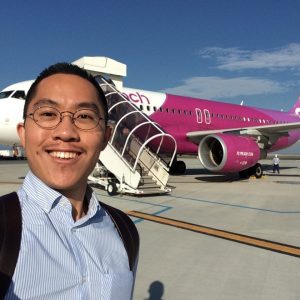 Latest posts by Albert Kuan (see all)