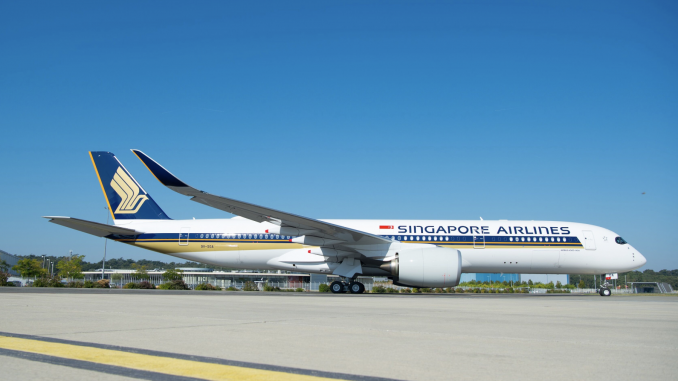 Singapore Airlines has officially re-launched the world's longest flight from Singapore's Changi Airport to Newark Liberty International Airport in New Jersey. The extreme ultra long-haul flights to and from the island nation are scheduled for 17 hours 50 minutes on the outbound and 18-hours and 30-minutes on the return to Singapore with the route replacing Doha to Auckland, currently operated by Qatar Airways, as the world's longest.
The inaugural flight, SQ22, departed Singapore on-time just before midnight Thursday night, embarking on its historic journey for the first time on the over 9,500 mile route to New Jersey. Its on-time arrival just before 6:00 a.m. at Newark marked the dawn of a new reign in the ultra-long-haul field.  The return flight, SQ21 will depart a short time later at 10:45 a.m. and arrive back into Singapore at 5:30 p.m. tomorrow.
This is not the first time that Singapore has operated this route, as it is a resumption of service on the route that was operated from 2004 until 2013. However, the route was previously flown by the quad engine Airbus A340-500 aircraft. Now, will now be operated by the airlines new Airbus A350-900ULR aircraft, designed for and exclusively used by Singapore Airlines. The aircraft was just recently delivered to Singapore about two weeks ago on Sept. 22.
Singapore's A350-900ULR feature a special two-class layout that features only 161 seats split between business class and premium economy. This layout matches the layout of the A340s when the route was paused 5 years ago. Economy was phased out on the aircraft since the duration of the flight was too long for standard economy conditions.
There will be 67 business class seats, giving the aircraft one of the largest business class cabins in the sky, with the remaining 94 seats in the aircraft's premium economy cabin. The lack of economy seats means that there will be 92 fewer seats than on the airline's standard A350-900s. As AirlineGeeks reported a few months ago, the product will not be your standard business and premium economy class products since special considerations have been made given the flight's monumental length.
In premium economy, the 19-inch seats feature a calf rest mechanism – similar to a recliner, a raised seatback pocket to increase shin space, a covered armrest and a personal reading light. Tray tables will also be one solid piece to increase their stability. Although business class customers will have a standard lie-flat seat, they'll also see some enhanced amenities such as two pillows and a mattress cover for additional comfort when sleeping.
Even the food has been meticulously chosen to be lighter and easier on passengers' stomachs during the hauls as food has a huge impact on your body when at altitude and 7 miles above the nearest porcelain toilet. Additionally, to encourage standing and stretching in-flight, the galley will feature self-serve snacks available throughout the flight.
Entertainment-wise, these flights will feature Singapore's standard in-flight entertainment system, but will also be outfitted with an additional 200 hours of entertainment to allow for more choices. Mood lighting will also be used throughout the flight to help encourage sleep when needed and adjusting to new time zones, helping to combat jet lag.
The A350-900ULR additionally features an increased Maximum Takeoff Weight (MTOW), allowing it to take off with greater fuel onboard, and increased fuel capacity to keep the engines running all the way from Singapore to New York. These changes allow the ULR to have an operating range of 11,100 miles, nearly a 2,000-mile increase from the standard A350-900 and enough to fly the 9,534-mile route.
The aircraft and flight is a testament to the great strides made by the aviation industry that allows a flight of this distance to be operated nonstop while maintaining a degree of fuel efficiency and maximizing passenger comfort throughout. Clearly there's a new leader in ultra-long-haul travel and Singapore Airlines' reign has only just begun.
Jace has been working at AirlineGeeks for nearly three years. Born in Seattle, Boeing and aviation quickly took over his life and he never stopped looking up. Jace enjoys plane spotting and taking trips just so he can fly. He is currently studying at Embry-Riddle Aeronautical University while earning his Bachelors of Science in Air Traffic Management.
Latest posts by Jace Moseley (see all)