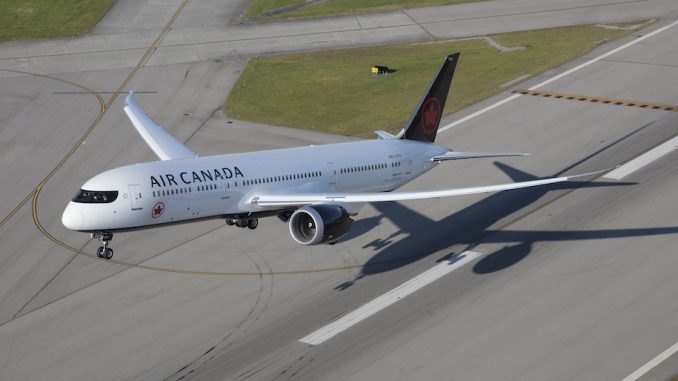 I recently had the opportunity to spend a week in Germany – always a good destination during Christmas market season – and of course, one of the best parts about it was getting to spend some time on an aircraft again. While there were several options to fly me from Frankfurt to Toronto, I decided not to take Lufthansa's Boeing 747-400 or Air Canada's Boeing 777-300ER and instead went with Air Canada's new Boeing 787-9. I had heard a lot of good – and bad – about flying Air Canada's Boeing 787-9 in the past years, so when I had the opportunity to try it long-haul, I jumped on it.
I booked myself onto flight AC877 for Dec. 16 and managed to snatch one of the few window seats left on the aircraft. Despite my Lufthansa Senator status, which is a nice leftover from my previous frequent flyer job, I had to pay $35 for the seat reservation. Thought, the window seat is always worth it.
I made it to Frankfurt from a connecting flight with about 90 minutes to spare — enough time to check out the Air Canada Maple Leaf lounge in Frankfurt's Terminal 1B and the Senator lounge across the hall from it. The Maple Leaf lounge in Frankfurt is beautifully designed, with nice red and white elements across. It was, however, a little busy due to an ANA flight leaving at the same time as two Air Canada flights, so I headed over to the Lufthansa Senator lounge.
This lounge is equally good, but was much emptier and may be one of the nicest Senator lounges run by Lufthansa I have seen to date and I have been to many lounges across Lufthansa's network. After spending a little under an hour in the lounges, I headed to the gate for the indicated boarding time.
Boarding started a little late, mostly due to a messy and rather complicated passport pre-check procedure in which they asked travelers to line up for passport verification only to close the process prior to boarding time and then verifying passports once again at boarding itself. Since I arrived close to the boarding time, I never made it to the end of the passport verification line and my passport was just checked at the gate itself. I am still not sure why I escaped the double verification treatments.
Boarding commenced at 4:30 p.m., just five minutes late and I was one of the first on the aircraft due to my priority boarding status. I was lucky to get Air Canada's C-FVLX, which was a mere 10-months-old. Upon getting to the economy class cabin, I immediately noticed the spacious cabin of this brand new aircraft. The ceiling feels much higher and the space more open, giving it a nicer feel.
I took my seat, 23K, right across the middle of the wing and made myself comfortable. The overhead bins leave more than enough room for luggage. Most bins stayed empty on this flight despite it being about 80 percent full. Much has been said about the large windows on the 787, and they really are a nice feature. This includes the dimming function, though the darkest setting does not completely black out the light. This wasn't an issue for this flight, because it was dark outside throughout the journey, but I am not sure how effective the dimming would be in bright daylight.
The seat felt reasonably cushioned and – being 6-foot 5-inches – I had real concerns about the legroom on the 787, which Air Canada configures in a tight 3-3-3 layout. It turns out that the 31 inches of pitch was acceptable, but what made the seat inferior to other economy class seats is its width. The seats next to me stayed empty, but had it been occupied, the 8-hour and 30-minute flight would have been a lot less comfortable for me. I also don't even want to imagine what the emergency exit seats feel like that have narrowed seat with and immovable armrests.
The entertainment system is a real plus on the aircraft. It has a nice touchscreen, which is very reactive and a good movie selection. If you remember the times of one big overhead screen forcing everyone to watch the same movie, this is an enormous improvement. If you know what other airlines offer for entertainment choices, Air Canada's system performs just okay.
We took off at 5:55 p.m. in a mix of sleet and rain, which didn't seem to bother this 787 much. Takeoff noise was predictably low. However, I felt that my earlier flight with a CRJ-900 was even quieter at takeoff and landing. This may be due to the engines being at the back, rather than across the wings, but my expectation had been that the 787 would beat my subjective noise measuring.
Shortly after takeoff, we were offered our meals and a choice between chicken and pasta. I went with the pasta, which was acceptable in taste and quality. However, Lufthansa gives you metal cutlery even in economy class, and cutting chicken with a plastic knife is a tricky endeavor at 30,000 feet and a 17-inch wide seat. We were also later served a pretzel snack and a hot wrap before landing. Overall, I would rate the meal service as good. Water was served regularly and periodically throughout the flight, which was
The cabin was darkened for much of the flight. However, eastbound flights are usually, and it was in this case, daytime flights. I, therefore, could not understand why the cabin was dark for such long stretches, especially if you consider that the 787 has air quality and lighting features that can help ease the jet lag.
We arrived on time after an 8-hour and 45-minute flight and deplaned swiftly.
Overall, I really enjoyed the flight and the service aboard this Air Canada 787, but the seat width aboard was the standout negative point of the experience.
Adrian joined AirlineGeeks as a writer in 2017. He had always wanted to become a pilot and while he chose a different career path for now, his interest in aviation continues to grow every day. Adrian was fortunate to travel extensively for business in the past five years. As a result, he focuses his research and writing on passenger services and experiences on a variety of airlines. His favorite aircraft include the Airbus A350, A380, and the Embraer passenger jets.
Latest posts by Adrian Vannahme (see all)